The TT122 simultaneous interpretation system equipment includes 1 transmitter, 15 receivers, and a 16-port charging base.
If you need other combination quantities, contact us to get
16-port USB charging cradle can charge 16 receivers and transmitters simultaneously (US/European/English plugs available).
MIC jack can serve as an AUC jack to connect audio devices
Transmitter can work for 12 h, receiver can work for 18 h
2.4G translation system, free worldwide use
Working distance up to 492ft/150m
Transmitter mute function
Crystal clear sound
Only
9982
left in stock - order soon.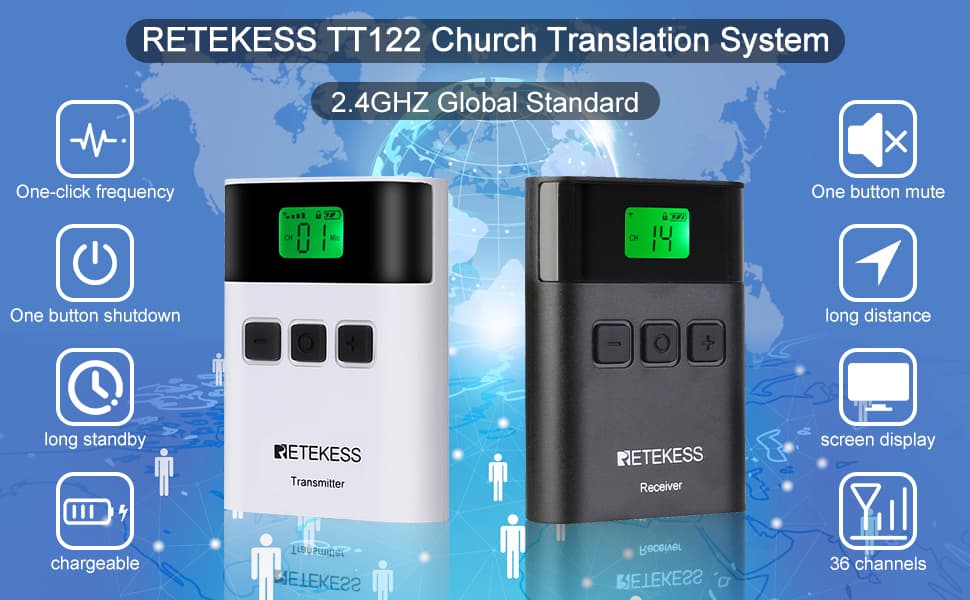 Auxiliary Audio Input
Connect the transmitter to your audio device using the AUX cable (not included) to transmit an external audio source through the transmitter, which you can use to play music or other voice files. (AUX and MIC are the same jack, you can't add background music while talking)
Large capacity battery
Translation system is fully charged for about 3 hours, the transmitter works for 12 hours and the receiver works for 18 hours after being fully charged. The charging time is short and the working time is long, so there is absolutely no delay in the activity process due to the equipment's lack of power.
Thoughtful design
Each device is equipped with a lanyard, you can hang the translation device around your neck. In addition, the microphone cable and headphone cable are long enough that you can put the portable transmitter or receiver into your pants pocket, which frees your hands and prevents you from dropping it.
LED display
Church translation system with LCD display shows the channel ID, power level, lock mark, and transmit signal which are very easy to read. Even if the light is dim, you can easily know the information about the device without affecting its use.
16-port charging base
It can charge 16 receivers or transmitters at the same time, with eight safety protections such as over-voltage protection, abnormal temperature protection, short-circuit protection, etc. to extend the service life of simultaneous interpretation equipment. It is not only convenient for charging, but also can avoid the danger of tangling or electric shock caused by too many wires.

Automatic pairing
The wireless transmitter and all receivers can be automatically paired within a dozen seconds. You don't have to spend time adjusting receiver channels one by one for pairing before the event starts.
One-key mute transmitter
When the mute is turned on, the receiver can't hear the sound of the transmitter. When the interpreter does not want the listener to hear noise or irrelevant words, he/she can turn on the mute function with one click.
Turn off all receivers with one touch
If you have many receivers, checking one by one to see if the receivers are turned off can be a hassle. This feature allows you to turn off all receivers on the same channel in 4 seconds, increasing your productivity.
36 Channels
Simultaneous interpretation systems have 36 channels to choose from, allowing 36 different language groups to operate in the same area without interfering with each other.
Long-range simultaneous interpretation equipment
TT122 church interpretation system has a transmitting area range of 492ft/150m in open areas, even if you have a large venue and a large audience, it is also suitable.
Lightweight tour guide system
The portable transmitter and wireless receiver weigh 70 grams and are pocket-sized, making them easy to carry. And hanging on the neck will not be heavy, lightweight is comfortable to wear.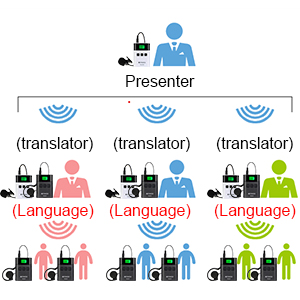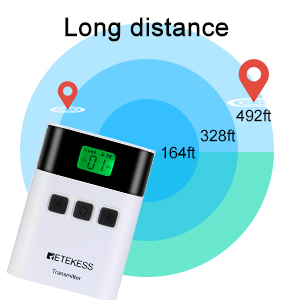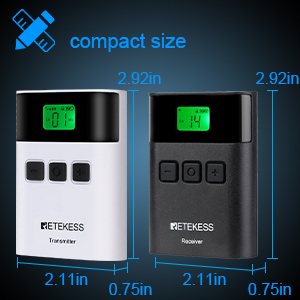 TT122 simultaneous interpretation equipment is suitable and works well in all situations where there is a multilingual audience, and is widely used in churches, courtrooms, schools, and conferences. Besides translation, TT122 tour guide system is also used in tourism, segway tours, factory visits, silent meetings, training coaching, and many other fields.

Please fill in your procurement needs and contact information
Transmitter
Frequency range
2400-2480MHz
Channel
36 channels
Output power
10mW
Power supply
Built-in 1500mAh lithium battery
Working time
About 12 hours
Working distance
150 meters (open air)
Size
53.5x 19.2 x 74.2mm
Weight
70g
Receiver
Frequency range
2400-2480MHz
Channel
36 channels
Power supply
Built-in 1500mAh lithium battery
Working time
About 18 hours
Size
53.5 x 19.2 x 74.2mm
Weight
70g
Input voltage
5V
Question: can this TT122 tour guide system translate creole to English?
Answer: Hello Friend, the device is in need of human translation, the system can't a translation. Hope this can help you.
Question: Can this tour guide transmitter and receivers support human interpretation into 4 languages at the same time? Thank you!
Answer: Hello friend, yes, you need to use 4 different frequencies for 4 languages.
Question: I purchased the transmitter at 100t with two hooks over the ear earphones. the earphones are broken. how can I get two replacement earphones?
Answer: Hello friend, so sorry for this issue, if you need two replacement earphones, you can contact us.
Question: Can I connect from the pc speaker out to the transmitter mic by 3.5mm male to the male connector?
Answer: Hello friend, the tour guide system support AUX cable to connect pc. Any issue, pls email us freely.
It is the most durable device of its kind that I have ever purchased, and the price is also very reasonable.
Our church recently invested in a church translation system from retekess and we are very pleased with the results. The audio quality of the translation is crystal clear, making it easy for our congregation to understand and follow the sermons. The wireless receiver is user-friendly and easy to set up and use, and I highly recommend this church translation system.