Super long working time, transmitter can work 18 hours, and receiver can work about 80-100 hours
Working range 150m/492ft
Transmitter with a built-in microphone
Noise reduction and excellent audio quality
999 channel IDs
Only
3999
left in stock - order soon.
An audio tour guide is a portable wireless communication system that transmits audio information to a crowd in difficult communication situations.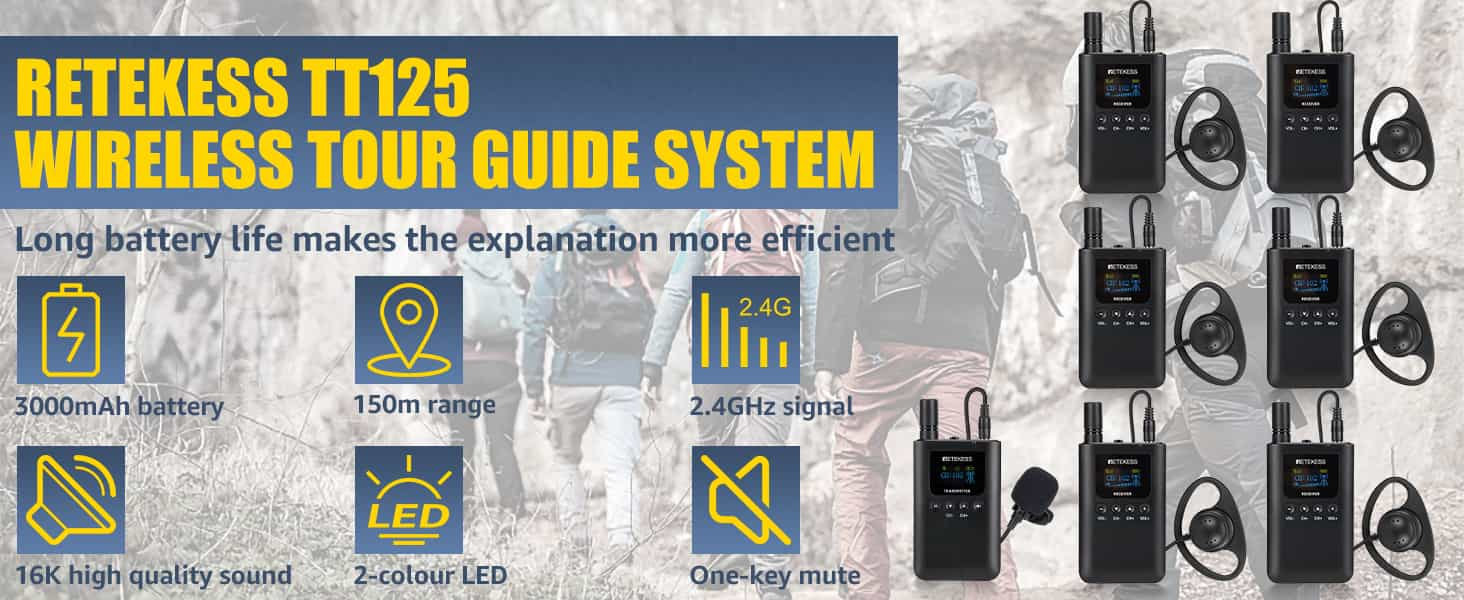 Extra long working time
Both the transmitter and receiver of the tour guide audio system are equipped with a built-in 3000mAh battery rechargeable battery. It only takes 4 hours to fully charge. After fully charged, the transmitter can work for up to 18 hours, and the receiver can work for about 80-100 hours, eliminating the trouble of frequent charging and ensuring uninterrupted use throughout the day.
Crystal clear sound
The sound quality of the audio tour devices is of high clarity. The transmitter has the ability to reduce surrounding noise, delivering a processed output sound that can reach a 16K effect. This ensures that the transmitted audio is clear and easily understandable to the listeners.
Long transmission distance
TT125 audio tour guide has an operating range of up to 150m/492ft, so the receiver does not have to be close to the transmitter. This allows participants to walk around freely and still hear the useful information being transmitted.
999 Channel IDs
The tour guide system has 999 individual channels to support the simultaneous use of multiple devices in the same location. This means that multiple tour groups can use the TT125 audio tour guide system in the same location at the same time without any interference.
Portable audio tour guide
The transmitter and receiver are designed to be small and lightweight, making it easy to hang around the neck. Even when worn for long periods of time, they do not cause neck pain or discomfort. The compact device does not take up too much space in your luggage bag, and one person can carry the kit for use by the entire group.
2.4GHz public frequency band
The audio tour equipment operates on a 2.4GHz global channel for universal use worldwide. It avoids interference from WIFI signals and provides clear sound even in environments with varying noise levels.
Built-in microphone
The TT125 transmitter is equipped with a built-in microphone, which eliminates the worry of losing or forgetting the microphone and allows the guide to have a microphone readily available.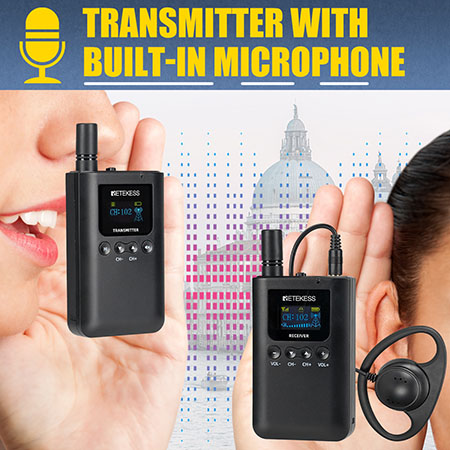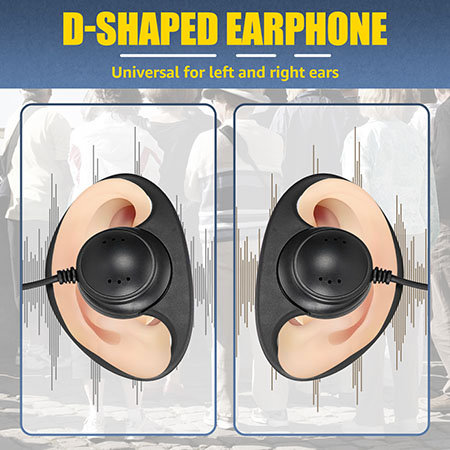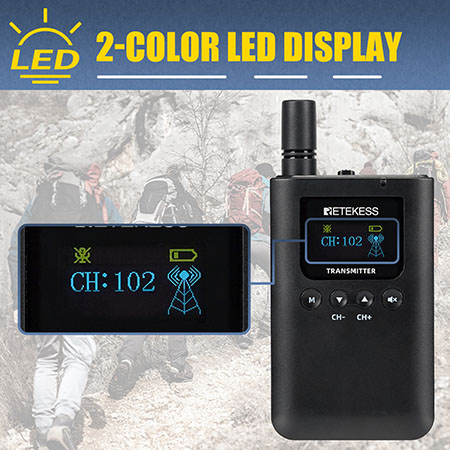 Headphones for left and right ears
The audio guide equipment comes with a D-shaped headset accessory that fits both the left and right ear, which helps alleviate the discomfort of wearing a single headset for extended periods of time. In addition, these headsets are suitable for people with hearing impairment in one ear, meeting their specific needs.
Two-color LED display
The TT125 audio tour guide features a two-color LED display measuring 24x13mm. The display shows the status of power, channel, and signal, providing more intuitive information to the user.
One-touch mute
The transmitter supports a one-touch mute function, which allows the guide to temporarily mute the microphone without turning off the transmitter. This is useful in situations where a guide needs to have a private conversation or with a break to quickly pause the audio transmission.
One-touch automatic channel synchronization
The tour guide audio system offers one-touch pairing, enabling multiple receivers to be paired with a transmitter in a short period of time. This saves valuable time and improves the overall efficiency of setting up and operating the equipment for the guide.
Supports AUX and MIC inputs
The transmitter's MIC interface can also be connected to audio devices, enabling guides to supplement their narration with pre-recorded audio or background music, thus providing a more engaging tour experience. (Note: AUX input and MIC input cannot be used at the same time)
Please fill in your procurement needs and contact information
TT125 Transmitter

TT125 Receiver

Operating frequency

2.4G

Operating frequency

2.4G
Channels
999
Channels
999
Charging current
1A
Charging current
1A
Operating temperature
-20 °~ +70 °
Operating temperature
-20 °~ +70 °
Transmitting distance
150m
Receiving distance
150m
Battery Run Time
18h
Battery Run Time
80-100h
Charging time
about 4 hours
Charging time
about 4 hours
Size:
114.8mm(L)*54.8mm(W)*20.6mm(H)
Size:
114.8mm(L)*54.8mm(W)*20.6mm(H)
Battery capacity
3000mAh 3.7V
Battery capacity
3000mAh 3.7V
Package Includes:
Classification of packages
package includes
1TX+6RX

1x TT125 transmitter

6x TT125 receiver

1xLavalier microphone

6xsingle ear headphones

7x charging cable

7 x Lanyard

1x User manual
1 TX + 10 RX

1x TT125 transmitter

10x TT125 receiver

1xLavalier microphone

10xsingle ear headphones

11x charging cable

11 x Lanyard

1x User manual
1 TX + 15 RX

1x TT125 transmitter

15x TT125 receiver

1xLavalier microphone

15xsingle ear headphones

16x charging cable

16 x Lanyard

1x User manual
1 TX + 20 RX

1x TT125 transmitter

20x TT125 receiver

1xLavalier microphone

20xsingle ear headphones

21x charging cable

21 x Lanyard

1x User manual
Q: How many receivers can the transmitter be connected to and used together?
A: The transmitter can be connected to any number of receivers, and if your team needs to expand, simply purchase additional receivers.