This tour guide microphone and headsets kit include:
-1 transmitter
-15 receivers
-1 x 16-slot charging base( US/EU/UK plugs available)
4 h fully charged, transmitter works for 18 h, receiver works for 80-100 h
2.4Ghz international public frequency band
Working range 150 m/492 ft
Built-in microphone in the transmitter
Noise reduction and excellent audio quality
999 channel IDs
Only
1000
left in stock - order soon.

— Battery run time
TT125 tour guide microphone system requires only 4 hours of charging time, the transmitter works for 18 hours, and the receiver works for 80-100 hours. The extended battery life ensures that the tour guide system can support long tours or multi-day excursions, and the 4-hour quick charge time further ensures that the system can be used continuously.
— 16-slot charging base
The 16-slot charging base charges up to 16 Tour guide microphones and headsets simultaneously, making it a convenient and efficient solution for charging multiple devices. It eliminates the need for separate charging cables and can be used as a centralized charging station so you can avoid tangled charging cables.
— Transmission range
The TT125 tour microphone system has a communication range of 150 m (492 ft). Guides can confidently move over a larger area without fear of losing or diminishing the audio signal. This ensures that visitors can always hear the guide's instructions, explanations, and commentary, even if they are not close by, resulting in a more flexible and enjoyable tour experience.
— 999 channel IDs
Tour guide audio systems' 999 channel IDs allow multiple groups or tours to run simultaneously without interference. Each group can have its own independent channel, ensuring that audio signals do not overlap or crosstalk. This is especially useful in crowded tour areas where multiple tours are running at the same time. The tour guide can easily switch channels to facilitate smooth operation and communication between different groups.
— 16K high-definition audio
The TT125 wireless tour guide system has crystal clear sound. With its 16K audio, the system ensures that travelers hear their tour guides without distortion. In addition, the T131S receiver with volume up and down buttons for flexible volume adjustment, ensures that the audio is loud and clear, even in noisy environments or for visitors with different hearing abilities.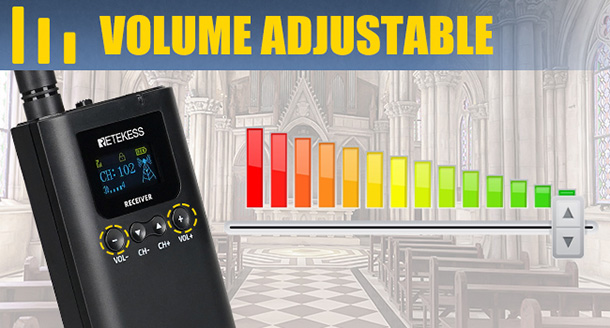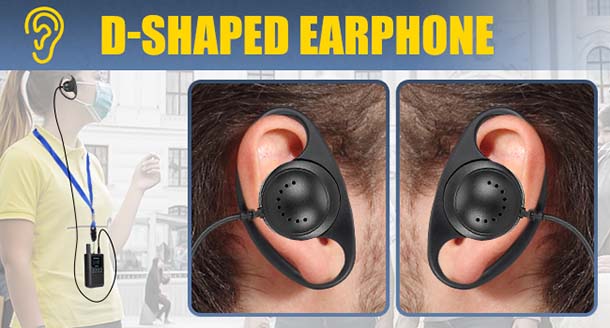 — Headphones fit left and right ears
The TT125 receiver comes with a D-shaped headset accessory that fits both the left and right ear, which helps to relieve the discomfort of wearing it with the same ear for a long time. In addition, these headsets are suitable for people with hearing impairment in one ear, meeting their specific needs.
— Portable tour microphone system
Both the transmitter and receiver are compact, small, and lightweight, enabling tour guides and tourists to easily carry and use tour guide microphones and headsets throughout the tour, ensuring the user's freedom of movement and comfort.
— 2.4GHz public frequency band
TT125 tour guide microphone and headsets operate on the 2.4GHz global channel, ensuring compatibility and reliability across different regions and countries, which eliminates frequency limitations when traveling internationally.
— Built-in microphone
The wireless transmitter is equipped with a built-in microphone for the convenience of the tour guide, who can speak with the device in hand without the need for an external microphone.
— Dual-color LED display
The TT125 tour guide system features a two-color LED display that provides intuitive information to the user. The LED display shows power levels, channel settings, and signal status, allowing guides and participants to easily view and adjust the settings of the tour guide device.
— One-touch mute
The transmitter's one-touch mute feature allows the tour guide to temporarily mute the audio output. When the guide needs to talk to someone privately or needs to remain silent during a specific part of the tour, simply press Mute to temporarily mute the microphone. It provides flexibility and control for the tour guide to manage the audio delivery.
— Automatic synchronize channel
The TT125 tour guide microphone system offers automatic channel pairing, a feature that simplifies the setup process between transmitter and receiver. In addition, the system has a channel memory function, which means that once the devices are paired, they will remember the selected channel for future use.
— Support for AUX and MIC inputs
The TT125 transmitter's MIC port also allows for the connection of audio devices such as MP3 players, cell phones, or PCs. This is useful when guides want to play back prerecorded audio or integrate an external audio source into the tour.
— Customize the number of receivers
The TT125 transmitter can be connected and used with any number of receivers to accommodate different group sizes and tour configurations. This flexibility ensures that the tour guide speaker system can be tailored to meet the specific needs of each trip, whether it is a small group or a large crowd.
Please fill in your procurement needs and contact information
TT125 Transmitter

TT125 Receiver

Operating frequency

2.4G

Operating frequency

2.4G
Channels
999
Channels
999
Charging current
1A
Charging current
1A
Operating temperature
-20 °~ +70 °
Operating temperature
-20 °~ +70 °
Transmitting distance
150m
Receiving distance
150m
Battery Run Time
18h
Battery Run Time
80-100h
Charging time
about 4 hours
Charging time
about 4 hours
Size:
114.8mm(L)*54.8mm(W)*20.6mm(H)
Size:
114.8mm(L)*54.8mm(W)*20.6mm(H)
Battery capacity
3000mAh 3.7V
Battery capacity
3000mAh 3.7V
Specifications of TT002 USB Charging Base :
USB output: DC 5V; 7A
Adapter input : AC100-240V 50/60Hz
Size: 190 x 95 x 50mm
Weight: 430g
Package Includes:
1 x transmitter
1x lavalier mic
15 x receiver
15 x earpiece
16 x lanyard
16 x charging cable
1 x charging base
Q: What is the warranty policy for this TT125 tour guide system?
A: All models of Retekess tour guide systems support 30-day no-reason returns and a 2-year warranty.