Upgraded waterproof TW106 intercom speaker system
The extension speaker of the upgraded model is made of a waterproof speaker, you could install the extension speaker outside and do not worry about the rains.
It is a waterproof window speaker system with a 5W loudspeaker and crystal sound
Note: Shipment within 5 business days
Only
9959
left in stock - order soon.
Why Choose the Upgraded Waterproof TW106 Intercom System?
It is a waterproof intercom speaker system, it suits for use indoors and outdoors.
The host and extension adopt high-power speakers, which are louder and clearer than other window intercoms system
Use a detachable conference microphone that makes a better sound quality
Support for external microphones, and wireless window intercom can be realized by connecting wireless microphones
Clear sound
High-quality speaker and high-sensitive microphone, the voice is realistic and clear
Sensitive volume adjustment
Both inside and outside have speaker and microphone
Strong connection plug
Using a 4 core high-strength aluminum foil shielded wire
Reminder light
There are voice transmission indicators to prompt the working condition
Support external microphone
There is a Mic interface on the wireless window speaker system, easy to use
Support recording monitoring
There is a REC interface on the system
High power
5W high power speaker, widely used in many applications, such as banks, clinics, government , stores, pharmacies, and so on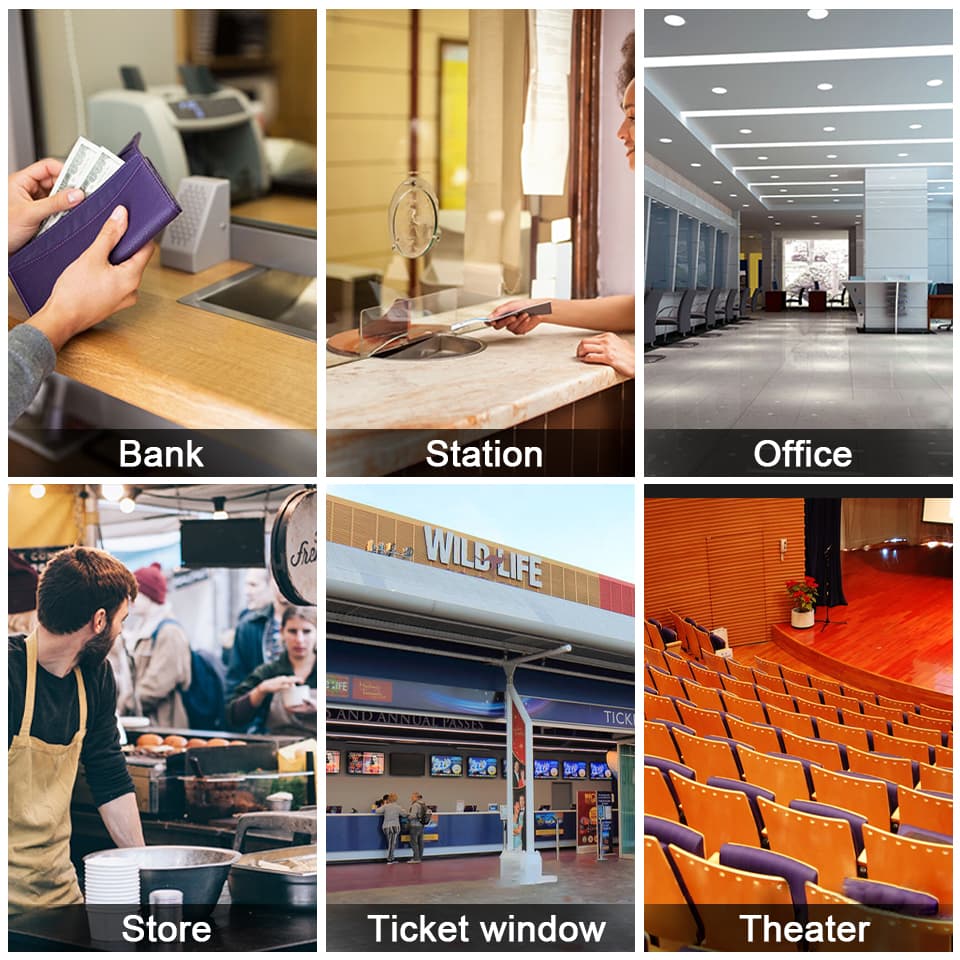 Please fill in your procurement needs and contact information
TW106 window speaker system specifications:
Material: Plastic shell
Connection cable length: 1.8m / 5.9ft
Working voltage: DC12V / 500mA
Adapter: AC 100-240V, 50/60Hz
Main sound (sub sound): 5W+5W
Microphone sensitivity: -46db±2 db(20Hz-16kHz)
Size: 151*110*75mm / 107*85*40mm
Weight: 885g / 1.95lb



Package Includes:
1 x Dual-way wireless window speaker counter interphone
1 x External speaker
1 x Power adapter
1 x English manual
Q: How long does the cable of the speaker?
A: The original one is 1.8M, if you need other lengths, pls contact us to get more details. Support@retekess.com
Q: Does the wireless intercom system support recording?
A: Yes.
Q: Can I install the extension speaker outdoors?
A: Yes, you can. The upgraded TW106 intercom system is waterproof.
Q: Does the wireless intercom system support wireless microphone?
A: Yes, if you need the wireless microphone, pls email us at support@retekess.com to get the details.