Retekess TT106 Whisper Tour Guide System Support 2 Transmitter in One Group
Whisper tour guide system is 2.4G and free to use worldwide
Support two transmitters working in a group simultaneously
Communication distance up to 150m in the open area
Anti-interference, high confidentiality of conversation
Crystal clear sound and stable signal
One key to turn off all receivers
Transmitter with mute function
One key to pair automatically
9999 IDs
OverView
Retekess TT106 Whisper tour guide system is easy to use , providing wireless communication solutions for communication issues in group tours, education and training, silent meetings and church or courts interpretation.
When used in group tours, instead of the guide shouting and his visitors following him closely, they can view the scenery or stop for photos within 150 meters from the guide and also hear the guide's instructions clearly through the receiver worn on their ears. This will surely reflect the professional and attentive service of the travel company and make customers more satisfied.
When used for church interpretation, the interpreter can receive the pastor's words through the receiver, and then use the receiver to transmit the translated language to the corresponding audience. This easily solves the problem of believers from all over the world not being able to understand the pastor's language.
Support dual transmitters
Allows two transmitters to work on the receiver in a team at the same time, i.e. it allows two people to speak at the same time or take turns, and all listeners can hear both of them, for events that require two presenters to work together to narrate. (Note: Only 1 transmitter is included in our package)

Auxiliary audio input
Wireless tour guide system transmitter with special AUX input jack, supports connecting MP3, PC, cell phone and other audio devices with 3.5mm AUX cable, you can play background music or pre-recorded voice files through this function.
Long service life
The transmitter has a built-in 1300mAh rechargeable lithium battery with 3H full charge and 25H continuous use; the receiver has a built-in 380mAh rechargeable lithium battery with 2H full charge and 23H continuous use, so you don't need to charge it often and don't worry about the equipment running out of power to delay the event process.
Lightweight tour guide system
Ear-mounted receiver 18g, portable transmitter 70g, lightweight and portable, comfortable to wear. The receiver has an ear-hanging design that eliminates the need to insert the headset into your ear, making it clean and hygienic.

One key to turn off all receivers
Just long press the left button of the wireless transmitter for about 5 seconds, all the receivers on the same channel with the transmitter will be turned off. If you have more receivers, this will save a lot of valuable time and improve efficiency.
Add as many receivers as you like
An unlimited number of receivers can be paired with the Whispering Tour Guide System transmitter, so if your group grows in size, you can add receivers as needed.
Transmitter mute function
If the interpreter sometimes doesn't want the listener to hear some irrelevant words, he can press the mute button and the listener won't hear his voice. It is also easy to restore the voice transmission, just click the right button of the transmitter.
Widely used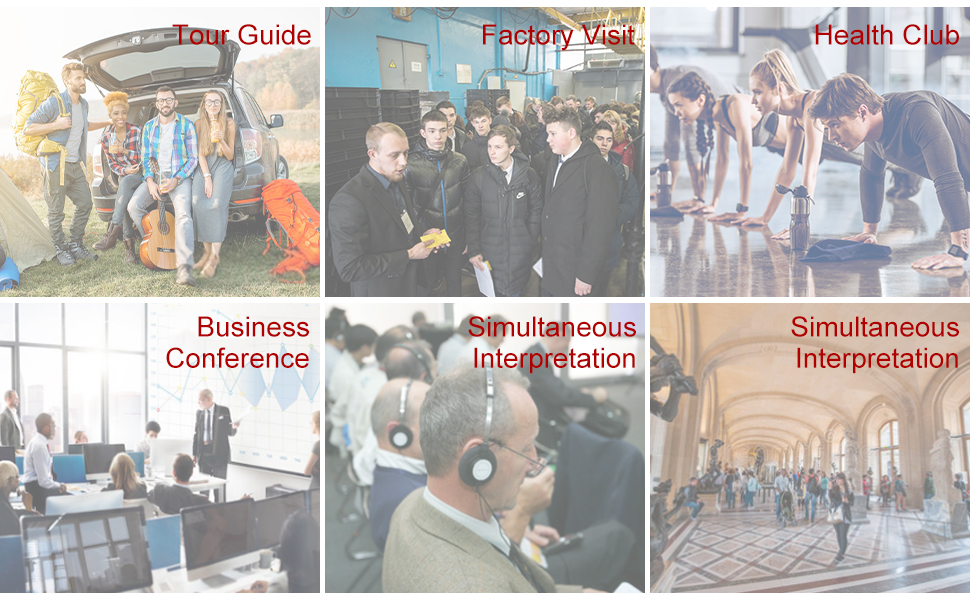 Spec
Specification of retekess TT106 whisper tour guide system
TT106 Wireless Transmitter

T

T106 Wireless Receiver

Frequency Range
2400~2483MHz
Frequency Range
2400~2483MHz
ID Number
9999
ID Number
9999
Supply Voltage
DC3.7V
Supply Voltage
DC3.7V
Transmitting power
≦50mW
TIS
-90dBm
Frequency stability
±0.001﹪
Frequency stability
±0.001﹪
SNR
80dB
SNR
80dB
Size
97*63*18mm
Size
65*58*11mm
Weight
70g
Weight
18g
Charge time
3H
Charge time
2H
Working time
25H
Working time
23H
Battery specification
3.7V/1300mA
Battery Specification
3.7V/380mA
Charge Jack
MINI USB
Charge Jack
MINI USB
Modulation frequency deviation
±320KHz
Modulation frequency deviation
±320KHz
Working current
62mA
Working current
15mA
Communication range
150m (open air)
Standby current
1mA
Charging voltage
DC5V
Charging current
320mA
Communication range
150m (open air)
Charging voltage
DC5V
FAQ
Q: How many pieces receivers can i use in one group?
A: It max support 9999 channels
Q: Can i use 2 pieces transmitters in one group?
A: Yes, you can. All the receivers will get 2 transmitters' signal at the same time.
Q: How long can i use the transmitter and receivers?
A: The transmitters use 1300mAh battery, it can work 25 hours once you charge full.
and receives use 300mAh battery, can work up to 20 hours.
Q: Can i use the wirless tour guide system in my country?
A: There system adopts 2.4G technology, it is free in the whole world. Of cousre, you can use it.
Q: Do you have charging box for it?
A: Yes, we have 2 types: 32 ports and 64 ports, you can choose the one that you need.
Inquiry
Please fill in your procurement needs and contact information
Product Reviews
Moira Coiante

Voice Guideman

Un prodotto di buona qualità se fosse possibile avere questa radio con la possibilità di ascoltare mettendolo direttamente all'orecchio o inserire degli auricolari stereofonici. Sarebbe una buona cosa e originale. GRAZIE

I recently purchased the Retekess TT106 tour guide system for my guided tours and I am extremely impressed with its performance. The clarity of the audio is fantastic and the range is impressive. It was incredibly easy to use and my guests were able to hear every word I said, even in noisy environments.
We found other products you might like!