TT109 Long Range Tour Guide System With Carry Bag For Haji
SKU:
F9485AX1-F9485BX20-F9468F
TT109 tour guide system has 50 channels
2.4G, free to use worldwide
One key to pairing all receivers on the same channel
Communication distances of up to 180 meters in open areas
OverView
TT109 is a simple design long-range tour guide system. The transmitter can be paired with an unlimited number of receivers. So you can add more receivers as you want later. Stable signal, easy to use. Long range.
Feature:
Tour guide system
Long Range tour guide system
It can reach 180 meters in the open area. So if you have a large group of listeners, you should have this model at hand.
Turn off all the receivers once
One key to turn off all the receivers to make it easy.
Volume adjustment
Both transmitter and receiver have a volume key, so you can adjust by yourself. It is more convenient to use.
One transmitter support unlimited receivers
You may be concerned, about if you can add more receivers, yes, there is no limit, only the receivers in the range of the transmitter, you can add more receivers as you want.
Long time use
The device needs to be charged for 2-4 hours to be fully charged. You can use the transmitter for 8 hours and the receivers for 18 hours.
Carry Bag
The carry bag has 48 ports for the tour guide system, besides the quantity we choose, you can set the quantity you need. It has a side room for accessories. And it is light to carry.
It is the longest-range tour audio system in one-way devices, so it is very useful in large areas and large groups of people tourism. And for the Haji, it is the best.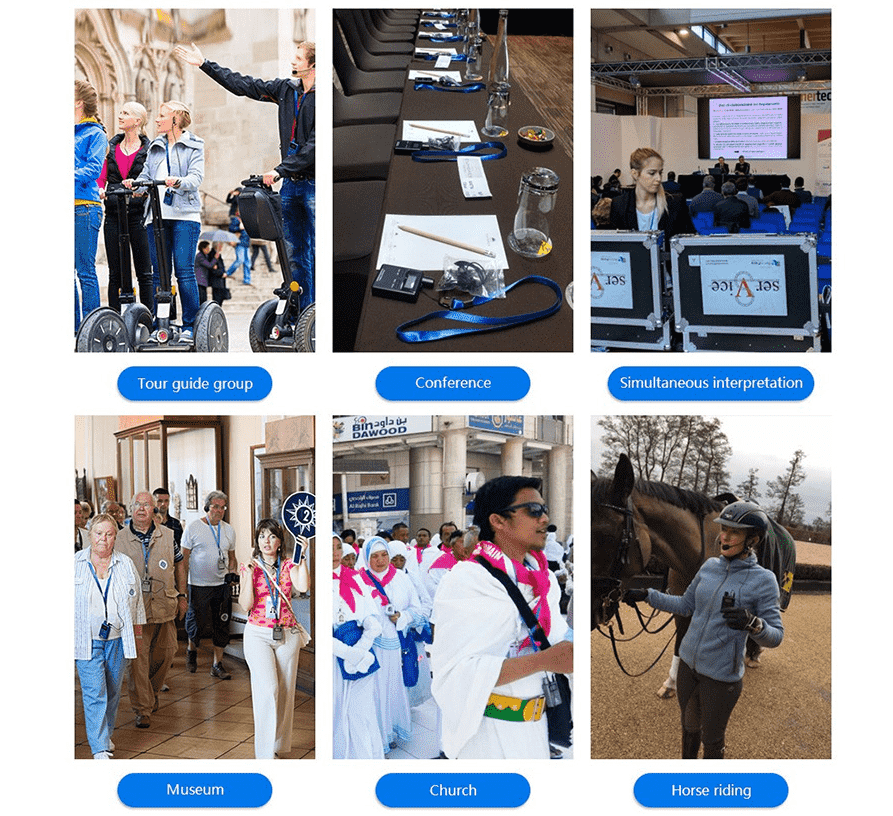 Spec
Transmitter
Frequency range
2400-2480MHz
Channel
50 channels
Output power
10mW
Power supply
Built-in 1500mAh lithium battery
Working time
About 8 hours
Working distance
180 meters (open air)
Size
86 x 50 x 19mm
Weight
60g
Receiver
Frequency range
2400-2480MHz
Channel
50 channels
Power supply
Built-in 1000mAh lithium battery
Working time
About 18 hours
Size
86 x 50 x 19mm
Weight
51g
Carry Bag:
Material: Nylon cloth wrapped with EVA
Size: 370*340*110mm/14.56*13.38*4.33 inch
Weight:1890g
FAQ
Q: Can I put my accessories in the Bag?
A: Yes, there is a net bag in the bag, so you can put all the accessories there.
Q: Is there an extra charger base for this system?
A: Yes, we have both charging bases and charging cases. You can check here.
Q: Can I use different transmitters in the same location?
A: Yes, you only keep them in the different channels will be fine.
Inquiry
Please fill in your procurement needs and contact information
We found other products you might like!