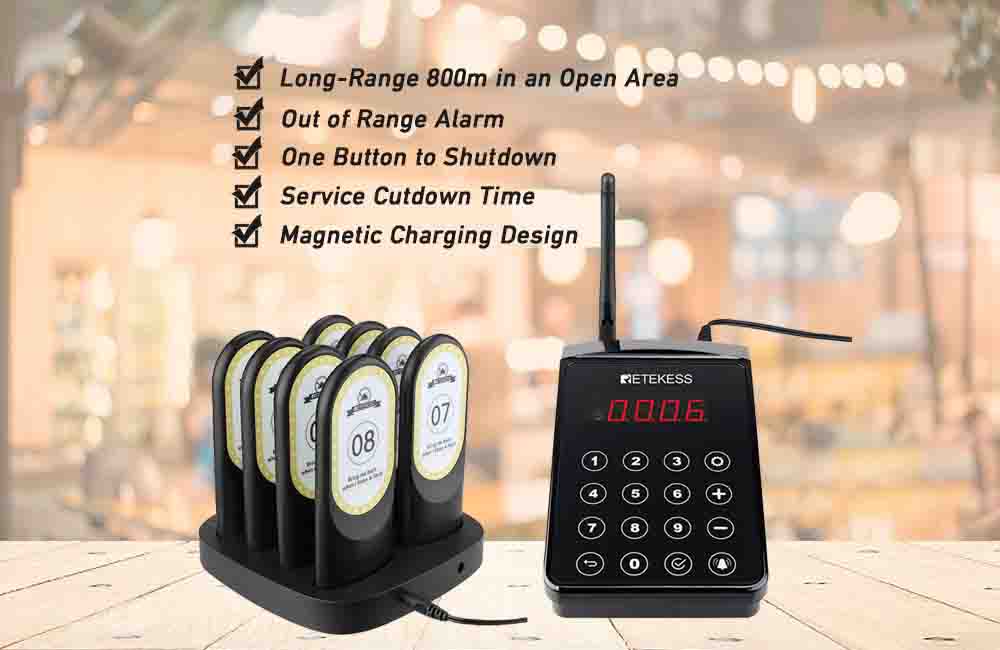 Dear friends, I am glad to inform you that Retekess launched the TD184 long-range FM guest pager system!
Long-distance will enable the system to be used in more places, such as restaurants, cafes, bars, clinics, hospitals, gyms, offices and dining cars, etc. The distance can be up to 800 meters in an open area, so there is no need to worry about too long a distance and poor signal. The black design makes it more business and oil-resistant. The launching keyboard is separated from the charging base, making it more convenient to use.
In addition to the simple and stylish appearance, the functions of the system are also the key to attracting users.
Support one button to shut down, no need for cumbersome operation steps, just pass "0"+"call" to easily close all pagers, which greatly saves operation time, improves work efficiency, and brings better use to users Experience.
With the out of the range alarm function. Don't worry about the customer going too far and the pager can't receive the signal. Because once out of range, the pager will automatically send out vibrate/buzz/flash to remind customers. In addition, it can prevent some customers from taking it home, reducing your loss.
Service countdown time setting helps you remind customers of missed reminders. You can set the countdown for the 0-99 minute service according to the different scenes and your own needs. If it exceeds the time you set, the pager will automatically beep to remind the user, and the remainder will automatically stop when the pager is placed on the charging base.
The magnetic charging design makes the charging of the system more convenient and easy to get the pagers in the charging state. It is safer to avoid the entire charging base falling to the ground due to accidentally touching a pager.
Come and get this system to improve the efficiency of your business and bring a wonderful consumer experience to your customers!
---