Long distance pager system, calling distances in open areas can reach 800m
Support one-click to close all pagers to improve efficiency
Over distance alarm setting to avoid the loss
Countdown reminder setting to enhance the reminder
Magnetic charging is more convenient
Note: Please use the product on the table which be made of wood, plastic, glass and other materials, and avoid the table top of metal and marble.
Only
29988
left in stock - order soon.
Retekess TD184 FM wireless long distance pager is suitable for long-distance calls and has a stronger anti-interference ability. It is suitable for use in restaurants, dining cars, coffee shops, clubs, gymnasiums, churches, and other places. The operation is simple and easy to use, which can improve the efficiency of your business and reduce labor costs
Long distance pager
The distance of calling can reach 800 meters in an open area
On button to shutdown
"0"+"call", you can easily close all pagers with one click, saving time and improving efficiency
Out of range alarm
When the pager exceeds the coverage of the keyboard signal and the duration exceeds the set time, it will automatically vibrate/buzz/flash to remind
Help you monitor the location of pagers, avoid loss and reduce loss
Service cutdown time
when the pager will automatically beep again after the first call is received if they do not collect orders in time
touch keyboard
The keypad feels better when touched, the waterproof performance is better
Various prompt modes
buzzing/vibrating/ flashing lights, to meet the different needs of different scenes
Magnetic charging design, Charging faster and safer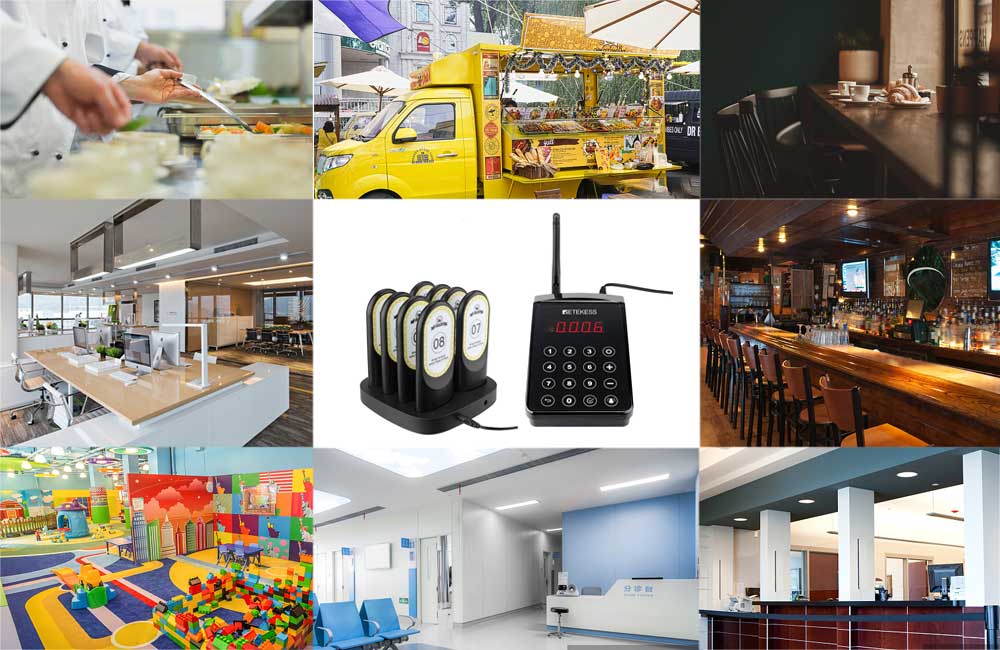 Please fill in your procurement needs and contact information
Specification:
TD184 Long Distance Pager

Dimension
135*58*23mm
Receiving Sensitivity
-120dB
Standby Time
≈25 hours
Battery
Built-in 3.7V 300mAh rechargeable lithium battery
RX Frequency
424.8-469.025MHz
Reminder Method
Buzzing ,LED Flashing, Vibration
Distance of Transmission
About 800 meters in a wide-open field
Modulation
FM

TD184 Transmitting

Dimension
162*98*40mm
Tx Frequency
424.8-469.025MHz
Power Adapter
DC 12V, 1A
Keypress Method
Touch type
Modulation
FM
Q: Can multiple system sets be used at the same time to increase capacity?
A: Yes, multiple sets of pagers can be used at the same time, but you need to set the transmitter keyboard to a different ID.
Keypad ID setting steps: After entering the F7 function interface, the display shows the current keypad ID and you can select your desired channel (1-99). When you input the expected number and press the OK button, the keypad beeps at the same time, which means the setting is successful. NOTE: You have to set the pager ID again to make the pager system work after changing the keypad ID.
Q: What is the battery life when in use?
A: For the Retekess TD184 pager system, you can use at least 12 hours when you fully charge.

Q: Can I get this model with extra pagers?
A: We offer Retekess TD184 Restaurant Pager System with 1 keypad and 8/16/24(optional) pagers in one package. You can choose a suitable set according to your needs.