The 2022 Black Friday deals and Cyber Monday event has arrived early which means you can score record-low prices right now from Retekess official. We have a big promotion for guest paging system, wireless calling system, window speaker system, tour guide system, and so on. Most of our products have a big promotion, so if you need it, pls click here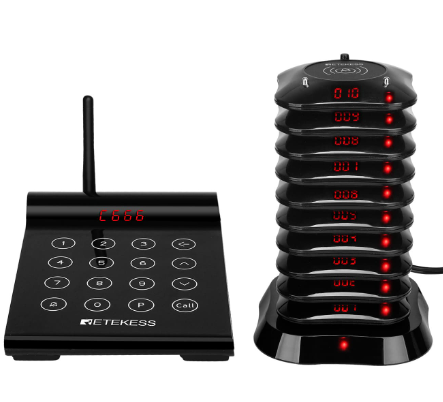 For the Black Friday Promotion, it is from 24th Nov-2nd Dec. 2 weeks in all. From 24th- 2nd Dec. We will have a big promotion for the TD164 guest paging system, which is very popular due to long standby time, long workingrnage and fashion design.
Long standby time, the pager can be up to 30 hours when charge it full.
Long working range, it can be up to 800, in open area.
The round and squre pagers makes it speacial, so people choose it for restaurant.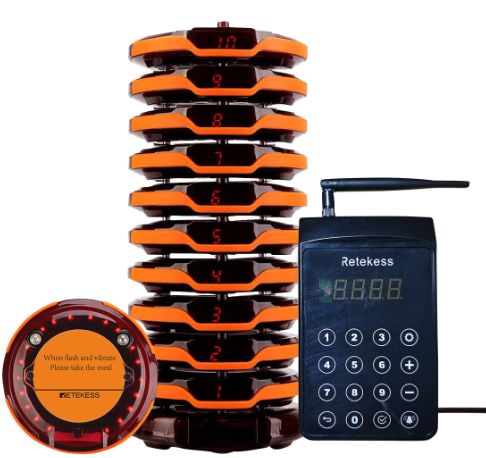 From 24th Nov-2nd Dec, the TD156,which is the most popular type in the whole world also has a promotion. It is popular due to the IP67 waterproof , and long working range. For TD156, it is a coaster pager, so it is also very easy to handle. On the pagers, you can also change the logo to yourself to enhance your brand. There are 10 pieces pagers in all in one system, so the price is most cost-effective. For the working range it is even longer than TD164, it can reach 1000M in the open area. Due to these reasons, the TD156 comes to the most popular type, If you want to buy it for your own business, such as restaurants, food trucks, retail stores, cafes, clinics, and so on. Pls click HERE to check other models, such as TD183, which is the long range systen and TD163, which has the 20 pagers in one system. Email us at support@retekess.com. Hope that our products will help your business.