RetekessTT106 Tour Guide Audio Systems with Two Transmitters for Church Translation Tour Training 2.4GHz
SKU:
F9469AX2-F9469BX30-F9469D
TT106 tour guide audio systems include 2 transmitters 30 receivers 1 32-port charging case
Supports two transmitters working together in a team
2.4GHz signal transmission, stable signal, crystal clear sound
With a dedicated AUX port for connecting audio devices
32-port aluminum charging case is rugged and durable
Transmitter lasts 25 hours, receiver lasts 23 hours
Communication range up to 150m/492 ft
One button to turn off all connected receivers
One button to mute the transmitter
Support automatic pairing
9999 selectable channels
OverView

Supports 2 transmitters working simultaneously
The receiver can hear the voice of both transmitters from the same channel. If your tour group needs two tour guides, TT106 wireless tour guide systems can surely facilitate the tour guide's work and make your trip more successful.
Support AUX and MIC input at the same time
The transmitter has a separate AUX jack to support auxiliary audio input, which can be used to connect the transmitter and MP3, PC, radio, cell phone, etc. for playback by a 3.5mm AUX cable. You can play background music or pre-recorded voice files through this function.
Lightweight wireless receiver
The receiver is designed to hang on the ear, weighing only 18 grams, and it is comfortable and clean as listeners do not need to insert the receiver headphones into their ears. The receiver has a volume adjustment button so listeners are free to adjust the volume to a comfortable level.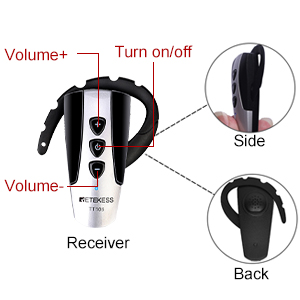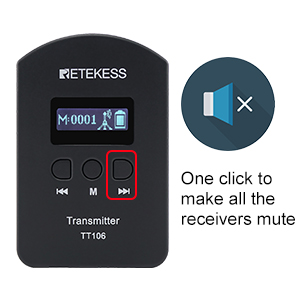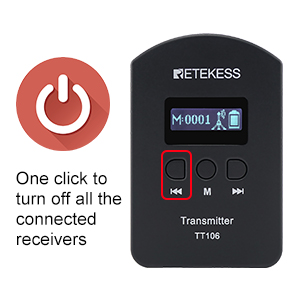 Tour guide audio systems with mute function
If the interpreter or guide does not want the listener to hear anything not related to his presentation, he can press the mute button on the transmitter and the listener will not hear his voice, and it is easy to resume the presentation by clicking the mute button again, simple and convenient.
Turn off all paired receivers with one click
This feature of the TT106 guide audio system allows you to turn off all the receivers paired with the transmitter within 5 seconds, if you have many receivers, this can save you a lot of time and improve your work efficiency.
Long standby tour guide system
The transmitter has a built-in 1300mAh rechargeable lithium battery that lasts 25 hours, and the receiver has a built-in 380mAh rechargeable lithium battery that lasts 23 hours, which saves you the trouble of frequent recharging.
Long range wireless tour guide audio systems
The wireless transmitter and receiver have a range of up to 150 m/492 ft, so even if your tour group has a large range of activities, it is perfectly adequate. Visitors don't have to crowd around the guide, they can freely enjoy the scenery or stop to take pictures, and they can also hear the guide's instructions clearly.
Add receiver
The number of receivers is not limited, two transmitters can be paired with countless receivers and used together, so you can add as many receivers as you want according to your actual needs.
32-port durable charging storage case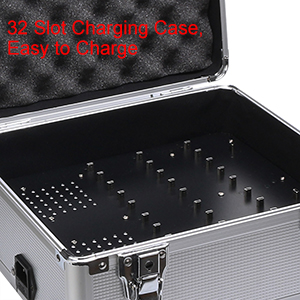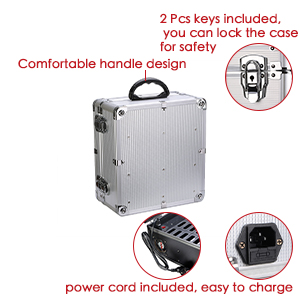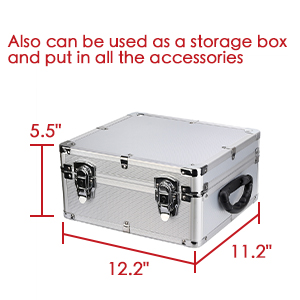 Spec
Specification:
TT106 Wireless Transmitter
TT106 Wireless Receiver
Frequency Range
2400~2483MHz
Frequency Range
2400~2483MHz
ID Number
9999
ID Number
9999
Supply Voltage
DC3.7V
Supply Voltage
DC3.7V
Transmitting power
<=50mW
TIS
-90dBm
Frequency stability
±0.001
Frequency stability
±0.001
SNR
80dB
SNR
80dB
Size
97*63*18mm
Size
65*58*11mm
Weight
70g
Weight
18g
Charge time
3H
Charge time
2H
Working time
25H
Working time
23H
Battery specification
3.7V/1300mA
Battery Specification
3.7V/380mA
Charge Jack
MINI USB
Charge Jack
MINI USB
Modulation frequency deviation
±320KHz
Modulation frequency deviation
±320KHz
Working current
62mA
Working current
15mA
Communication range
150m (open air)
Standby current
1mA
Charging voltage
DC5V
Charging current
320mA
Communication range
150m (open air)
Charging voltage
DC5V
FAQ
Q: How many pieces of receivers can I use in one group?
A: It max support 9999 channels
Q: Can I use 2 pieces of transmitters in one group?
A: Yes, you can. All the receivers will get 2 transmitters' signals at the same time.
Q: How long can i use the transmitter and receivers?
A: The transmitters use a 1300mAh battery, it can work 25 hours once you charge fully.
and receives use 300mAh battery, can work up to 20 hours.
Q: Can i use the wireless tour guide system in my country?
A: There system adopts 2.4G technology, it is free in the whole world. Of course, you can use it.
Q: Can i buy another type charging box for it?
A: Yes, we also have 64 ports, you can contact us to get the price.
Inquiry
Please fill in your procurement needs and contact information
Product Reviews
Timothy

It works well, i've used it last week.

I couldn't be happier with this tour guide system. The quality of audio transmission, range, and reliability are superior to any other system I've tested. It truly made a difference in my tours, ensuring every participant had a seamless experience. And the fact that it comes at a more reasonable price than its competitors is simply icing on the cake!

Marco Villars

Great system for our church

Reviewed in United States

on

Sep 13,2023

We bought this system for our church to translate the service from English to Spanish for the Hispanic community that attends every service and it works really great. Our Hispanic community is very grateful that now they can understand our services better. This system really meets our expectations. We are very happy with this product and with the service we received from Retekess since the first time we contacted them for questions about the product before buying it. This product is what we were looking for and we are glad we found it. We definitely recommend it to anyone that is looking for a system like this.

Tolomeo

Used to lead students on field trips

I used the tour guide audio system on a field trip with my school, and I must say that it made my job a lot easier. I loved the fact that it allowed me to communicate with my students without having to raise my voice, which helped me conserve my energy for the whole trip. The long battery life was also a huge plus, as we didn't have to worry about running out of power in the middle of our trip.They are lightweight and easy to clip to my belt or wear around my neck, making them very convenient to carry. Overall, this system made the field trip a lot more interesting and informative.
We found other products you might like!