Retekess T130S T131S Audio Tour Guide Device for Travel T130T131 Upgrade Model
SKU:
F9632AX1-F9632BX15-F9446AX1
This audio tour guide device includes 1 transmitter, 16 receivers, and a 16-port charging base
Durable and portable
Communication range up to 100 m/328 ft
The transmitter and receiver can run for 20 hours
One-click to auto-pair all units
One click to turn off all receivers
Transmitter with mute function
16-port USB charging base makes charging faster and safer
OverView
Large battery capacity
The whisper listening device can run for 20 hours on a full charge. For guides who don't want to recharge frequently or whose tours last longer, it's easy and convenient. By the way, we also have a 32-port charging box and a 64-port charging box. If you have a large number of receivers, a charging case that can be charged in batches is a good choice.
Durable charging base
This 16-port charging base features eight safety protections: overvoltage protection; overcurrent protection; abnormal temperature protection; static protection; short-circuit protection; electromagnetic field protection; over-power protection; and lightning protection. This not only avoids the clutter of tangled wires and makes charging safer, but also protects the audio tour guide system.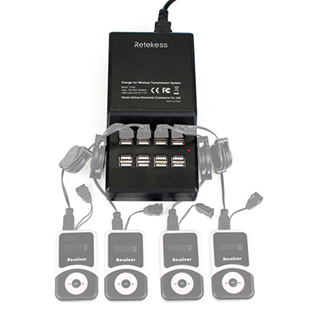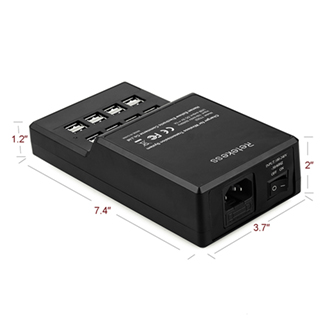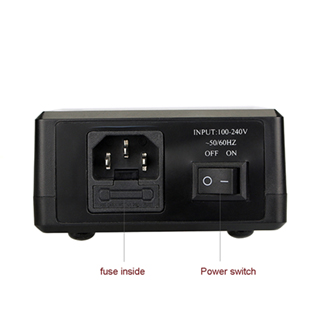 One-button operation is easy to use
One button to turn off all receivers: The guide only needs to long press and hold the "-" button of the transmitter for about 5 seconds, all receivers on the same channel with the transmitter will be turned off, no need to turn off receivers one by one after the tour activity.
One button automatic sync channel: portable transmitter and receiver can only transmit sound on the same channel, thanks to the automatic channel sync function of the T130S T131 audio tour guide device, avoiding you to waste a lot of time adjusting the channel of the device.
One button to mute: Simply click the transmitter "+" button to enter the one-button mute mode, when the visitor wearing the receiver will not hear any sound from the transmitter. This will greatly facilitate the tour guide and will give the visitor a more satisfying experience.
Long-range audio tour guide device
The wireless transmitter and receiver have a communication range of 100 meters/328 feet, which means your visitors have more room to move around and they can stop and take pictures where they like, for Segway trips with a larger range of motion.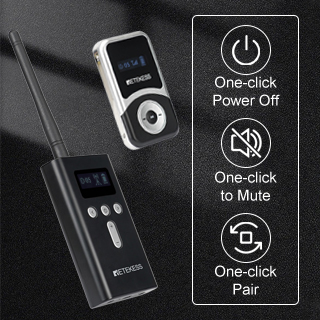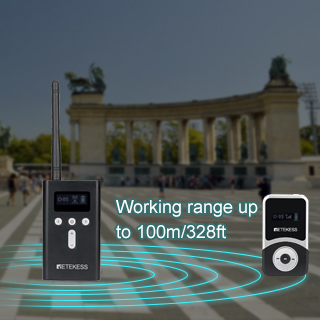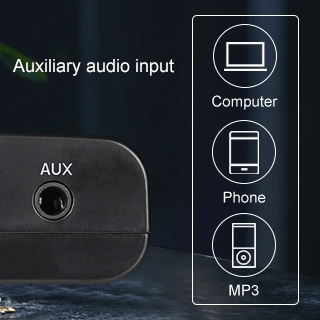 Auxiliary audio input
In addition to MIC input, the guide can also use a 3.5mm audio cable to connect external devices such as cell phones, mp3, computers, etc. for AUX input, and the guide can play the voice files or music of the attraction explanation for visitors through this function.
Add receiver
If your needs increase, you can add as many receivers as you like. the T130S transmitter can be paired with countless receivers, and newly added receivers can also work with the transmitter.
Comfortable listening
The T131S wireless receiver has a volume adjustment button, so users can freely adjust the volume to their desired level. In addition, the included D-shaped headphones are universal for the left and right ears, which is not only friendly to people with monaural hearing impairment but also, alternating between the left and right ears can avoid fatigue caused by wearing one ear for a long time.
Note: T130S-T131S is the upgraded model of T130-T131, this upgraded model and the old version are universal.
T130S transmitter and T131 receiver used together have a communication range of about 80 meters in open areas; T130 transmitter and T131S receiver used together have a communication range of about 50 meters in open areas.
Spec
Transmitter

Receiver

Frequency Range

195-216MHz

Frequency Range

195-216MHz

Channels
49CH
Channels
49CH
Working Voltage
DC 3.7V
Working Voltage
DC 3.7V
Mic /Aux input
3.5mm

Earphone Jack

3.5mm
Frequency Response

50-18000Hz

Frequency Response
50-18000Hz
SNR
80dB(Typical)
SNR
80dB(Typical)
RF spurious rejection
≥90dB
RF spurious rejection
≥90dB

T.H.D

<0.3%

T.H.D

<0.3%
Operating Range
100m(line of sight)
Operating Range
100m(line of sight)
Battery Capacity
4200mAh
Battery Capacity

900mAh

Battery Run Time
About 20 hours typical
Battery Run Time
About 20 hours typical
Weight
120g(without accessories)
Weight
30g(without accessories)
Size
103*61*25.8mm(without antenna)
Size
73*42*12mm
TT002 16-port USB Charging Base
USB output
DC 5V; 7A
Adapter input
AC100-240V 50/60Hz
Size
190 x 95 x 50mm
Weight
430g
Package Includes:
1 x transmitter

1x lavalier mic
15 x receiver
15 x earpiece
16 x lanyard
16 x charging cable
1 x charging base
FAQ
Q: The receiver output sound is mono or stereo?
A: The receiver outputs sound in mono.
Q: Can people use it for discussions? Can people talk to others in the group?
A: The T130S T131S Audio Guide System cannot be used for discussions, it only supports one transmitter to speak, and the rest of the units are receivers only.
Q: Does this system rely on the internet/wifi to operate?
A: This audio device does not require Internet/WiFi at all to operate.
Q: Is there a way to add background music other than the person speaking?
A: Yes, if you have an audio cable, you can use it to connect the transmitter's AUX jack and the audio device, and then you can play background music to the receiver.
Inquiry
Please fill in your procurement needs and contact information
We found other products you might like!