Retekess T130S T131S Tour Audio System for Tourism with Charging Case
SKU:
F9632AX2-F9632BX25-F9443D
该旅游音频系统包括 2 个发射器、25 个接收器和一个 32 端口便携式充电盒
铝制充电盒便携耐用
发射器工作范围高达 100m/328ft
充满电可连续使用 20 小时
支持MIC输入和AUX输入
一键关闭所有接收器
一键式静音发射器
自动同步频道ID
OverView

重量轻,袖珍型
发射器比手掌还小,接收器甚至只有 30 克。考虑到无线导览系统的便携性,我们在保证耐用性和高品质的同时,尽可能减小了设备的体积和重量,一个人可以轻松携带整个团队所需的工具包。
电池容量大
The transmitter has a built-in 4200mAh lithium battery and the receiver has a built-in 900mAh lithium battery, which can work continuously for 20 hours when fully charged, eliminating the need for frequent charging. The current device power is displayed on the screens of each unit, allowing you to easily understand the device power status.
Long-range tour audio system
T130S transmitters can clearly transmit sound to receivers within 100 m of you, giving visitors more space to move around while listening to the guide's commentary, even if you have a large number of visitors or a large tour site.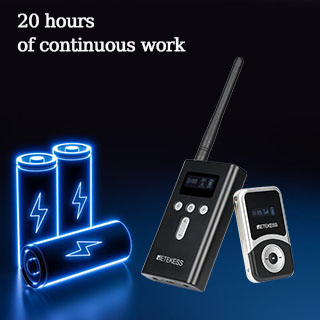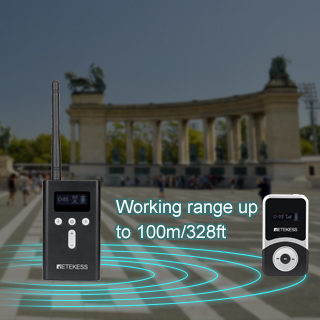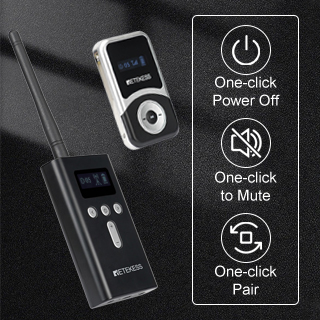 Easy to set up and use
Tour audio system features automatic channel synchronization and one click to turn off all receivers. If you have many receivers, this can increase your productivity because you don't need to adjust the channels of your device one by one or turn off the receivers one by one after the event.
One-touch mute transmitter
This feature allows the guide to temporarily mute the microphone without unplugging it. The guide simply clicks the "+" button on the transmitter and the mute icon will appear on the transmitter screen and the visitor will not hear anything from him. Click the "+" button again to exit the mute mode.
Support auxiliary audio input
In addition to supporting MIC input, the wireless transmitter also supports connecting external audio devices to play pre-recorded attraction commentary for visitors, so that the guide doesn't have to repeat the same narration to different visitors over and over again.
Satisfying listening experience
The tour audio system receiver is equipped with a volume adjustment button, which can be adjusted from 0 to 9 levels. The included D-shaped headphones fit both the left and right ears, which allows you to wear them alternately in both ears to avoid discomfort and fatigue caused by listening in one ear for long periods of time.
32-port charging case carry case
By charging in bulk, the charging case can make the job of charging easier and more convenient. Moreover, the aluminum charging case can also be used as a carrying case, which can hold 32 units and all accessories, making it easy for guides to carry on the go.
Spec
Transmitter

Receiver

Frequency Range

195-216MHz

Frequency Range

195-216MHz

Channels
49CH
Channels
49CH
Working Voltage
DC 3.7V
Working Voltage
DC 3.7V
Mic /Aux input
3.5mm

Earphone Jack

3.5mm
Frequency Response

50-18000Hz

Frequency Response
50-18000Hz
SNR
80dB(Typical)
SNR
80dB(Typical)
RF spurious rejection
≥90dB
RF spurious rejection
≥90dB

T.H.D

<0.3%

T.H.D

<0.3%
Operating Range
100m(line of sight)
Operating Range
100m(line of sight)
Battery Capacity
4200mAh
Battery Capacity

900mAh

Battery Run Time
About 20 hours typical
Battery Run Time
About 20 hours typical
Weight
120g(without accessories)
Weight
30g(without accessories)
Size
103*61*25.8mm(without antenna)
Size
73*42*12mm
TT001 32-port Charge Case
Color
Silver
Material
Aluminum alloy
Input
AC110-220V, 50/60Hz
Output
DC 5V, 7A
Size
500 x 265 x 140mm / 19.7 x 10.4 x 5.5 in
Weight
3200g / 7lbs
Package Includes:
2x transmitter
2x lavalier mic
25 x receiver
25x earpiece
27 x lanyard
27 x charging cable
1 x charging case
FAQ
Q: Does this work for different rooms? Or can it only be used for open-air transmission?
A: It is possible to use this T130S-T131S tour guide system in different rooms, but the transmission distance will be affected, about 40m. If used for open-air transmission, the distance can be up to 100m.
Q: Do these devices have to sync every time they are used or will they stay in sync?
A: After you synchronize the transmitter and receiver, they will stay in sync and there is no need to adjust the channel every time you turn them on and use them.
问:如果未来需求增加,我可以添加额外的接收器吗?一个发射器最多可以添加多少个接收器?
A: 是的,可以随意添加额外的接收器。发射器可以与无数接收器一起工作,只要它们在同一频道上即可。
Inquiry
Please fill in your procurement needs and contact information
We found other products you might like!