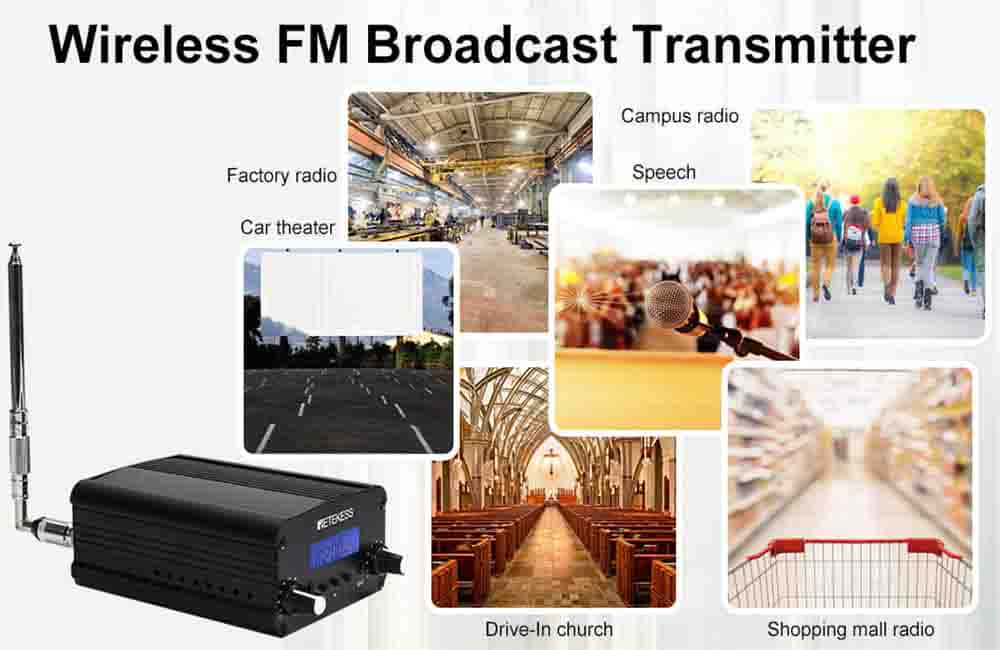 Retekess TR509 FM transmitter has clear stereo sound and high fidelity to the sound quality. It can be widely used in the following scenarios to help operators improve efficiency and increase revenue, while also providing consumers with a better experience.
Drive-in MOVIES: Nowadays, many people choose to go to the car theater to watch a movie and relax with their family or friends in their free time. The FM transmitter allows the viewer to hear the sound of the movie clearly without opening the car window, just using the radio in the car, which brings a better experience to the viewer. The transmitter has been supported by many companies that provide movies. While maintaining a safe distance, it also enhances the entertainment of the audience and achieves an immersive movie-watching effect
Churches: It seems that it has become a trend for churches all over the world to broadcast their services through car radios and portable radios. Especially in the period of COVID-19, Drive-in cars can not only help people maintain social distance and create a safer environment, but also provide a guarantee for normal worship and evangelism, meet people's spiritual needs, and give spiritual comfort
Activities: now many concerts, graduation ceremonies, weddings, and other indoor and outdoor activities will choose to use FM transmitters to broadcast to car radio or portable radio. Ensure that the audience can accurately and clearly receive the information conveyed on-site to ensure the smooth progress of the event Communities and apartments: community or apartment managers will use radio to notify residents of key information and contact them. Anyone who has a car radio can listen to your radio
Shopping malls: FM transmitters are installed in major shopping malls and stores. This can help employees broadcast information about mall promotions to every customer in the mall, and can also be used to contact employees and consumers in emergency situations. The operation is simple and easy to use
Food court: Most food courts will house many different types of food and beverage outlets. Therefore, the environment will be so noisy that employees and customers can hardly hear each other. Therefore, many businesses will use FM transmitters to notify their customers to pick up the meal. Even in a noisy environment, it can easily transmit information
Schools: More and more schools use FM transmitters for intra-school broadcasting. Members of school clubs can easily spread knowledge to students through this device. School administrators will also use this channel to convey important information to teachers and students, which is more convenient and efficient
RetekessTR509 FM transmitter is welcomed by more and more industries due to its simple operation and wide application range. Come and buy this launcher for your business!
---