A tour guide system for a church would typically include wireless audio receivers and transmitters that are used to deliver clear and uninterrupted audio commentary to a group of visitors. Some possible features that may be included in a church-specific system might include: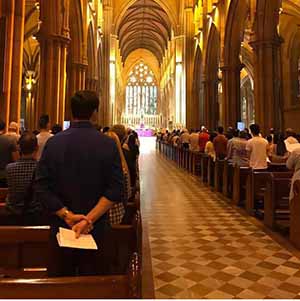 Automatic volume control to account for changes in ambient noise levels within the cathedral or church

Multipurpose transmitters that can also be used for live interpreting and translation services

Rechargeable batteries for extended use during large group tours

Built-in voice prompts and directional guidance to help visitors navigate the church and follow the tour

A variety of headset options to accommodate different visitor preferences and needs (such as wireless headphones, earbuds or handheld receivers).
Overall, a tour guide system for a church would allow visitors to fully appreciate the beauty and history of the church without any distractions or interruptions.
Which Retekess tour guide system is the best one?
We have types of systems, which are widely used in church. During the systems, the T130S and T131S are the best ones. TT106 is also very popular.
T130S and T131S
The T130S T131S tour guide system is the updated version of T130 &T131. The wireless audio system is used for group tours and interpretation. It consists of T130S transmitter that is worn by the pastor or preacher, and receivers that are worn by the listeners. This allows everyone in the group to hear the presentation clearly, even in noisy or crowded environments or within different languages. The T130S T131S system is easy to use, reliable, and offers high-quality sound. With the new version, you can mute all the receivers using one key or power off all the receivers using one key.
Except for T130S and T131S , the TT106 is a good choice. The TT106 is an ear type, which is lightweight. And the other good feature is that 2 transmitters can work in one group, if there are 2 speakers in church, you can use TT106 as well.
If you don't know how to choose the right tour guide system for the church, pls email us directly, and we will help you choose one.