2.4GHz license-free
Stable and clear audio quality
Two transmitter works in one group at the same time
Stronger anti-interference ability 150m communicate range with high confidentiality
Only
4796
left in stock - order soon.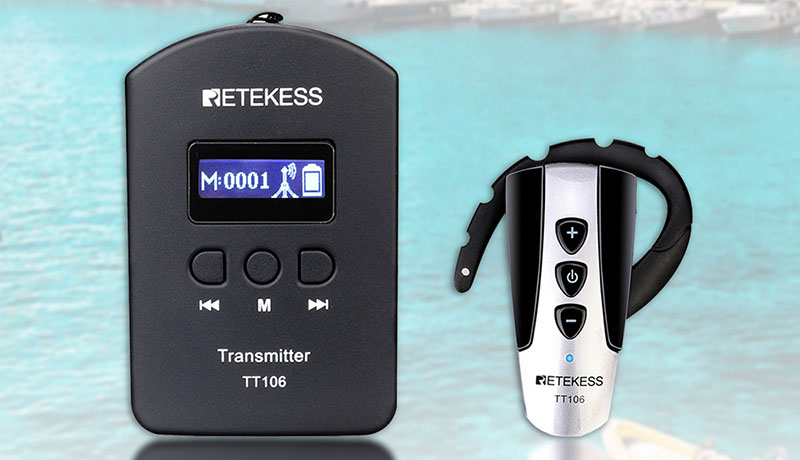 Retekess TT106 Wireless Tour Guide System 2.4GHz 1 Transmitter +10 Receivers
With one set of the Retekess TT106 wireless audio guide system with headset design receiver, stop yelling and customers complain about the unclear
a voice from guides. Reflecting the professional services of your company and leaving a deeper impression on customers. Also, this tour guide system
allows two transmitters to work to the same receivers at the same time in one team, that's to say, it allows two persons to speak at the same time or take
turns to speak, all the listeners can hear from both of them

Long Service Time for TT106 Tour Guide System
1300mAh rechargeable lithium battery for the transmitter; 3H get full charged, 25H continuous use
380mAh for receivers; 2H get full charged, 23H continuous use
Translation System
One-click turn off all paired receivers
9999 IDs allows 9999 tour groups to operate simultaneously in the same area
An unlimited number of receivers can be paired to a tour guide transmitter
Light Tour Guide System
2H get full charged, 23H continuous use
2.4GHz license-free worldwide channels accommodating hundreds of groups working in the same place as long as they are on different channels

Support 2 Transmitters Work Simultaneously
Receivers could hear voice messages from two transmitters on the same channel
NOTE: only 1 transmitter included in our package
Translation System for Churches
You can adjust the volume to a comfortable level without disturbing others
Set channels for all receivers simultaneously
AUX Input Jack for Tour Guide System Transmitter
Transmitter support 3.5mm AUX input which enables to connect of an MP3, PC, phone, etc. to plug as sound sources
You can play background music or pre-recorded voice files by this function

Ear-hook Design for Tour Guide System Receivers
Lightweight, 18g for each receiver, 70g for each transmitter
Clean and comfortable, no need to plug the receiver headset into the ear
One-click to make all receivers mute
Mute Function for Tour Guide System Transmitter
Tour guide transmitter has a mute function
If the interpreter sometimes does not want the audience to hear his speech, he can press the mute button and the audience will not hear his speech
USB Charging Tour Guide System Receivers
USB charging slots for each receiver
USB charging cable for each receiver are included
One-click to turn off all connected receivers
Widely used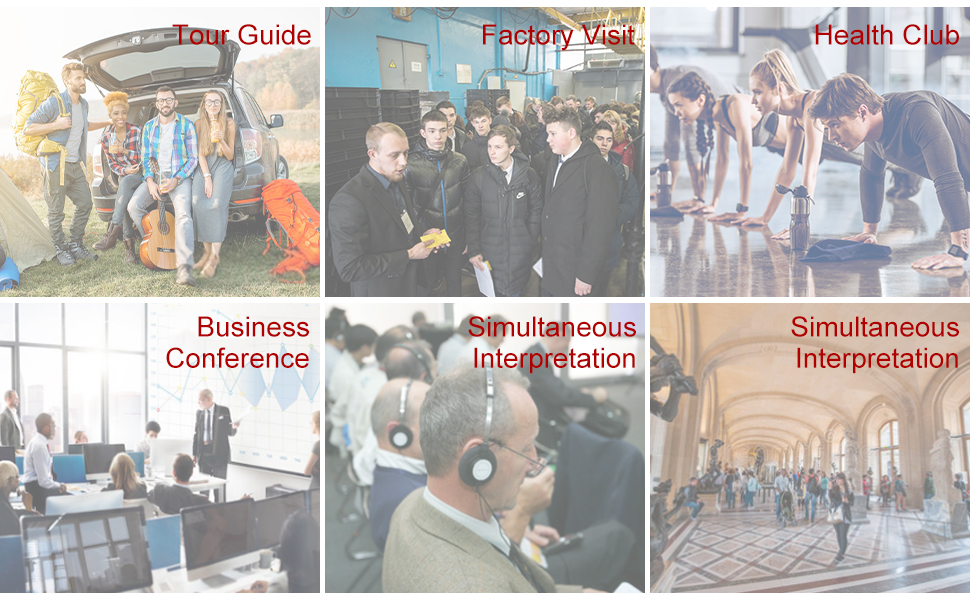 Please fill in your procurement needs and contact information
TT106

Wireless Transmitter

T

T106 Wireless Receiver

Frequency Range
2400~2483MHz
Frequency Range
2400~2483MHz
ID Number
9999
ID Number
9999
Supply Voltage
DC3.7V
Supply Voltage
DC3.7V
Transmitting power
≦50mW
TIS
-90dBm
Frequency stability
±0.001﹪
Frequency stability
±0.001﹪
SNR
80dB
SNR
80dB
Size
97*63*18mm
Size
65*58*11mm
Weight
70g
Weight
18g
Charge time
3H
Charge time
2H
Working time
25H
Working time
23H
Battery specification
3.7V/1300mA
Battery Specification
3.7V/380mA
Charge Jack
MINI USB
Charge Jack
MINI USB
Modulation frequency deviation
±320KHz
Modulation frequency deviation
±320KHz
Working current
62mA
Working current
15mA
Communication range
150m (open air)
Standby current
1mA
Charging voltage
DC5V
Charging current
320mA
Communication range
150m (open air)
Charging voltage
DC5V
Q: How many pieces receivers can i use in one group?
A: It max support 9999 channels
Q: Can i use 2 pieces transmitters in one group?
A: Yes, you can. All the receivers will get 2 transmitters' signal at the same time.
Q: How long can i use the transmitter and receivers?
A: The transmitters use 1300mAh battery, it can work 25 hours once you charge full.
and receives use 300mAh battery, can work up to 20 hours.
Q: Can i use the wirless tour guide system in my country?
A: There system adopts 2.4G technology, it is free in the whole world. Of cousre, you can use it.
Q: Do you have charging box for it?
A: Yes, we have 2 types: 32 ports and 64 ports, you can choose the one that you need.