Transmission range up to 100m/328ft
Transmitter and receiver can work for 20 hrs
Transmitter with mute function
One-touch to auto pairing
One button to turn off all receivers
Support MIC and AUX input
The receiver is loud and adjustable in volume
Only
3961
left in stock - order soon.

— Easy to operate
The wireless tour guide system is designed to be easy to use. Both the transmitter and receiver have simple controls that include power on/off, volume adjustment, and channel selection buttons. This simplicity allows guides and participants to quickly learn how to operate the system, minimizing setup time and avoiding confusion during the tour.
— Automatic pairing and channel memory
Transmitters and receivers support automatic pairing, simplifying the setup process. In addition, they feature a channel memory function that allows the tour guide kit to remember previously used channels, eliminating the need to adjust channels again on subsequent tours.
— Mute Function
The tour guide systems can be put into mute mode by pressing the "+" button on the transmitter. This feature allows the tour guide to temporarily pause the audio transmission without turning off the tour guide kit, ensuring that participants can focus on specific moments or instructions without any interruptions.
— Quickly turn off all receivers
T130S one way tour guide system has a convenient feature that allows all paired receivers to be turned off at the same time with a single keystroke. This simplifies the process of shutting down the tour guide kit after an excursion, saving time and effort.
— Battery run time
T130S tour guide system has a built-in rechargeable lithium battery that allows the transmitter and receiver to run for approximately 20 hours of continuous use. Guides can easily lead groups on full or multi-day tours without worrying about running out of batteries or having long trips interrupted by battery problems.
— Adjustable volume
T131S receiver offers the flexibility to adjust the volume to your personal preference. This ensures that the audio is loud and clear, even in noisy environments or for participants with different hearing abilities. It's worth noting that the T130S system is the loudest available, making it friendly for hard-of-hearing seniors.
— Communication range
With a transmission range of up to 100 meters, the T130S one-way tour guide system provides wide coverage during museum tours or outdoor excursions, ensuring clear communication between the guide and participants. Visitors are free to move around and listen to the narration, even if they are dispersed or exploring different areas.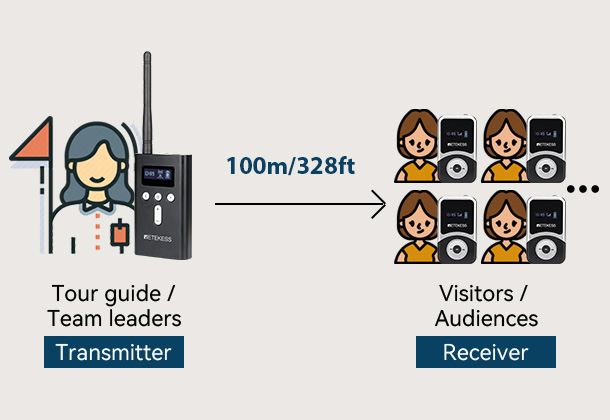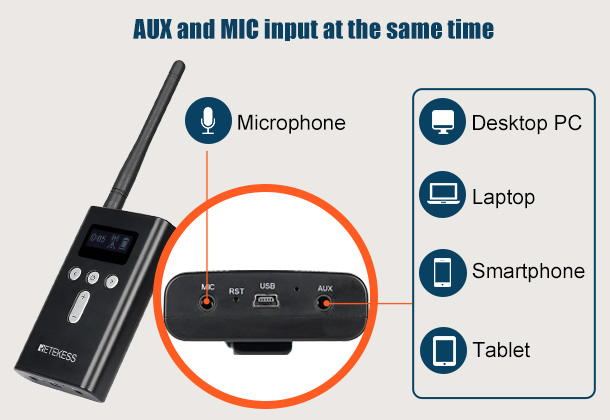 — Dual input support
The transmitter is equipped with an AUX jack and a MIC jack. This allows simultaneous input of external audio sources, such as playing pre-recorded tour information via AUX and listening to live commentary from the tour guide via MIC. It provides flexibility in the content of the information delivered to the listener.
— Multi-channel
T130S one way tour guide headsets offer 49 different channels, which allows multiple tours or guides to operate in the same area at the same time, with each guide being able to select a different channel to ensure their commentary does not interfere or overlap with each other. The availability of multiple channels ensures clear, uninterrupted communication.
— High-quality sound
T130S one way tour guide system uses advanced PLL technology to maximize signal stability and provide clear, crisp sound, ensuring that tour participants are not disturbed by background noise and can clearly hear the tour guide's commentary, enhancing the overall tour experience.
— Universal headset compatibility
The receiver comes with a D-type headphone accessory that can be used in both left and right ears. However, users also have the option of replacing the included D-type headphones with their own 3.5mm universal headphones to further enhance convenience. By the way, we also offer disposable headphones and single ear-hook headphones as options.
— Unlimited number of receivers
T130S one-way tour guide system supports the connection of any number of receivers, allowing the tour guide to add or subtract receivers as the group size increases or decreases, a flexibility that allows the tour guide to adapt to any size tour group. Click here to buy receivers.
— Multiple charging options
The one way tour guide equipment has multiple charging options. Users can charge the transmitter and receiver using the included USB charging cable. In addition, we offer more convenient and efficient charging solutions: 32-slot charging case, 64-slot charging case, or 16-slot charging base.
— Wearing method
The wireless transmitter and receiver are equipped with a lanyard so that users can hang them around their necks, freeing up their hands for easy mobility. The transmitter is also fitted with a clip that allows the guide or team leader to attach it to their belt, providing a hands-free and convenient way to wear it.
— Customize combinations
You have the flexibility to customize the number of T130S transmitters and T131S receivers according to your specific needs. If you don't find the combination you want on our website, just contact us to get it.
— Brand Customization
The T130S tour guide system supports customized logos and lanyards. This allows guides or organizations to incorporate elements of their brand to create a professional and cohesive look for your tour. If you need customization, contact us for details.
Please fill in your procurement needs and contact information
T130S Transmitter

T131S Receiver

Frequency Range

195-216MHz

Frequency Range

195-216MHz

Channels
49CH
Channels
49CH
Working Voltage
DC 3.7V
Working Voltage
DC 3.7V
Mic /Aux input
3.5mm

Earphone Jack

3.5mm
Frequency Response

50-18000Hz

Frequency Response
50-18000Hz
SNR
80dB(Typical)
SNR
80dB(Typical)
RF spurious rejection
≥90dB
RF spurious rejection
≥90dB

T.H.D

<0.3%

T.H.D

<0.3%
Operating Range
100m(line of sight)
Operating Range
100m(line of sight)
Battery Capacity
4200mAh
Battery Capacity

900mAh

Battery Run Time
About 20 hours typical
Battery Run Time
About 20 hours typical
Weight
120g(without accessories)
Weight
30g(without accessories)
Size
103*61*25.8mm(without antenna)
Size
73*42*12mm
Package Includes:
Classification of packages
package includes
1TX+6RX

1x transmitter

6x receiver

1x lavalier microphone

6x single-ear headphones

7x charging cable

7 x lanyard

1x user manual
1 TX + 10 RX

1x transmitter

10x receiver

1x lavalier microphone

10x single-ear headphones

11x charging cable

11 x lanyard

1x user manual
1 TX + 15 RX

1x transmitter

15x receiver

1x lavalier microphone

15x single-ear headphones

16x charging cable

16 x lanyard

1x user manual
1 TX + 20 RX

1x transmitter

20x receiver

1x lavalier microphone

20x single-ear headphones

21x charging cable

21 x lanyard

1x user manual
Q: What is the difference between the T130S-T131S audio guide system and the T130-T131?
A: The T130S-T131S audio guide systems are upgraded models of the T130-T131, with greater improvements in battery capacity, transmitting range, and functional features, click to learn more about the differences.
Q: Does it come with a charging unit?
A: Yes, each transmitter and receiver comes with a USB charging cable, or you can purchase an additional 32-port charging case, 64-port charging case, or 16-port charging base if you want to charge more easily.
Q: What is the warranty policy for this T130S T131S tour guide system?
A: All models of Retekess tour guide systems support 30-day no-reason returns and a two-year warranty.
I recently used the Retekess T130S Tour Guide System on a group tour and it was fantastic. The system was so easy to set up and use that I barely noticed it was there, but my guests could hear me perfectly. I was able to move around freely and still be heard, which made for a much more engaging and enjoyable tour. I highly recommend this system to any tour guide.
We've been using the Retekess T130S Tour Guide System for a few months now and have noticed a significant improvement in the experience for our hearing-impaired members. It has exceeded our expectations, the system is incredibly lightweight and comfortable, making it perfect for long services or events. It's easy to adjust the volume and the sound quality is superb and is so simple to use that even our older members have no trouble with it. We highly recommend this product to any church or organization looking to improve accessibility.
Everything I need is included, I am very excited to have had this product in my church, I use it to translate the service. After we tried it... everyone was saying "I love it, it sounds clear..." And I like that the battery last long even after a 8hr hour usage. I am thankful for this product because before I would have to use a mic to translate but they couldn't hear me well.
We used it to guide tourists in the tour group, this is the best after we tried some other products. I am very happy with it.
Yes, everything is fine. I received it several weeks ago and tested the new sender yesterday in combination with the old type receivers. It turns out that the volume is much louder - for most people the receivers could be turned back to sound level 1 instead of the usual 9! And after 3 hours of use the battery was still full instead of 35% depleted. It is a pity that the auto-off function doesn't work with the old receivers!