UHF transmission has strong penetrating power and stable signal
The ear hook receiver is light and compact and can be used for both left and right ears
One key to shutting down all receivers
The transmission distance from the transmitter to receiver is up to 200 meters
Support MIC and the AUX input at the same time
Easy to use and set up
The transmitter can be charged for 5 hours and can work continuously for ten hours. The receiver needs to be charged for two hours and can work continuously for 8~9 hours.
Only
5999
left in stock - order soon.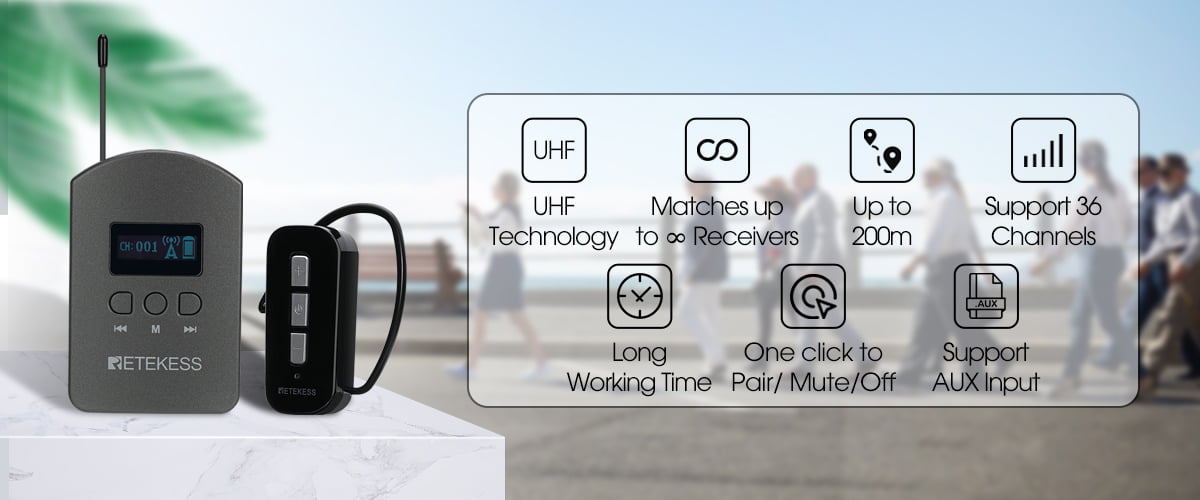 During tours and visits, tour guides no longer have to yell at tourists, they can have an easier way to deliver their voices. The wireless audio guide system makes the communication between the tour guide and the tourists more effective, improving the tourist experience and satisfaction of the tourists.
Hands-free wireless audio guide system
The tour guide's transmitter can be hung around the neck with the included lanyard, and the microphone clipped to the collar; the tourists use a lightweight ear-hook receiver that can be worn tightly on the left or right ear. The hands of tour guides and tourists are completely free and can better participate in excursions.
Transmitter with mute function
If the guide doesn't want the tourist to hear something unrelated to his training (like a sudden phone call or an uncontrolled cough), he can press the mute button on the transmitter to cut off the sound transmission and the tourist won't listen to his voice. Click the mute button again to resume sound transmission, which is simple and convenient.
One-click pairing
Before the tour starts, the tour guide does not need to adjust the receivers to the same channel one by one, just a simple operation, the channels of all receivers transmitters and receivers can be automatically synchronized within five seconds. In addition, the TT112 and TT111 wireless command systems have the function of channel memory. After the pairing is successful, they can be used directly when they are turned on next time without pairing again.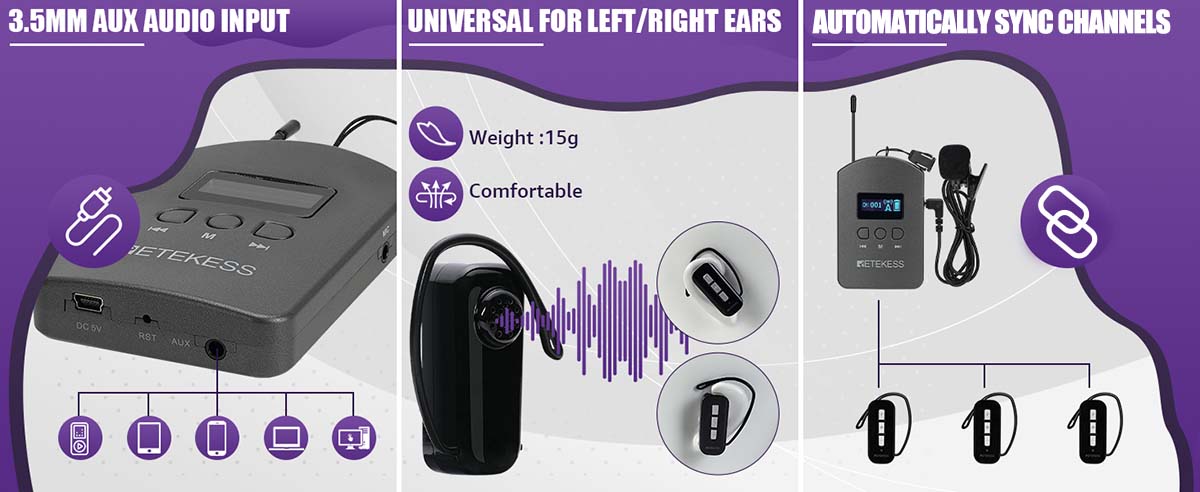 Lightweight and comfortable ear hook receiver
The ear hook receiver is secure and comfortable to wear, and won't easily fall off, even during fast walks. With volume adjustment button allows tourists to freely adjust the volume they want. Compared to in-ear headphones, over-ear headphones are more hygienic and easier to clean.
Support AUX input
The portable transmitter has a dedicated AUX jack, you can use a 3.5mm AUX cable to connect the transmitter to a smartphone, mp3, radio, or computer. Tour guides can use this function to play pre-recorded voice files or music for tourists.
Turn off all paired receivers with one click
This function of the TT112, TT111 wireless tour guide audio system allows you to turn off all receivers paired with the transmitter within 5 seconds, if you have a lot of receivers, this can save you a lot of time and improve your work efficiency.
Long range transmission
The transmission distance of the wireless communication system reaches 200 m, which means that the tourists can clearly listen to the tour guide within a range of 200 m from the coach. He has a large enough range of activities and does not need to follow the tour guide.
Excellent audio clarity
The tour guide headset system is UHF transmission, which can resist signal interference, suppress background noise, and provide tourists with clear and stable sound, which allows them to focus more on tour guide's explanation.
Various charging devices
You can charge the transmitter and receiver with the included USB charging cable, or you can purchase an additional 16-port charging base, 32-port charging case, or 64-port charging case to charge your device, which avoids tangled wires The risk of electric shock can also make charging easier and faster.
Please fill in your procurement needs and contact information
TT112 Wireless Transmitter

Frequency Range

863-865mhz

Charge time

5H

ID Number

36

Working time

10H

Supply Voltage

DC3.7V

Battery capacity

3.7V/1900mAh

Transmitting power

≦50mW

Charge Jack

MINI USB

Frequency stability

±0.001﹪

Modulation frequency deviation

±320KHz

SNR

90dB

Working current

320mA

Size

150*65*15mm

Communication range

200m (open air)

Weight

128.6g

Charging voltage

DC5V
TT111 Wireless Receiver

Frequency Range

863-865mhz

Working time

8-9H

ID Number

36

Battery capacity

3.7V/520mAh

Supply Voltage

DC3.7V

Charge Jack

MINI USB

TIS

-90dBm

Modulation frequency deviation

±Working 320KHz

Frequency stability

±0.001﹪

Working current

68mA

SNR

80dB

Standby current

1mA

Size

60*48*20mm

Charging current

320mA

Weight

38.6g

Communication range

200m (open air)

Charge time

2H

Charging voltage

DC5V
Package List :
Classification of packages
package includes
1TX+6RX

1x transmitter

6x receiver
1 x Lavalier microphone
7x USB charging cable
7xLanyard
1x User manual
1TX+10RX

1x transmitter

10x receiver
1x Lavalier microphone
11x USB charging cable
11xLanyard
1x User manual
1TX+15RX

1x transmitter

15x receiver
1x Lavalier microphone
16x USB charging cable
16xLanyard
1x User manual
1TX+20RX

1x transmitter

20x receiver
1x Lavalier microphone
21x USB charging cable
21xLanyard
1x User manual
Q: Will this work for people in different rooms? Or is it only for open-air transmission?
A: The working distance for open-air transmission is 200 meters, you also can use this TT112 tour guide system in different rooms, but the transmission distance will be somewhat affected depending on the thickness of the wall.
Q: What frequency does this tour guide system operate on?
A: It has two versions, American and European, the American version of the tour guide system is 902-928mhz, and the European version of the tour guide system is 863-865mhz, it is legal and free to use, and no license required.
Q: How can I adjust the transmitter and receiver to the same channel?
A: The following are the steps for automatic pairing:
1. 1. Press the middle M button to turn on the transmitter, then press the "+" key and "-" key at the same time, until the number on the screen flashes, then release the "+" key and "-" key, then the transmitter enters channel setting mode.
2. Press the "+" and "-" keys to change the channel CH, after adjusting the channel, long press the "M" key for about 3 seconds until the antenna icon flashes, then Release the "M" key, then the transmitter will enter the wireless pairing mode.
3. In pairing mode, turn the receiver on and bring it close to the transmitter (within about 2 m), about 5 seconds receiver can automatically match the same channel with the transmitter, and then the transmitter short press the "M" key to exit pairing mode. At this point, the transmitter speaks, and the receiver can hear it.
Q: Can I use 2 transmitters on the same channel simultaneously? (For group tour guide scenario with simultaneous speech).
A: This TT112-TT111 tour guide system does not support two transmitters working in the same group. If you want the receiver to listen to two people at the same time, we recommend you use TT106 and TT105, which support two people speaking at the same time.
I love that it is so compact and has a long battery life. It made it easy for me to move around with my guests, and they were able to hear me crystal clear throughout the tour. The system is also very well made and durable, making it a nice investment.
I bought this for my tour group. When I received this audioguide system, I was surprised because the transmitter and receiver are very small, very portable. The unit transmits clearly, is comfortable and easy to use, it's the best we've tried out of some others, my visitors love it too.