2.4G, global public channels, stable signal
Support two-speaker two way communication
Working range up to 492ft/150m
One-click channel synchronization function
Microphone jack supports 3. 5mm AUX audio input
TT105 transmitter can work with unlimited receivers
50 channels allow for 50 groups running in the same area
Transmitter works for 10 hours; receiver works for 12 hours
Only
4861
left in stock - order soon.

Dual speakers
TT105 tour guide 2 way receiver system supports two transmitters in a group talking to each other, at the same time, all receivers can clearly hear what the two transmitters are saying, suitable for two tour guides' trips, double-hosted meetings, or factory tours. (Note: the secondary transmitter cannot be used alone)
Long-range two-to-many mode
The communication distance between the two-way transmitters is 328ft/100m and between the transmitter and receiver is 492ft/150m. Two presenters can communicate in both directions 100m apart and their listeners can listen to the message clearly at a range of 150m from them.
MIC input and AUX input
Microphone port can be used as an AUX port, you can use a 3.5mm AUX cable to connect the transmitter and audio device for audio transmission, so your visitor or listener can hear music or other voice files from an external audio device.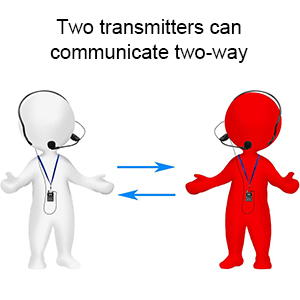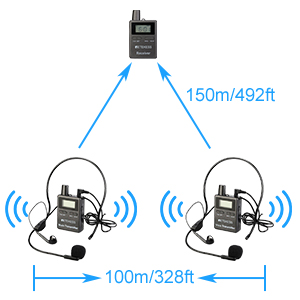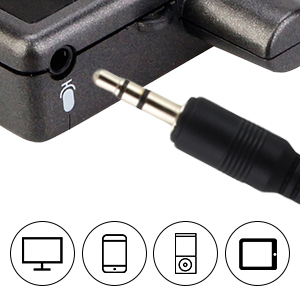 Long standby time
TT105 dual-speaker wireless tour guide system has a built-in rechargeable lithium battery with long battery life. When fully charged, the transmitter can be used continuously for 10 hours and the receiver can be used continuously for 12 hours. You don't need to charge it frequently, and you don't have to worry about the device running out of power and affecting the tour activities.
2.4G universal frequency
Tour guide 2 way receiver system uses 2.4G universal frequency, you can use it all over the world. And the 2.4G transmission signal is more stable, private, and noiseless, with crystal clear sound, so your visitors can enjoy a comfortable narration process.
Volume adjustment
The two transmitters have a volume level of 0-4, and the receiver has a volume level of 0-9. The listener can freely adjust the desired volume with the volume adjustment buttons. If you use it for noisy outdoor tours, or factory visits, or if you have hearing-impaired listeners, the wide range of adjustable volumes will definitely help you.
Automatic channel synchronization
Just one step to set all transmitters and receivers on the same channel. Easy to operate, it only takes ten seconds to complete the pairing. Save time, you don't have to adjust the receiver's channels to the same one by one.
Portable dual-speaker tour guide system
The main transmitter and vice transmitter weigh 60g and the wireless receiver weighs only 51g, lightweight and small size, users won't feel discomfort when wearing them because of the heavy equipment. This also makes it easy for you to carry a tour guide system anywhere you go.
Add receivers
As your team expands, you can add as many receivers as you need. The newly added TT105 receiver can be paired with the TT105 transmitter and work together. That means you can purchase as many transmitters and receivers as you like, and we have a variety of combinations to meet the needs of different teams, as well as 32-port and 40-port charging cases for you to choose from. If you have other quantity combination needs, contact us to get them.
Comfortable accessories
Main transmitter and vice transmitter with headset microphone, the host can hang it on the ear, and the microphone position from the mouth can be adjusted at will to achieve better noise reduction and clarity. Receiver with ear-mounted single-sided headphones, comfortable to wear and not easy to fall off, even if the team is on the march, the microphone and headphones will not fall off.
Applications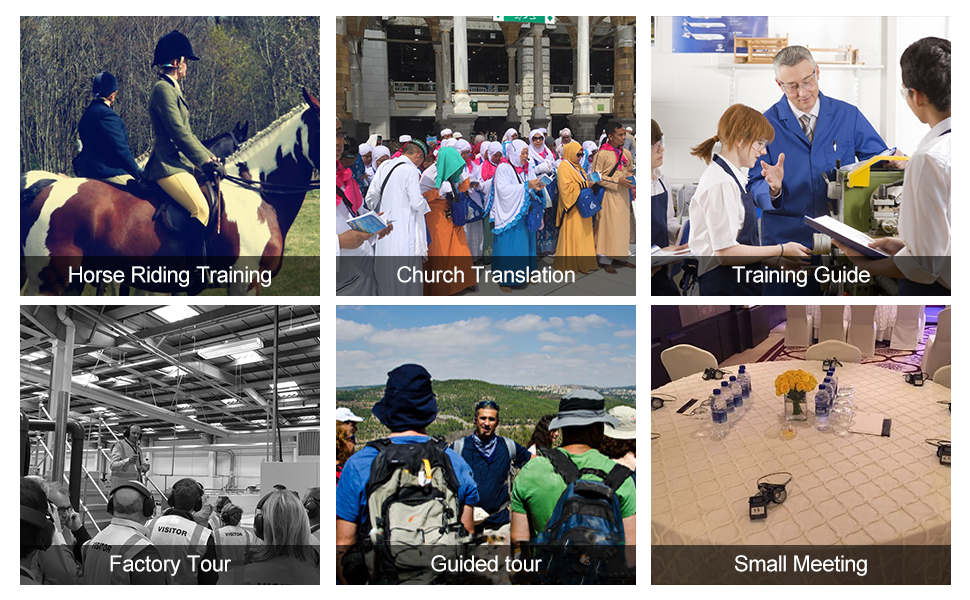 Please fill in your procurement needs and contact information
Specification:
TT105 Transmitter

Frequency range

2400-2480MHz

Channel

50 channels

Output power

10mW

Power supply

Built-in 1500mAh lithium battery

Working time

About 8 hours

Working distance

150 meters (open air)

Size

86 x 50 x 19mm

Weight

60g
TT105 Receiver

Frequency range

2400-2480MHz

Channel

50 channels

Power supply

Built-in 1000mAh lithium battery

Working time

About 12 hours

Size

86 x 50 x 19mm

Weight

51g
Package Includes:
2 x transmitter(Main transmitter and vice transmitter)
6 / 10 / 15 / 20 x receiver
2 x Microphone
6 / 10 / 15 / 20 x earpiece
8 / 12 / 17/ 22 x Charging cable
8 / 12 / 17/ 22 x Lanyard