TT112 TT111 silent conference systems includes 4 transmitters, 60 receiver, 1 64-port charging case
Communication distance between transmitter and receiver up to 200 meters
Mini ear-mounted receiver for both left and right ears
One button to turn off all receivers
Wireless conference system supports connecting to audio devices to play voice files or music
The transmitter takes 5 hours to charge and works for 10 hours; the receiver takes 2 hours to charge and works for 8~9 hours
The 64-port charging case makes charging easier and is also convenient to carry
Only
996
left in stock - order soon.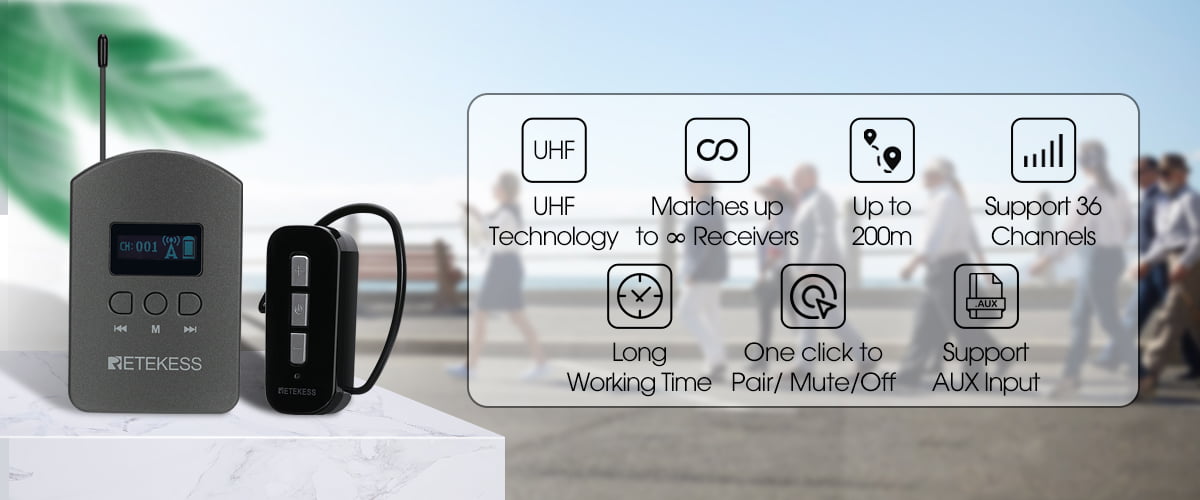 In silent seminars, large corporate events, and exhibitions, wireless conference systems allow organizers to transmit sound through wireless transmitters instead of using noisy speakers, which helps to significantly improve audio quality, reduce noise pollution, and increase audience focus and participation, silent conference systems will revolutionize your event.
Portable charging case storage box
The 64-port charging case is made of aluminum alloy, durable, fireproof, moisture-proof, and dustproof, and with a simple and beautiful appearance, you can use him to charge 64 devices at the same time. It can also be used as a storage case and can put down all the equipment and lanyards, microphones, headphones, and other accessories, a person can easily carry a full set of guide systems.
UHF transmission
Silent conference equipment system adopts UHF transmission to ensure the stability of the signal and the clarity of the sound so that the sound penetration is strong, your listeners will not hear annoying noise from the headphones, and they can be more comfortable immersed in the content of the presenter's speech.
Long-range tour guide system
The working distance of the transmitter is 200 meters, even if you have a large conference room, and a larger audience, the voice of the presenter can be clearly delivered to the audience in the corner of the conference room.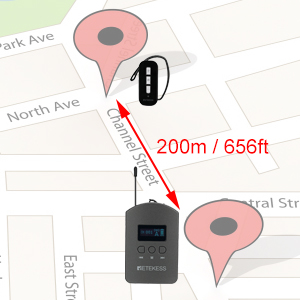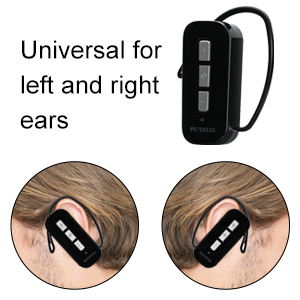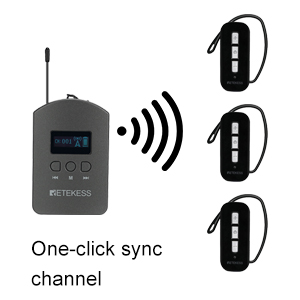 Ear hook mini receiver
TT111 ear hook receiver is so light and compact that you can barely feel the weight on your ear, so even if you wear it for a long time, you won't feel any discomfort. In addition, it is suitable for both left and right ears and can be used by people with hearing impairment in one ear. The receiver has a 10-level volume adjustment range, so conference listeners can freely adjust the volume to their desired level with the volume button.
Automatic and manual pairing
This silent conference equipment system has both manual and automatic pairing options. If you have a lot of receivers, it is a hassle to adjust them to the same channel one by one. However, automatic pairing can synchronize the channels of all receivers and transmitters within 5 seconds to avoid wasting time.
Support AUX and MIC input
TT111, TT112 audio tour guide system with AUX and MIC interface supports microphone and audio device input at the same time, which means the presenter can play background music while speaking.
Large-capacity rechargeable battery
The wireless transmitter can work continuously for 10 hours and the mini receiver can work for 8~9 hours. You don't need to charge them frequently, and you don't have to worry about delaying the event process due to equipment power failure during the presentation.
Transmitter with mute function
After the mute is turned on, the screen will show the mute icon, at which time the receiver cannot hear any voice of the presenter. If the speaker of the conference has something that he does not want the audience to hear or has nothing to do with the conference, he can turn on the mute to cut off the voice transmission with the receiver and hit mute again to resume the voice transmission.
Thoughtful design
The lavalier microphone clips securely to the collar, making it less uncomfortable than a headset, even when worn for long periods of time. The transmitter comes with a lanyard that users can use to hang their devices around their necks, freeing up their hands and preventing them from falling off.
Easy to use
The tour guide headset system is very easy to set up, the user does not need any experience or advanced learning, just set them to the same channel, and then plug in the microphone or headset to achieve wireless voice transmission.
Please fill in your procurement needs and contact information
TT112 Wireless Transmitter

Frequency Range

863-865mhz

Charge time

5H

ID Number

36

Working time

10H

Supply Voltage

DC3.7V

Battery capacity

3.7V/1900mAh

Transmitting power

≦50mW

Charge Jack

MINI USB

Frequency stability

±0.001﹪

Modulation frequency deviation

±320KHz

SNR

90dB

Working current

320mA

Size

150*65*15mm

Communication range

200m (open air)

Weight

128.6g

Charging voltage

DC5V
TT111 Wireless Receiver

Frequency Range

863-865mhz

Working time

8-9H

ID Number

36

Battery capacity

3.7V/520mAh

Supply Voltage

DC3.7V

Charge Jack

MINI USB

TIS

-90dBm

Modulation frequency deviation

±Working 320KHz

Frequency stability

±0.001﹪

Working current

68mA

SNR

80dB

Standby current

1mA

Size

60*48*20mm

Charging current

320mA

Weight

38.6g

Communication range

200m (open air)

Charge time

2H

Charging voltage

DC5V
TT006 Portable 64-Slot Charge Case:
Input: AC110-220V, 50/60Hz
Output: DC 5V, 7A
Size: 575 x290 x 140mm
Weight: 4320g
Package Include:
4 x transmitter
4x mic
60 x receiver
4 x lanyard
64x charging cable
1 x charging case
Q: Can I use 2 transmitters on the same channel simultaneously? (For group tour guide scenario with simultaneous speech).
A: This TT112-TT111 tour guide system does not support two transmitters working in the same group. If you want the receiver to listen to two people at the same time, we recommend you use TT106 and TT105, which support two people speaking at the same time.
Q: How to clean and disinfect the headset after use?
A: You just need to wipe it gently with a cotton cloth or cotton swab dipped in alcohol.
Q: What is the warranty on this product?
A: All Retekess guide systems have a 30-day no-reason return and 2-year warranty policy, please refer to Warranty & Return for details.
Q: If demand increases, can I add more receivers?
A: Yes, one transmitter supports working with numerous receivers, if you need additional receivers, just contact us.