Retekess T128 Wireless Calling System Wrist Receiver with T117 Wireless Call Button for Restaurant Healthcare Hospital
Retekess T128 watch receiver with T117 wireless call button helps support faster service
T128 Calling System support max 999 channel pagers call at the same time
Support 3 group calls in the same display
T117 wireless call button with four key functions: Call, Cancel, Pay, Order
Can meet varied needs and the battery power supply time is long
OverView
Retekess Restaurant Server Call System
T128 Watch Receiver with T117 Call Button 4-key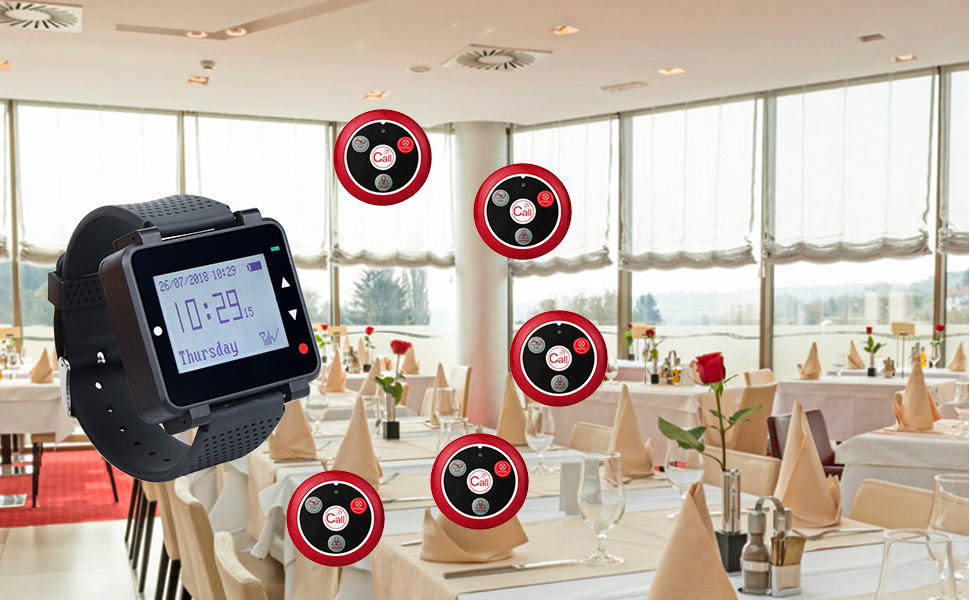 Wireless Restaurant Pager Calling System support max 999 channel pagers call at the same time; support 3 group calls in the same display; 2 display modes; live view and queue view to track the call history up and down
3 Prompt modes; vibration+light; buzzer+light; light only; vibration mode is fit for a coffee shop; customer cannot be disturbed; widely used in fast food restaurant cafe hotel bar hospital factory office church service station western restaurant
Long Battery Life; Built in rechargeable 400mAh battery for the watch receiver; with low power indication; 2pcs 3V CR2016 battery for each pager and no screw design, easy to uncover the back cover for replacing the battery
Long Range; Restaurant pager system using RF wireless technology; The maximum distance can be 50m from pager to wrist receiver at open area; so they can work well for staff to improve the working efficiency
Easy to use; wireless pager system adopts LCD display better view; with four keys for call; cancel;pay;order; Just press the button; table number and service type will display on the wrist watch; also convenient for date-time setting
Watch Receiver
Longer Range
The maximum transmission distance can be 50m from the pager to watch receiver(practical distance depends.); So it can work well for good signal to improve the efficiency. Add max 500 pagers
Rechargeable Battery
DC3.7V rechargeable Li-poly battery for the watch receiver; Easy to charge by the attached USB cable; no need to replace the battery when they run out; Rechargeable battery
with long standby time and safe charging circuit
Watch receiver is powered by built-in 400mAh battery, easy to charge by the attached USB cable
Signal Display
Receiving sensitivity value can be -108dBm; Signal can be more stable; And the receiving signal strength can be more easily seen on the watch
Display type: a group of 4 digits
4 calling records show at the same time
Call Button:
More Stable Signal
Watch pager adopts learning code as working chip with ASK (AM) Modulation mode; So it will not be disturbed by other signals
Durable Use
Restaurant pager is built in 2pcs 3V CR2016 battery; with 17mA working current
Low current draw; long working hours
You can also replace the battery when they run out; easy to operate
Usage:
The watch receiver is suitable for restaurants, dessert shop, cafes, bar etc. You can feel free to order it and add more call buttons later.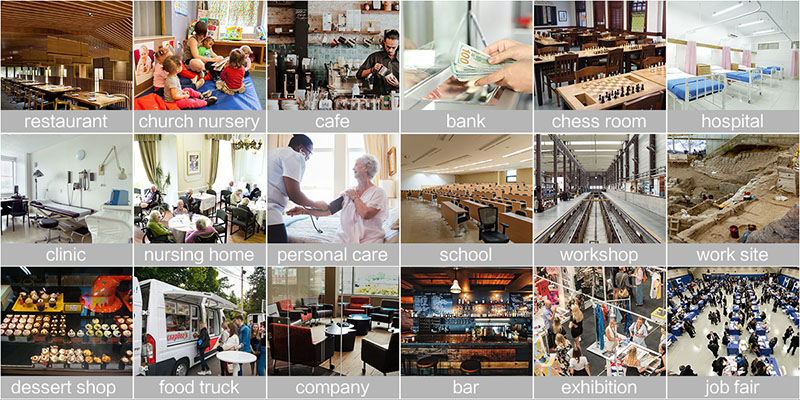 Spec
Specification
Retekess T128 wrist watch receiver
Operating Voltage:DC3.7VBattery capacity: 400mAh
Receiving sensitivity: -108dbm

Display method: LCD

Prompt mode: vibration or buzzer

Adapter: 5V 1A

Watch net weight:44g
T117 wireless call button
Small, low current draw
RF frequency: 433MHz
Modulation mode: ASK (AM)
Working chip: learning code
Power: 3V CR2032 battery (included)
Working current: 17mA
Emission distance:50 meters (open area)
Working temperature: -20 Celsius to 55 Celsius
Size: 64 x 61 x 15mm / 2.5 x 2.4 x 0.6 in
Weight: 27g / 1oz
Has sticker, can be fixed on the table
Four key: Call, Cancel, Pay, Order
FAQ
Q: Can I set 3 T128 watches with pager?
A: Yes, you can pair one call button with more than 3 pagers as you want.
Q: How well does this work through windows and doors?
A: It can reach 50m/ 164ft. So if with the windows and doors, it will influence, if you worry about the range later, you can choose the TD021 signal amplifier.
Q: Can I use 3 watches with 15 calls at the same time? if someone pushes CALL, all 3 watch show calling?
A: Yes, you just pair the call button with the 3 watches, so when you call, all the watches you pair with the call button will show calling.
Q: Can I Get separate watches?
A: Sure, you can check this T128, here is the link: https://www.retekess.com/T128-Wrist-Watch-Pager
Inquiry
Please fill in your procurement needs and contact information
We found other products you might like!