Watch Pager Receiver use dot matrix LCD screen to maintain the image clarity
Rechargeable 400mAh battery for the watch receiver
Support single key and multi-key functions
Screen brightness can be adjusted from 0-5
Customize the button name of T128 pager watch
The signal receive distance is 164ft to 656ft (50m to 200m)
Only
7143
left in stock - order soon.
T128 watch pager receiver can be matched with all transmitters of the RETEKESS series, such as T117, T133, TD010, TD004, TD005, TD018,TD114, TD009, etc.
It will optimize your working environment, improve work efficiency, and create greater benefits.
Usage Scene of T128 Wrist Watch Receiver Pager System
A watch-type receiver is not only used in kitchens or hospitals. It will be needed in any situation where one-key paging is required. The watch-like design is light and easy to wear, features rich, practical, and easy to operate.
Example: When you have four employees wearing T128 pager watch at the same time, in the single key mode, a button will connect to the only receiver to help you accurately and quickly send the message to the corrsponding employees.
Advantages of the T128 Watch Pager
Customize Key Name
40 optional key name + user-defined, you also can program the original Key "pay, order, call, cancel" etc. to other key names, even can be people's name, such as Christopher, Alexander, etc. and the maximum length of custom words is 12 Letter.
High Universality
As a signal receiver, T128 can be used on any occasion where a call is required. For example, in a restaurant, it is used by the chef to call the food delivery staff to serve the food; the parents in the family call the children; the person who needs to be taken care of calls others in the family or clinic; the guests in the noisy environment seek service, call the waiter in the Internet cafe; Members call coaches in gym, etc. It can adapt to various situations requiring paging.
Distance Range
The signal transmission range is 50 to 200 meters. Because in actual use, the signal transmission will be interfered with by metals and walls in the area. At the same time, it is also related to the signal strength of the used transmitter.
Display and Prompt Method
T128 Watch Receiver uses dot matrix LCD screen to maintain the image clarity;
Vibration or buzzer adjustable prompt modes. You can change it from vibration to voice.
Real-time Information Display
Support multiple buttons are pressed at the same time; the Screen shows the setting to select live view or queue view mode; So it can tell which pager is requesting first.
Battery
Rechargeable 400mAh battery for the watch receiver; USB charger port, no need to replace the battery, safe charging circuit; once for full charge it can last long hours; easy to charge; so it can work well for restaurant coffee shop; no need to worry about battery life.
Features of the T128 Watch Pager
T128 wrist pager watch support 500 callers
5 Notices Modes: Vibration+light; Buzzer+light; Light only; Vibration+buzzer; Vibration+buzzer+light; Vibration only
Support "A-Z" English letter digits 0-9 show, 40 Optional Key Name, and User-defined watch pager,
Built-in rechargeable 400mAh battery for the watch receiver
Prompt time adjustable from 0-15s
Remove calling records time setting from 0-99s
Cycle time can be choose from 0-99s
3 Call records can be set to show at the same time
Support set area or service type name
Solutions for the T128 Watch Pager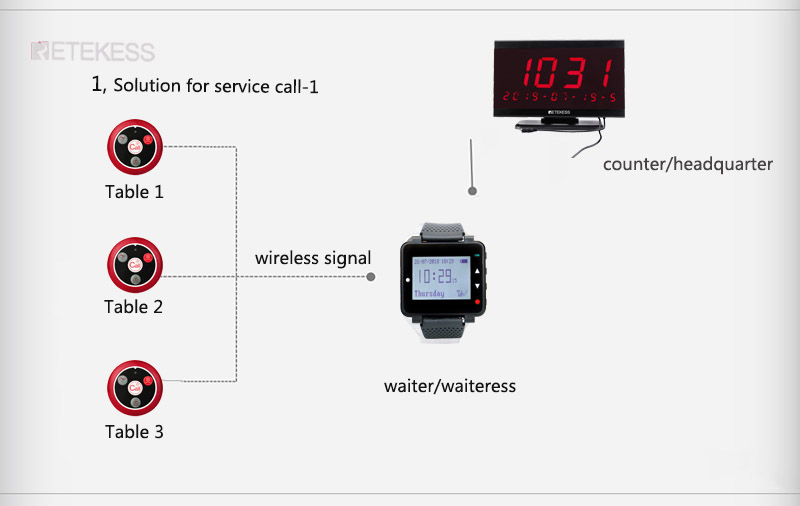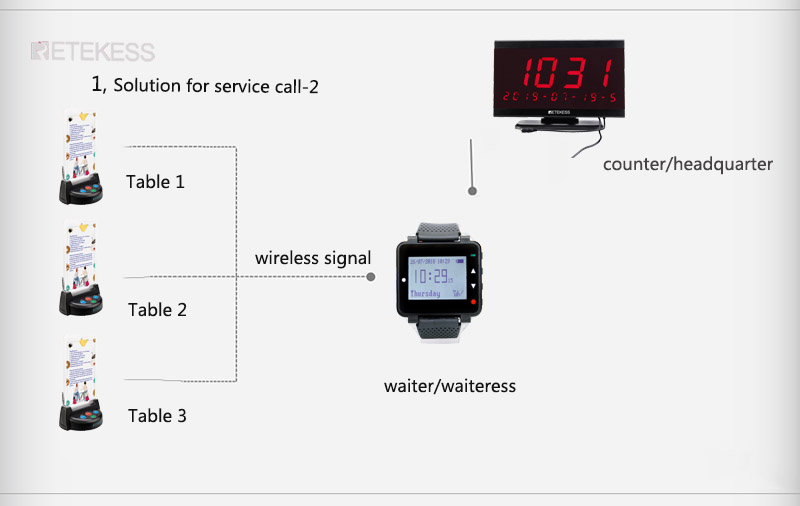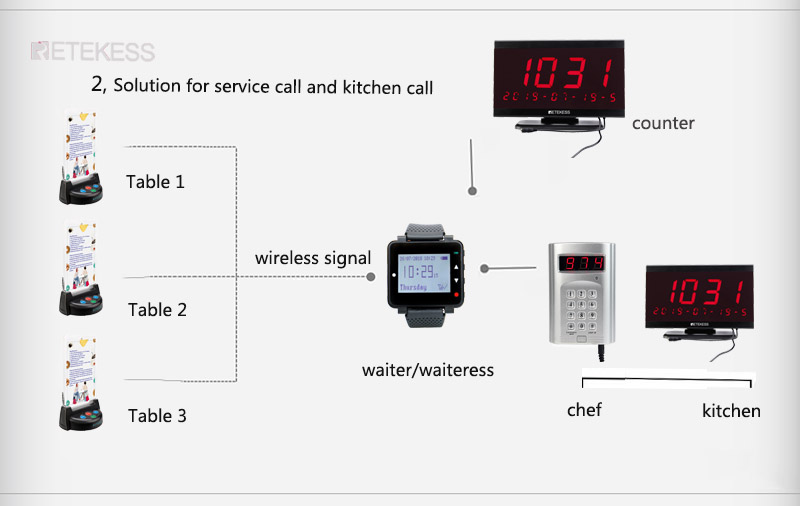 Applications: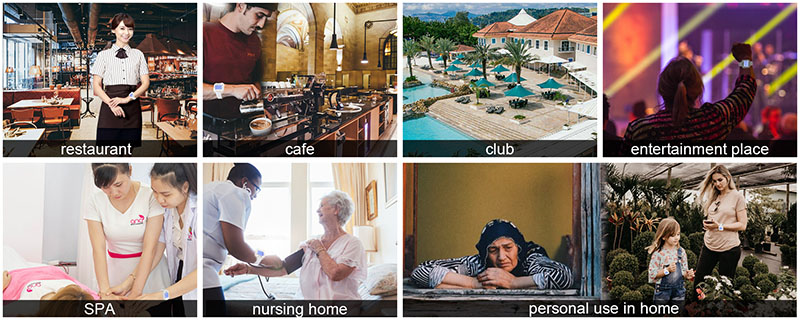 Production process: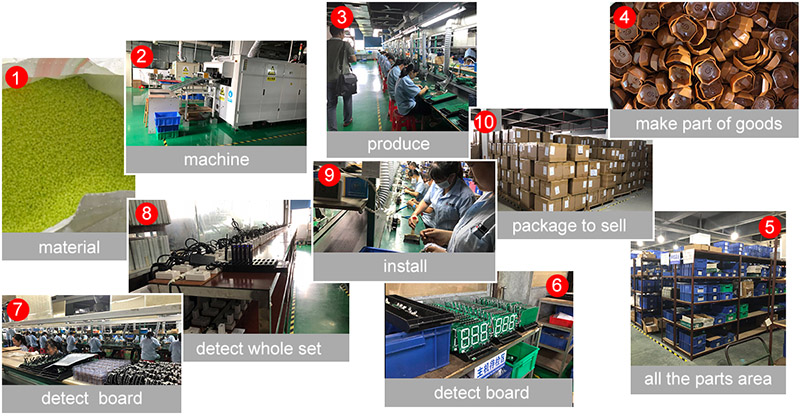 Please fill in your procurement needs and contact information
T128 Watch Pager Specification

Operating Voltage

DC3.7VBattery capacity: 400mAh

Receiving Sensitivity

-108dbm

Display Method

LCD

Prompt Mode

Vibration or Buzzer

Adapter

5V 1A

Watch Net Weight

44g
Package List
1 x Retekess T128 Watch Pager
1 x USB Cable
1 x User Manual
Q: How many pieces of call buttons can work with one T128 pager watch?
A: It max supports 500 pieces.
Q: How well does T128 watch pager work through windows and doors?
A: The maximum distance can be 200m / 656ft from pager to wrist receiver at an open area, if there is a lot of walls of cement and Metal in your using environment, the distance will be affected. With stronger signal transmitters, the range of signal transmission can also be expanded, such as TD004 and TD005 with external antennas. Another option is to use a repeater, which will enhance the signal transmission, such as TD021.
Q: Could this T128 watch pager be used by children instead of doctors?
A: Of course, a special feature of the T128 pager is that you can change the name of the button in various situations. This will be the accuracy you want to find the pager.
Q: How many T128 pager watches are needed between two adults to establish contact?
A: T128 is a signal receiver, You need to buy a signal transmitter to establish contact with it. Two adults only need a T128 and a signal transmitter to keep in touch. The signal transmitters we recommend to you are T117, TD004, TD005, TD114, TD009, T133, TD012, TD010, TD018 etc. You can choose according to different needs.