Retekess T130S T131S Wireless Guide System for Receptions, Conferences and Tours with Charging Case
SKU:
F9632AX2-F9632BX30-F9443DX1-F9604AX2
Wireless guide system includes 2 transmitters, 30 receivers, a 32-port portable charging case, and 2 wireless microphones
Transmitter coverage up to 100m/328ft
Fully charged for 20 hours of continuous use
Lightweight, comfortable to wear, and easy to carry
Crystal clear sound with no noise, adjustable volume
OverView

Communication range 100m
Speakers wearing transmitters and listeners wearing receivers can communicate wirelessly within 100 meters of each other, meaning visitors have more room to move around without having to crowd around the speaker to listen to the narration.
Long working time
Wireless guide system can be used continuously for 20 hours on a full charge, which is also suitable for events of longer duration. The device's screen displays a current battery icon, which allows you to easily understand the device's power status.
Support connecting audio devices
Wireless tour guide audio system not only supports mic input, but it also has a special AUX jack for connecting external audio devices such as cell phones, computers, mp3s, radios, etc. You can play music or any voice files for your listeners through this function.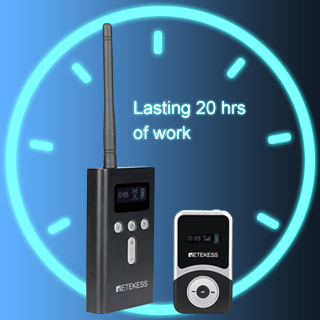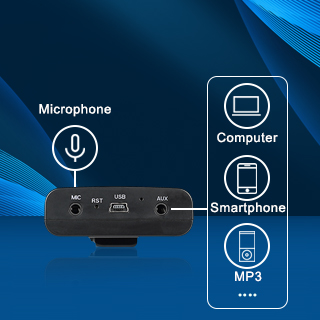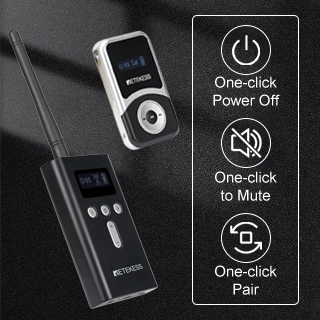 One-touch mute transmitter
If the speaker wants to temporarily cut off the sound transmission, he can simply click the "+" button on the transmitter, then a mute icon will appear on the transmitter screen and the listener will not hear any sound from him. The speaker can return to normal voice transmission mode by clicking the "+" button again.
Automatic channel synchronization
Keeping transmitter and receiver channels in sync is a prerequisite for wireless communication, but if you have dozens of receivers, adjusting their channels one by one is a hassle. wireless guide system's auto-pairing feature allows you to sync all devices' channels in 10 seconds.
Turn off all receivers with one click
After the event is over, you just need to press and hold the transmitter "-" button for about 5 seconds, then no matter how many receivers there are, they will be forced to turn off, no need to spend time to shut down all receivers one by one.
Portable 32-port charging case
The charging case can charge 32 devices in bulk, making charging more time-saving and effortless. In addition, it can put down 32 units as well as microphones, headphones, lanyards, and other accessories, making it a good helper to carry on the go. It has an aluminum case that is rugged and fireproof.
Durable wireless microphone
The wireless microphone provides clear, high-fidelity stereo sound. It allows speakers to speak without being bothered by tangled wires, and with better pickup, listeners can focus on the crystal-clear sound transmitted by the speaker. The microphone takes 2-4 hours to fully charge and can run for up to 8 hours.
User-friendly design
T130S transmitter with back clip that allows the speaker to hang it on a belt or pocket to free up their hands. The D-shaped headset included with the receiver is not only comfortable and firm to wear but it can be worn in both the left and right ear, making it friendly to people with poor hearing in one ear.
Spec
Transmitter

Receiver

Frequency Range

195-216MHz

Frequency Range

195-216MHz

Channels
49CH
Channels
49CH
Working Voltage
DC 3.7V
Working Voltage
DC 3.7V
Mic /Aux input
3.5mm

Earphone Jack

3.5mm
Frequency Response

50-18000Hz

Frequency Response
50-18000Hz
SNR
80dB(Typical)
SNR
80dB(Typical)
RF spurious rejection
≥90dB
RF spurious rejection
≥90dB

T.H.D

<0.3%

T.H.D

<0.3%
Operating Range
100m(line of sight)
Operating Range
100m(line of sight)
Battery Capacity
4200mAh
Battery Capacity

900mAh

Battery Run Time
About 20 hours typical
Battery Run Time
About 20 hours typical
Weight
120g(without accessories)
Weight
30g(without accessories)
Size
103*61*25.8mm(without antenna)
Size
73*42*12mm
TT001 32-port Charge Case
Color
Silver
Material
Aluminum alloy
Input
AC110-220V, 50/60Hz
Output
DC 5V, 7A
Size
500 x 265 x 140mm / 19.7 x 10.4 x 5.5 in
Weight
3200g / 7lbs
TT123 Wireless Headset Microphone

Frequency Range

2400-2483Mhz
Audio sampling frequency
16kHz
Output Power
10 dB
Operating distance
50M (open field)
Working Current
35mA
Working voltage
DC 3.7V
Working time
8 H
Transmitter battery capacity
400mAh
Receiver battery capacity
400mAh
Weight
body 81g(include battery)
Package Includes:
2x transmitter
2x lavalier mic
30 x receiver
30x earpiece
32 x lanyard
32 x charging cable
1 x charging case
2 x wireless microphone
FAQ
Q: Do these devices have to sync every time they are used or will they stay in sync?
A: After you synchronize the transmitter and receiver, they will stay in sync and there is no need to adjust the channel every time you turn them on and use them.
Q: How do I sanitize this kit, especially the headset that is being worn by different people?
A: For the transmitter, receiver, microphone, and headphones, you can use alcohol to wipe them down. If you want to make it more convenient, you can buy our cost-effective disposable headphones.
Q: I want to know if this model can be used with FM.
A: They can't be used with FM transmitters or FM radios, but you can use a 3.5mm audio cable to connect the transmitter to the FM radio, at which point you can listen to the FM radio with the receiver.
Inquiry
Please fill in your procurement needs and contact information
Product Reviews
Melanie

These are perfect for our needs

This package is great for our team. We can gather up, and quickly move to another location. Many of our conferences involve indoor and outdoor venues. The simplicity of having the case as a charger can't be overlooked. Just plug it in at the end of the day and they are ready again in the morning. While the lapel mic is good. We added a headset mic for better noise canceling and clarity. It's changed the client experience dramatically.
We found other products you might like!