Running a successful restaurant business is all about delivering exceptional customer service. As a restaurant owner, have you ever wished for a more efficient system to serve your customers promptly without any delays? Look no further! Introducing the New Arrival TD175P Restaurant Server Paging System, the perfect solution to streamline your operations and leave your customers delighted. In this blog, we will delve into the features and benefits of this cutting-edge system, highlighting why it is a must-have for your establishment. It shares the same accessories with TD175.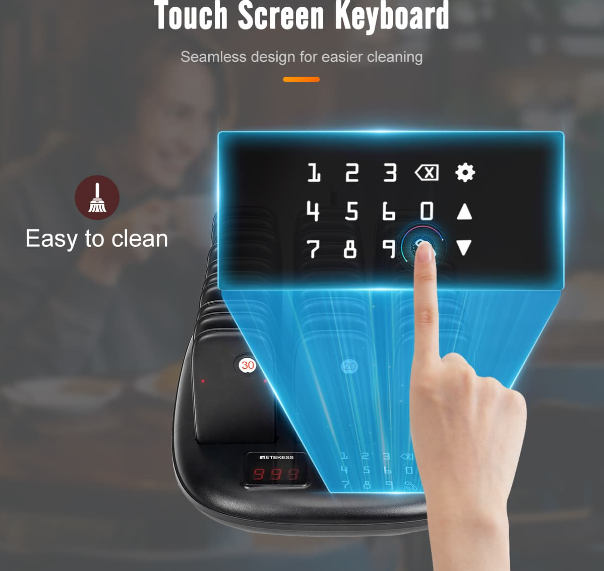 With the TD175P Restaurant Server Paging System, bidding adieu to long queues is a reality. Our innovative technology allows waiters to promptly call customers without any unnecessary delays. Say goodbye to the cumbersome process of customers anxiously waiting for their plates. As soon as their order is complete, the pager will ring, indicating that the dish is ready to be served.
Imagine a seamless communication system that enables your waitstaff to serve customers in an organized and timely manner, enhancing customer satisfaction and loyalty. TD175P ensures smooth coordination between the kitchen staff, waiters, and customers, reducing miscommunication and increasing efficiency. Your diners will have a better dining experience, leading them to return to your restaurant time and time again.
Investing in the TD175P Server Paging System is not only a smart choice but also a cost-effective one.Eliminate unnecessary staffing expenses like hiring extra waiters to manage queues. This allows you to optimize your workforce and cut costs. The system seamlessly integrates into your existing operations, minimizing downtime during implementation and reducing potential financial disruptions.
The TD175P Restaurant Server Paging System caters to the diverse requirements of your restaurant. Whether you run a cozy café or an upscale fine dining establishment, our system can be customized to suit your specific needs. The compact design of the pagers ensures ease of use for both staff and customers, without compromising on functionality.
Streamlining your restaurant operations is essential to provide exemplary customer service and increase profitability. The TD175P Restaurant Server Paging System offers a user-friendly and cost-effective solution, resulting in enhanced efficiency, improved staff coordination, and, ultimately, satisfied customers. Don't miss out on this game-changing technology; invest in the TD175P System today and elevate your restaurant's service to new heights!