Embarking on a pilgrimage is a deeply spiritual and meaningful journey for individuals seeking to connect with their faith and traditions. To enrich this experience, a reliable and efficient tour guide system is essential. As a trusted provider in the industry, we offer a comprehensive range of pilgrimage tourism tour guide systems to choose from.
The Hajj audio guide system is a specialized wireless audio guide system designed to enhance the religious or spiritual pilgrimage experience for participants. It allows guides to provide commentary, explanations, and instructions to large groups of pilgrims, ensuring that everyone can hear and follow.
Components of a pilgrimage tour guide system:
1. Transmitters: Our tour guide system includes wireless transmitters with high-quality microphones. These transmitters allow the guides to easily transmit their voices and spiritual insights to the participants, ensuring clear, uninterrupted communication throughout the pilgrimage.
2. Receivers: Participants wear lightweight receivers that receive the audio signals sent by the guides through the receiver's headphones. Our receivers are designed for comfort and ease of use, allowing participants to focus on their spiritual journey without any distractions.
3. Charging Case or Carrying Bag: The tour guide system for Hajj and Umrah comes with a USB charging cable. If you want to charge more easily and efficiently, we offer charging cases and charging docks for bulk charging. In addition, to make it easy for you to carry, our carrying bag is a good helper for trips.
How to choose a hajj wireless audio tour guide equipment?
Long communication range: enables guides/leaders and participants to maintain clear, uninterrupted communication even at great distances from each other. This is particularly useful for large groups or pilgrimages where Muslims are more dispersed.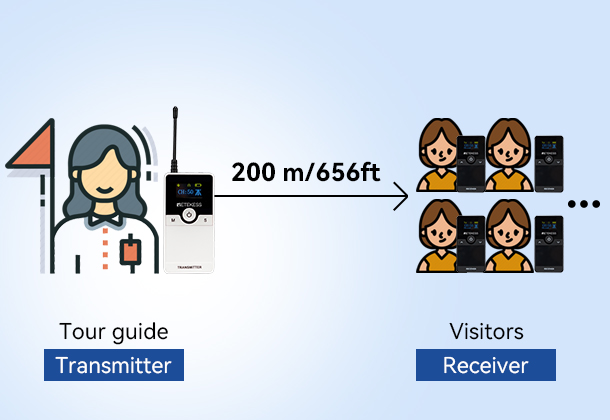 Multiple channels: This provides the flexibility to operate multiple pilgrimage groups in the same location. Each group can be assigned a different channel, ensuring they can communicate without interference from other groups or external signals.
Long battery life: Pilgrimage leaders can easily lead groups on full or multi-day tours without worrying about running out of batteries or interrupting long trips due to battery problems.
Ease of use: user-friendly with minimal setup. Participants can quickly adjust the volume and comfortably wear the lightweight receiver, ensuring a relaxing and enjoyable pilgrimage experience.
Superior audio quality: High-quality audio reproduction ensures that participants can hear the guide's commentary, spiritual teachings, and historical insights clearly and without distortion, reducing distortion and background noise.
Durability and portability: Hajj audio guide systems are designed to withstand the rigors of travel and outdoor environments. They are often lightweight, compact, and durable, making them easy to carry and use during a pilgrimage.
Our T130S wireless audio guide system and TT116 tour guide system for Hajj pilgrimage are widely used for religious services, Hajj, and Umrah, helping thousands of pilgrimage groups have a comfortable and spiritually enriching journey. The T130S is the most popular model, and the TT116 features replaceable batteries for extended use. If you have any questions about choosing a model, please feel free to contact us, our professional and patient team is always at your service.