Retekess T130S T131S Interpreter Translation System for a Church School Conference
Crystal clear sound and easy setup
The working range of the transmitter is up to 100 m/328 ft
Translation device can run continuously for 20 hours
Receiver volume level from 0 to 9, freely adjustable
49 channels allow for 49 different language groups of interpreters to be set up
One-key to mute transmitter allows translators to temporarily cut off the sound transmission
OverView

Note: This interpreter translation system cannot directly translate from one language to another, it requires the cooperation of a translator.
Long-range translation system
The communication range between the wireless transmitter and wireless receiver is up to 100 m/328 ft, which means the listener can hear the interpreter clearly within 100 m of him, so if you have a large venue or a large number of participants, it will not let you down.
Large-capacity rechargeable battery
T130S transmitter has a built-in 4200mAh lithium battery and the receiver has a built-in 900mAh lithium battery, they can continue to work for 20 hours when fully charged, avoiding the trouble of frequent charging. As for the charging method, you can charge it with the included USB charging cable, or use our charging dock or charging case for bulk charging.
One-touch mute transmitter
If an interpreter coughs, sneezes, or otherwise does not want the listener to hear in the middle of the interpretation, he can simply click the transmitter "+" button to enter mute mode, and the visitor wearing the receiver will not hear any sound from the transmitter.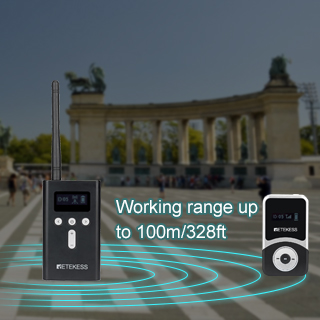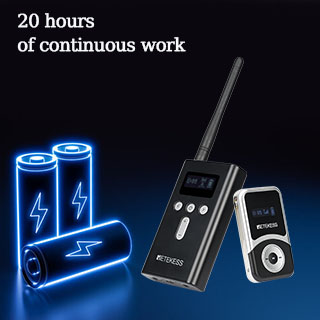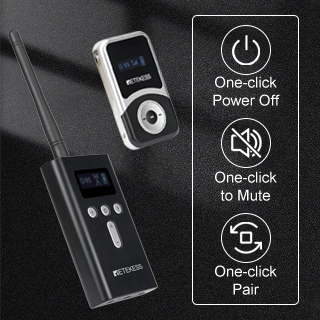 Easy to set up
The simultaneous interpretation device has a one-touch channel synchronization and one-touch turn-off function for all receivers. If you have many receivers, this can save you a lot of time because you don't need to adjust the channels of the device one by one or turn off the receivers one by one after the event.
D-type headset for the receiver
The wireless receiver comes with D-type headphones for both left and right ears, which is friendly to listeners with hearing impairment in one ear. Moreover, wearing the left and right ears alternately can prevent fatigue and discomfort caused by using one ear for a long time to listen.
MIC input and AUX input
In addition to speaking in a mic, the speaker can also use a 3.5mm audio cable to connect the transmitter's AUX jack to an audio device such as a cell phone, mp3, or computer, and then play voice files or music from the audio device to the listener.
Wearing methods
The wireless transmitter can be worn in two ways, freeing your hands and preventing the device from falling. The interpreter can hang it around his neck with the included lanyard, or hang it on his pocket or belt with the transmitter's back clip. The receiver is only 30g and can be hung around the neck with the included lanyard, making the lightweight design very comfortable to wear.
Expanded interpreter translation system
The transmitter can be paired and used with numerous receivers, and you can increase or decrease the number of receivers paired with the transmitter depending on the number of listeners. If your group grows in size in the future, you can buy additional receivers by clicking here.
Spec
Transmitter

Receiver

Frequency Range

195-216MHz

Frequency Range

195-216MHz

Channels
49CH
Channels
49CH
Working Voltage
DC 3.7V
Working Voltage
DC 3.7V
Mic /Aux input
3.5mm

Earphone Jack

3.5mm
Frequency Response

50-18000Hz

Frequency Response
50-18000Hz
SNR
80dB(Typical)
SNR
80dB(Typical)
RF spurious rejection
≥90dB
RF spurious rejection
≥90dB

T.H.D

<0.3%

T.H.D

<0.3%
Operating Range
100m(line of sight)
Operating Range
100m(line of sight)
Battery Capacity
4200mAh
Battery Capacity

900mAh

Battery Run Time
About 20 hours typical
Battery Run Time
About 20 hours typical
Weight
120g(without accessories)
Weight
30g(without accessories)
Size
103*61*25.8mm(without antenna)
Size
73*42*12mm
Package Includes:
Option
Package Includes
2TX+25RX

2 x transmitter

25 x receiver
2 x Microphone
25 x earpiece
27 x Charging cable
27 x Lanyard
2TX+30RX

2 x transmitter

30 x receiver
2 x Microphone
30 x earpiece
32 x Charging cable
32 x Lanyard
2TX+40RX

2 x transmitter

40 x receiver
2 x Microphone
40 x earpiece
42 x Charging cable
42 x Lanyard
FAQ
Q: Can I use two t130s transmitters in my group?
A: No, this wireless tour guide system does not support running two transmitters in the same group at the same time, if you need a tour guide system that supports two transmitters, take a look at the TT106 tour guide system or the TT105 tour guide system.
Q: Can this receiver and dual ear headsets be used together? If so, does the company offer a compatible option?
A: Yes, it can be used with dual-ear headsets, we offer a compatibility option, click here to check it out.
Q: How does it translate from English to Spanish?
A: First you need an interpreter who has a good command of Spanish and English. The speaker speaks into the transmitter and the interpreter receives the presenter's voice through the receiver and then transmits the translated Spanish to the audience through the transmitter.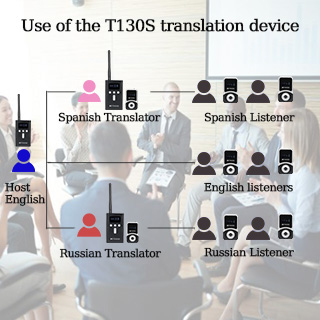 Inquiry
Please fill in your procurement needs and contact information