New Arrival TD184 Guest Paging System in the Later Year of 2021
Retekess TD184 system adopts the wireless FM technology, the frequency is 424.8-469.025MHz. So the signal is more stable than AM, and it is also the long rang system except for the TD103, TD156, TD183 which adopts the FM technology as well.
The other good feature of TD184 than others is that it contains fewer pagers, 8 pagers in all. So it is enough for the small restaurant. The most important is that the price is very cost-effective than other models. If you want to buy it for your business, pls check the details for TD184 paging system.
The compact size of the charging base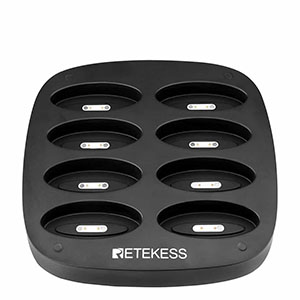 There are 8 charging slots on the base, the size is 6.1''*6.1''*1.1''. The compact size makes it easier to put it on the count. Besides the magnetic charging is also a good feature for TD184. Because it is very easy to put for charging.
Slim pager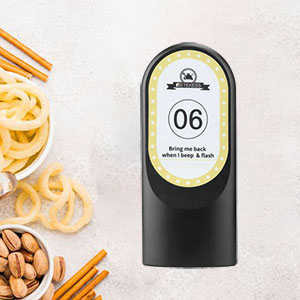 The size of the pager is 5.3''*2.3''*0.9'', so it is very easy to handle, the battery capacity is 300MAh and the lower working current makes the long working time, the standby time up to 25h. 8 pagers in all in the system, so the smaller unit makes it is easy to put and use.
Infrared keyboard
The keypad adopts Infrared technology, so the stability is very signal and the working range is also very long. The size of the keypad is 6.7''*3.9''*1.6''. It is independent with a charging base, so you can put it anywhere.
The TD184 is our new arrival to meet the different requests for your restaurants, hotels, clubs, clinics, and so on. It can help the queue problem in an easy and efficient way. If you want to use it for your business to improve the benefits, pls check it. If you want to check the other modesl, pls email us at support@retekess.com, we will reply you as soon as possible.