Retekess TD103 long range coaster paging system come with 1 transmitter and 10 pagers Infrared technology, FM technology, Waterproof IP54 7 prompt methods, vibration, flash and voice notice combine freely Out of range alert, one key to shut down all the pagers More than 1000 meters coverage in open area Support protocol (contact us if you need)
Only
2955
left in stock - order soon.
---
Frequently Bought Together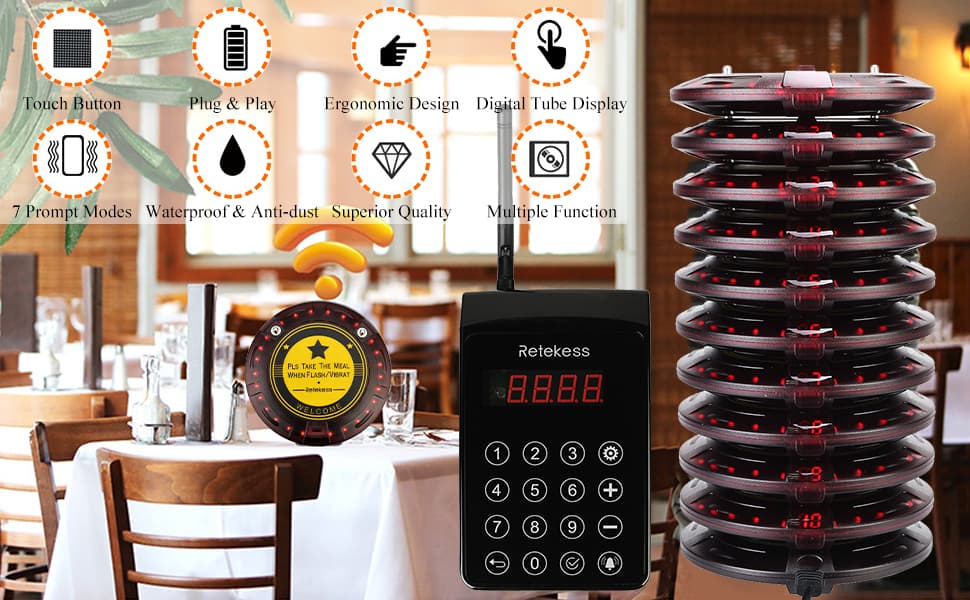 Retekess TD103 Long Range Gest Paging System guest paging system 1 Transmitter and 10 Pagers
Description:
Retekess TD103 wireless guest paging system designed with digital FM modulation technology,
which make the signal more strong and more stable, much better than AM modulation technology, the range up to 1000 meters in the open area;
7 prompt modes you can combine freely, so it fits more usage scenario
Capacity built-in battery makes the pager last for a longer time
Feature:
1. Long range, it can reach 1000 meters in an open area.

2. 1 to 1Infrared pairing technology
3. 31 channels, so you can change the channel to avoid interference.
4. Out of range alarm
5. Service countdown
6. Large capacity rechargeable battery with the pager.
7. 7 prompt notice modes, vibration, flash and voice.
8. 27Pc flash LED, good visibility
9. Notice time: 5-99s
Details:
Support pager quantity
One set has 1 transmitter and 10 pagers. It supports 98 pagers in total. So you can add 98 pagers later when your business grows. 99 is for out of range notice
7 Prompt modes food buzzer system

You can combine vibration, flash and buzzer freely, totally up to 7 modes.
Each vibration, flash and buzzers have another 3 modes, slow, medium and fast. You can set it according to your using.
Long time using long range pager system system
500 mAh rechargeable lithium battery, standby for more than 48 hours, effectively avoid frequent charging during use
Out of Range notice function
Out of Range notice feature and built-in anti-theft & auto-locate minimizes pager loss, multiple alert settings, Voice/Vibration/Beeping in any combination;
Password validation is required which can prevent non-staff from changing the pager settings, more safety
Touch keyboard transmitter
Touch keyboard button, more comfortable & highly sensitive;More durable than bump button;
Service countdown
the pager will remind again if guest does not take their meal over time
Flexible Integration - Third-party system integration capability
This wireless long-range coaster pager system is widely used in restaurants, supermarkets, hotels, hospitals, Emergency Center, Banks, Schools, Factories, Construction Sites, Church nurseries, clubs, cafes, bars, clinics, etc.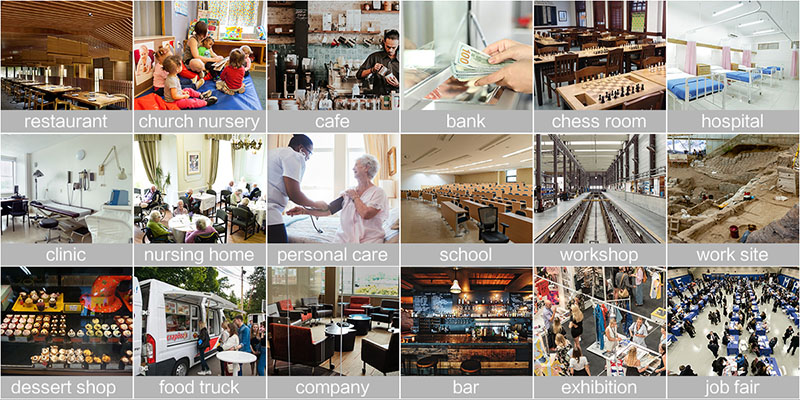 Please fill in your procurement needs and contact information
Retekess TD103 Long-range Coaster Pager System Specification
Coaster Pager

Keypad Transmitter

Size

106*106*17mm

Size

162*98*40

Shell Material

PC

Shell Material

abs

Receiving Sensitivity

-120db

Transmitting Power

400mw

Standby time

48 h

Standby Power

600mw

Battery

500mAH LI-ion

Max. Power

1w

Receive Frequency

424.8-469.025MHZ

Transmit frequency

424.8-469.025MHZ

Charging base power

9V/2A

Power Supply

12V/1A

Notice mode

Vibration, LED flash, buzzer

Keypress mode


Touch

Coverage

1000m

Modulation

FM

Waterproof

IP54
Package includes:
10x Coaster Pager
1x Keypad transmitter
1x Antenna
1x Charge base
2x Power adapter
1x User Manual


Q: How many TD103 wireless coaster pagers can be charged on one charge base?
A: Please note that one charger base can charge 10 pagers at one time, if you need to charge more, please buy an extra charger base.
Q: Can I have the Protocol for the TD103 long range guest pager system?
A: Yes, contact us freely to get it. Email: support@retekess.com
Q: How many coaster pagers do these systems support?
A: It can support 98 pagers in total, if you need more, we have the TD156 guest paging system which work for you, it supports 9998 pagers.
Q: Can I use 2 transmitters to call the same pager? Two people use it in two different places?
A: Yes, you can use 2 transmitters to call the same pager, just pair with the 2 transmitters. That way, you can call one pager in two different places.