Retekess TD183 Long Range Pager System 800M, Rugged Pager, Durable Pager for Restaurants, Bars, Cafes
Long range paegr 2624ft/800m in the open area
2 prompt modes: vibration+beep+flash and vibration+flash
300mAh rechargeable battery; standby up to 20 hours
With larger pager and longer charging piles, more stable when charging
Self-inspection function, make sure that the pagers being handed out are working
Customers can press the mute button to turn off the prompt sound on the way to pick up their meal
15886 people are looking for this product
OverView
Retekess TD183 long range restaurant pager system adopts FM technology. Easy to use and operate, all the 20 pagers are programmed, plug and play. With a TD183 long-range paging system, your staff can instantly notify guests with a flash, vibration, or beep pager when their turn. Easily stay in contact with customers and increase revenue as guests enjoy the freedom to visit the bar or nearby areas while they wait.
Easy to Add Guest Pagers, Up to 996
TD183 guest pagers have LED digital numbers, you could add up to 996 pagers or change the pagers' numbers easily without returning it back. The wireless paging system can grow in size as your business grows. Save money instead of always buying a new set pager system.
Space-saving Stack Charger Pager System
TD183 long-range paging system can charge all 20 pagers in about 4 hours, then last for about 20 hours.
2 Alert Modes of Pagers
Alert guests with vibration, light, beeps, or vibration and light, easily grab the attention of your guests with multiple alerts that they will not miss. The vibration is strong enough for customers who put the guest pagers in their pockets.
Long Range Pager System 800m/2624ft
TD183 paging system adopts FM technology, the range up to 800m in a line of sight. Wherever customers are waiting can always keep you connected, the long-range pager system let customers know that they are needed instantly.
Guests Can Stop the Alert with Guest Pager
The default alert time is 30 seconds, there is a cancel button on the guest pager, and guests can stop the alert once they received the call.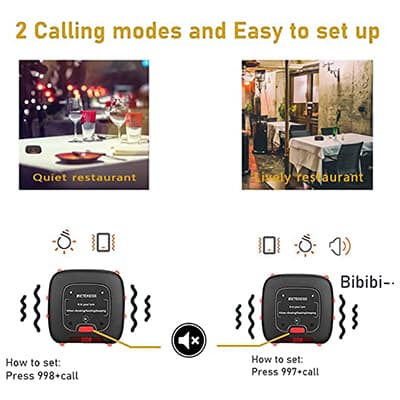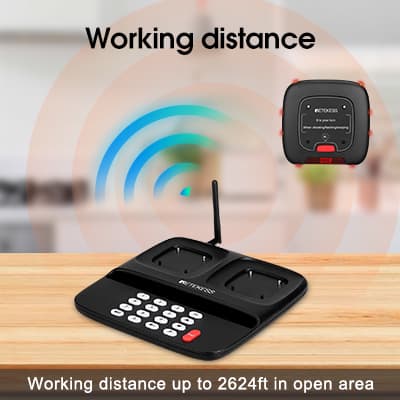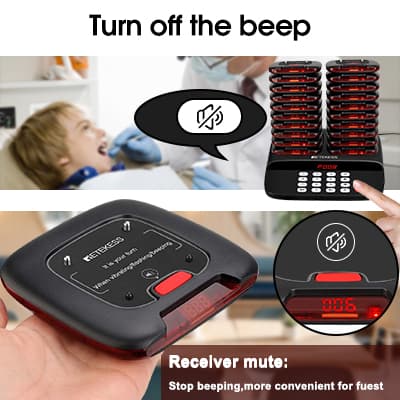 Larger Pager Size and Durable
The pagers are made with high-quality materials that make them much more durable to accidental drops and falls.
100*96*26mm large pager size to reduce the probability of loss.
Pager ID is displayed above the pager for easy viewing by employees without confusion
Customized Logo AD Pager
In addition to the above features of the TD183 paging system, there's enough space that is branded to promote your business.
One-Key to Turn Off All The Pagers
After a day of busy working, the staff just need to put all the pagers on the charging base, then press [999] and [call] button to power off all pagers, then unplug the charging base from the power source will be OK.
Guest Pagers with Low Battery and Fully Charged Reminder
When the battery is low, there is Lo iron on the LED digital number space, charge it in time instead of taking it out by customers to miss the call. When the restaurant pager is fully charged, the indicator light becomes to always light up from flashes of charging mode.
Restaurant Pager with Automatic Monitoring Function
When the staff picks up a pager and passes it to customers, the pager will beep or vibrate for a moment to make sure the customer will get a normal work pager.
Paging System with Call History
TD183 long range pager system allows you to check 10 calling records, easily to find out which customers you have called and them again in a fast way if the order has not been taken.
Note:
1. Please use the keypad transmitter on the table which be made of wood, plastic, glass and other materials, and avoid the table top of metal and marble.
2. The kit comes with the charging specifications corresponding to your country
Applications of TD183 Long Range Systems:

Spec
Retekess TD183 Rugged Pager, Durable Pager System Specification
Coaster Pager

Keypad Transmitter

Operating Voltage

DC 3.7V (Rechargeable battery)

Input Power

DC12V/2A

Standby Duration

≈20Hour

Max number of pagers

996

Receiving Sensitivity

-115dBm

Number of charging pagers

20 pcs

Battery Capacity

300mAh

Weight

415g/14.64oz

Prompt Mode

Vibration/Buzzer/Flashing

Size

220*215*26mm/8.66*8.46*1.02inch

Prompt Time

30s

Weight

80g/ 2.82 oz

Pager Size

100*96*20mm/3.94*3.78*0.79inch
Package Includes:
| | |
| --- | --- |
| Kit Qty | Package Details |
| 1 keypad + 20 pagers | 1 Keypad Transmitter, 20 Pagers, 1 Power Adaptors, 1 User Manual |
| 1 keypad + 30 pagers | 1 Keypad Transmitter, 30 Pagers, 1 Power Adaptors, 1 User Manual |
FAQ
Q: What is the range of the TD183 pager system?
A: The range up to 800m/2624ft in the open area.
Q: Can we purchase extra pagers only when we need more?
A: Yes, you can, Retekess provide all accessories for Retekess products.
Q: How long do TD183 guest pagers last with a full charge?
A: The guest pagers last about 20 hours.
Q: Was it waterproof?
A: Made of ABS material, pagers are waterproof, dust-proof and drop-proof.
Q: How to clean and disinfect the station/base and pagers?
A: It can be cleaned and disinfected with alcohol wipes. Keeping safe for staff and customers during COVID-19.
Inquiry
Please fill in your procurement needs and contact information
Product Reviews
Oliver J.

Best shopping experience

I recently purchased the Retekess TD183 long-range paging system for my restaurant, and I am incredibly impressed with its performance. The range is phenomenal, as I can communicate with my staff members from anywhere in the building without any signal loss. The system is also very user-friendly, making it easy for all of my employees to understand and operate. Additionally, the battery life is impressive, lasting all day without needing to be recharged. I highly recommend TD183 to any business looking for a reliable and efficient paging system.

Maria D.

Better service, better customer experience

We've been using TD183 pager system for a few months now, and it has significantly improved our customer experience. No more waiting in long lines or hovering around the counter - customers can relax and enjoy their drinks while they wait for their orders.

Jeffery G.

Larger pager, more stable

The Retekess TD183 pager system has been a game changer for our cafe. Instead of shouting out names for orders, we can now discreetly alert customers when their food is ready. Plus, the rechargeable pagers save us money on batteries!

John Hanson

Pagers reduce confusion and mistakes

As a server, I love using TD183 pager system. It cuts down on noise and confusion in the restaurant, and I never have to worry about losing a customer's pager. Plus, the sleek design looks great on our tables.

Maria Clark

Best pager system I had

We've tried multiple pager systems in our bar before, but the Retekess TD183 is by far the best. The pagers are durable and easy to clean, and the range is unbeatable. Highly recommend!

I am blown away by the range of this pager system! We have a large outdoor seating area and it reaches all the way to the back with no issues. Makes running a busy restaurant so much smoother.

Foster

Durable and stable pager system

TD183 has made a significant impact on our restaurant's bottom line. Since implementing it, we have seen an increase in customer traffic during peak hours. The system has made waiting for a table more bearable for our customers, and they are more likely to return as a result. We highly recommend this system to other restaurant owners looking for ways to improve their waitlist management.

Kevin Hopps

A Must-Have for Any Business Seeking Optimal Communication

I've worked in a lot of restaurants and Retekess TD183 is by far the best pager system I've used. The mute button is a genius feature and the pagers are durable and reliable. Highly recommend for any busy restaurant!

Judy Severance

Impressive Range

Retekess TD183 is hands down the best restaurant pager system we've used. The mute button makes it so easy to keep the noise level down during busy times. The range is also impressive and the pagers have held up well over time.

William G.

Rugged pager system, recommended!

I've used other pager systems in the past, but Retekess TD183 takes the cake. The mute button is genius and makes it so much easier to manage the noise level in the restaurant. The pagers are also durable and have held up well over time.
We found other products you might like!