Retekess TD156 IP67 Waterproof and Long Range Pager System 800m
Material IP67 waterproof, easy to clean with alcohol
Anti-drop with silicone strip
Long-distance transmission of 800 meters or 2624ft
7 reminder modes: flash/ vibrate/ beep, any combaination, adjustable prompt time
Service Countdown Alert + Out Of Range Alert
Using FM modulation technology; the signal is stronger and more stable
Built-in 3.7V 500mAh rechargeable lithium battery; standby time is up to 48 hours
Low power reminder: the pager screen displays "Lo"
25495 people are looking for this product
OverView
TD156 waterproof pager system has IP67 level waterproof, so you can use it in swimming pools, ski resorts, seaside restaurants, and any other occasions with water.
Long range and waterproof pager system is suitable for restaurants, food trucks, ski resorts, hospitals, clinics, and many other industries that need to connect with customers all the time. A waterproof pager keyboard can be set to 99 channels, you can use multiple keypads that can call a pager in the same area, or you can use some sets of products in the same area without interfering with each other. With Retekess TD156 waterproof pager system, staff can inform guests when their meal is ready. Guests are free to wander around the immediate area while they wait. Staff and customers can easily stay in touch and be more productive.
Long Working Distance
TD156 restaurant pager system can cover up to 800 meters/2624 ft
Super Waterproof
IP67 level waterproof, so you can use it in swimming pools, ski resorts, seaside restaurants, and any other occasions with water.
7 Kinds of Prompting Mode
With a variety of prompting modes, you can choose the right model according to your will to apply to multiple occasions.
Over-distance Alarm
With distance alarm settings, do not worry about customers accidentally taking the pager, and the restaurant causing damage or reminding customers to get out of the working range of the pager system in time.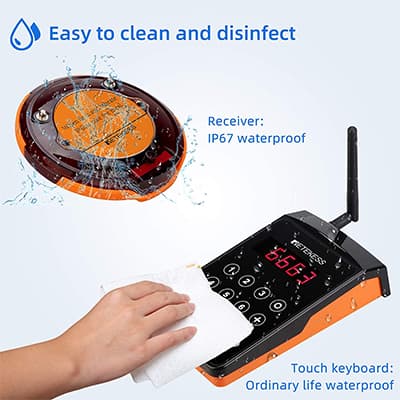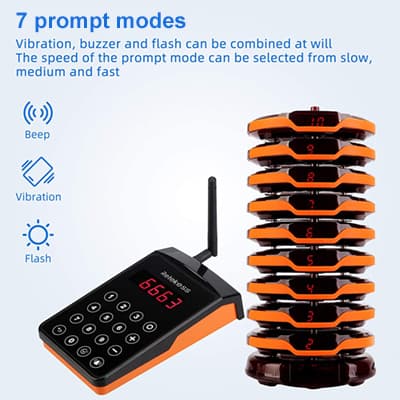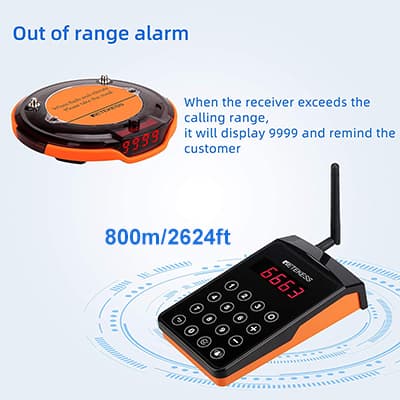 Service Countdown Reminder
After receiving the call signal reminder, if the customer does not notice and goes to the service counter to take food, the pager will flash again after the set time to remind until the customer goes to the service counter to take food.
Low Battery Alert
The pager screen displays "LO" when the battery is low to remind staff to charge and avoid low battery automatic shutdown when customers are waiting.
Super Vibration
When the beeping sound can not be a good reminder in a noisy environment, vibration can be a timely reminder to customers.
No mute button on pagers. So if your customer get annoyed by loud beep, please change the reminder mode into slient one.
Long-lasting Battery Life
Long standby up to 48h, without frequent charging. Charging for 2-3 hours, support running 2 business days.
One charging base can charge for 10 coaster pagers. If you order more than 10 pagers, we will also send the extra charging bases and charging cables.
Benefits of Using TD156 Waterproof Pager
Easy-to-use paging device for restaurants, hotels, and hospitals
Eliminates overhead paging, improving the ambiance
Quickens table turn times in restaurants.
Improves staff efficiency.
Enhances overall customer experience.
TD156 waterproof pager system adopts FM modulation technology, the signal is stronger and more stable. Suitable for restaurants, clinics, warehouses, ski resorts, and many other resorts that have a large area for customers to wait for service.
Note:
1. Please use the keypad transmitter on the table which be made of wood, plastic, glass and other materials, and avoid the table top of metal and marble.
2. The kit comes with the charging specifications corresponding to your country
Application:
Restaurant, food truck, cafe shop, bar, hospital, clinic, SPA, etc.

Spec
Specification:
TD156 Waterproof Pager
TD156 Waterproof Keypad
Dimension
ɸ80*15mm
Dimension
162*98*40mm
Material of Housing
PC
Material of Housing
ABS
Receiving Sensitivity
-120dB
Transmitting Power
400mW
Standby Time
Approximately 48 hours
Standby Power
600mW
Battery
Built-in 3.7V 500mAh rechargeable lithium battery
Max. Power
1W
Rx Frequency
424.8 - 469.025MHz
Tx Frequency
424.8 – 469.025MHz
Charging Base Adapter
Input: AC 100-240V, 50/60HzOutput: DC 12V, 1A
Power Adapter
Input: AC 100-240V, 50/60HzOutput: DC 12V, 1A
Reminder Method
Vibrating, Buzzing & LED Flashing
Keypress Method
Keystroke
Distance of Transmission
About 800 meters in a wide-open field
Modulation
FM
Protection Level
IP67
Package Includes:
| | |
| --- | --- |
| Kit Qty | Package Includes |
| 1 keypad + 10 pagers | 1 Keypad Transmitter, 10 Coaster Pagers, 1 Charging Base, 2 Power Adaptors, 1 User Manual |
| 1 keypad + 20 pagers | 1 Keypad Transmitter, 20 Coaster Pagers, 2 Charging Bases, 3 Power Adaptors, 1 User Manual |
| 1 keypad + 30 pagers | 1 Keypad Transmitter, 30 Coaster Pagers, 3 Charging Bases, 4 Power Adaptors ,1 User Manual |
| 1 keypad + 40 pagers | 1 Keypad Transmitter, 40 Coaster Pagers, 4 Charging Bases, 5 Power Adaptors ,1 User Manual |
| 1 keypad + 50 pagers | 1 Keypad Transmitter, 50 Coaster Pagers, 5 Charging Bases, 6 Power Adaptors ,1 User Manual |
FAQ
Q: How many pieces pagers can work in the one set?
A: TD156 waterproof pager system supports 9998 pagers.
Q: Can I set the paging number to 9999?
A: Pls don't. The number 9999 is used for out-of-range alarm.
Q: Can I change the volume of the beeper?
A: No, can not, but you can set the beeper speed via F2 F3 and F4
F2 is for change speed of light flash
F3 is for beeper sound speed
F4 is for vibration speed.
0 stands for Shut down; 1 stands for Slow; 2 stands for Medium; 3 stands for Fast. Whatever you changed, you need to match the pagers with keypad again, otherwise it will not work.
Q: Can I customize our own logo on the guest pagers?
A: Yes, you can. pls send is your logo with PSD format, we will design and print it for you.
Q: Can I power off the pagers quickly?
A: Yes, put the pagers in the charging base, and then press number 0 and call.
Inquiry
Please fill in your procurement needs and contact information
Product Reviews
John N.

Good waterproof, save money to fix

This pager system has been a lifesaver for my business. With the long-range, we no longer have to worry about paging customers when they're outside. The waterproof feature is also a plus, as we work in a busy kitchen with lots of spills. Highly recommend!

Noah J.

very useful pager system

I recently purchased TD156 for my restaurant and it has been a game changer! The long-range is truly impressive and the waterproof feature is great for those messy days. The setup was easy and the customer service was excellent.

Johndan H.

Great pager system, able to go through 5 floors!

Before buying, I compared many other brands of pagers. Some are expensive, and some are too short. Neither met my needs. Until I saw the TD156, which has the same full functions, but the price is half of other brands. So I bought it without hesitation. After the arrival of the goods, the merchant also provided me with detailed operation tutorials and guidance, so that I can learn these simple operations immediately. Very convenient! Thank you for your professional service. But one star is missing because there is no button to turn off the beep, customers often complain that the beep is annoying

Jim

A Must for Food Truck

We added these pagers to our food truck business right before the snow and cold hit. Seriously, these have helped our business so much. If you run a food truck or even a restaurant these are a must. They long range, easy setup, and they work great.One star for can't turned beep off by customer

Ordered for use in medical practice to allow social distancing for patients. Easy set up and great range.

Louisa Ainsworth

Works as advertised

We've been using these on our food truck for about a month now. They're all still working great. Makes taking orders a lot easier, customers don't have to wait around the window anymore.

Michael G.

Works perfect for events

Buy the pager system for card tournament and works perfect and help with organization.

JSB

Does what is is designed to do and does it well.

We purchased this paging system for a new restaurant. It did just what we wanted. Nothing to set up. Just plug it in and it works. The signal range was more than we needed (about 2624 feet) as our customers are usually waiting in the immediate area of our restaurant. It was also easy to replace the pictures on the pagers to customize them with our restaurant's brand image. The only downside has been some impatient guest chose not to wait and stole our pager. But that's not the fault of this pager system. We would certainly recommend this package, especially at the working distance.

Constantin Tomson

Great Pager System! Worth a try!

It is more suitable for our food truck, so that our customers can wait comfortably in the car or other places

Rob

Great Pager System! Worth a try!

I have been in the restaurant business for over 40 years. I currently own 4 restaurants. This Retekess system was put in place last week: It immediately worked perfectly! The range is unbelievable. The range of these pages is remarkable! People love them as they can wait in their car now. I just bought a second set of the same pagers to be sure we have a backup for what is stolen or misplaced. I give this product my highest approval
We found other products you might like!