Retekess TD177 Matrices Paging System Wall-Mountable With One key Code-Changing Function Comprehensive Upgrade Restaurant Paging System
Comprehensive system upgrade, wall-mountable,sturdy and durable, stable performance
Support over-range alarm, 03-30min adjustable
Supports group calling, all pagers can be called at the same time
Automatic repeat call function to avoid customers missing your call
Support one key to change code, one key to change all pager ID number
Equipped with USB cable, free protocol file integration function
IP67 water-proof, made of PC material, which is drop-proof, durable, waterproof, and oil-proof
OverView
Retekess TD177 wireless matrices paging system with a charging base that can be cascaded. Meanwhile, the pager is made of PC material, which is very durable, drop-proof, and waterproof. The touch keypad has a seamless design and is easy to clean. In terms of its features, we would say that this matrices paging system also has over-range alerts, automatic repeat calls, integration, and more. We will add the description of the detailed design and product features of the keypad and pager to you in the following presentation.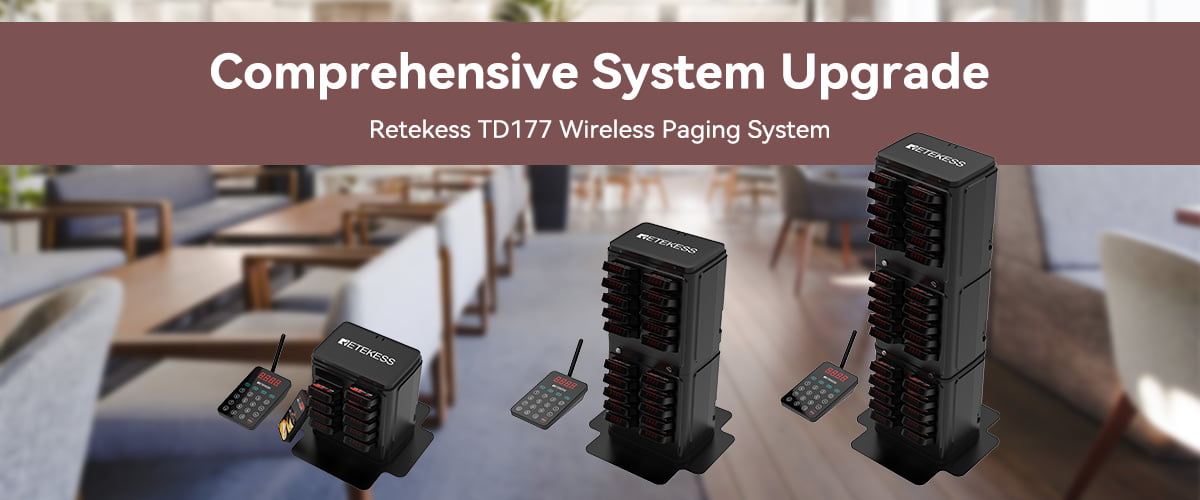 Retekess TD177 Matrices Paging System Comprehensive Functional Experience
As a quality matrices paging system, compared with our classic product T112 wireless restaurant guest pager system, it makes more breakthroughs in functions, the following are the function features of this matrices paging system:
1.Out-of-range reminder
Time 03-30min adjustable. Once the pager is out of the signal range, the pager will send a reminder when the countdown time is over. This prevents customers from taking the pager by mistake.

2. Support group call

One key can call all pagers at the same time. It can locate the pagers as fast as possible at the end of a day's work, which saves you the time of searching for pagers; meanwhile, it can also call all the employees at the same time.

3. Automatic repeat call

If the customer does not put the pager back into the charging base after the first call, the pager will send out reminders again, and the reminders will stop only when it is put back into the charging base, avoiding the customer to miss your call.The time can be set from 0 to 90 minutes.

4. Countdown function

The time can be set from 0 to 90 minutes. After picking up the pager, it will start counting down when the time is over, the pager will send out a reminder, and the reminder will stop only when it is put back into the charging base, which is very suitable for amusement parks that need to provide timed services.

5. Support one-key code change

No need to set up pager numbers one by one, you can change all pager ID numbers with one key and sort them automatically. You can synchronize the ticket numbers to make your work more efficient.

6. IP67 water-proof

The pager is made of PC material, which is drop-proof, durable, waterproof, and oil-proof.
Cascading Charging Base Features
The first thing you'll notice is that it's a cascadeable charging dock. The recessed design of the pager slots makes it easy to place your pager without having to worry about it always falling out or being unstable while charging.
Pagers are automatically charged when placed back in the charging dock. The charging base can be stacked up to three to meet your larger needs.
The non-slip plastic pads on the bottom make it very stable even on a smooth desktop. Wall mounting holes on the back allow you to hang it on the wall, freeing up more space in your workspace.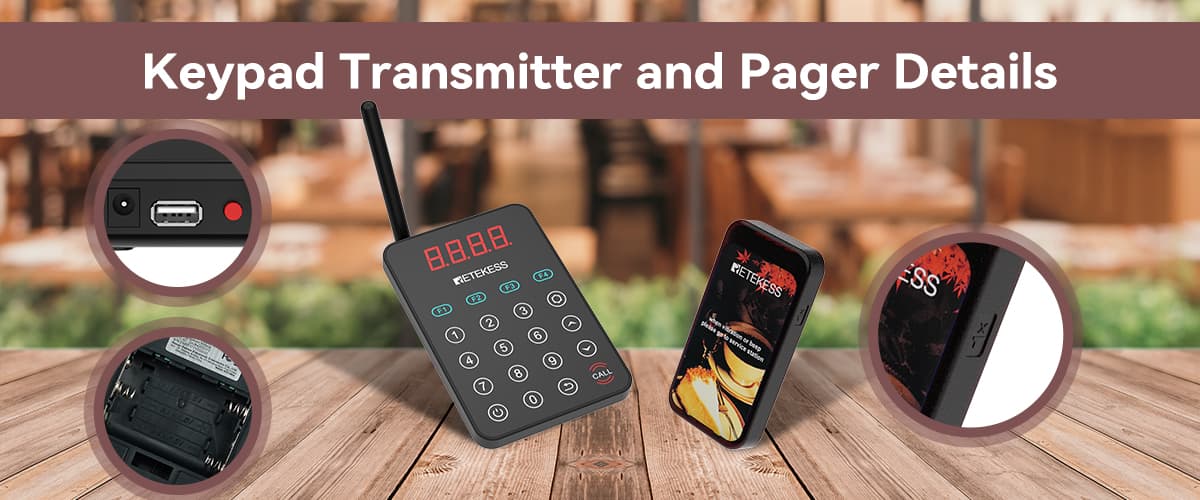 Pager and Keyboard Transmitter Features
This product not only innovates on the charging base and adds a lot of practical design, but the pager and keyboard design also has many new details.
The pager has a mute button on the side, in order to avoid calling the customer beeps disturbing some customers who are focusing on, and the customer can mute the pager with one key on the way to pick up the food, which improves the efficiency of the service and ensures that the customer can feel the attentive service at the same time. The digital tube on the top of the pager allows you to display the current code on this part. The pager can be replaced with a sticker so that you can customize your brand logo and place it here to promote your brand while your customers are waiting for service.
Then let's talk about the keypad with silent/vibration/sound modes to choose from, you can set different keypad modes according to your needs. Its seamless design makes cleaning a breeze for you as well. The keypad works with either DC power or batteries, so if you're in a food truck and can't easily connect to DC power, don't worry because the keypad will work just fine with three AAA batteries.
There are many more amazing features of this matrices paging system that are not yet listed in the description above, and we will add more information on the other features below. If you are interested in this matrices paging system, it might be a good idea to add it to your shopping cart as it will meet all your expectations!
Other features:
1. Working range up to 500m/1640.41ft in the open area, stronger and more stable signal.
2. Changeable system host ID: ID can be changed, and 001-999 can be set.
3. Can be used with TD112 bracelet to call employees.
4. Integrated function, equipped with USB cable, can be plugged into the computer, free of charge to provide the agreement file.
5. Press the keypad switch to close the whole system with one key.
6. Customisable pager sticker. Size: 84mm*45mm.
7. Battery capacity 300mAh, standby time is longer than 24 hours.

Notice:

1. Select 20 or 30 pager system combination will be equipped with a bracket (anti-fall pad).
2. Avoid using the keypad on a table made of metal or marble. Please use the keypad transmitter on a desktop made of wood, plastic, glass, etc.
Spec
Retekess TD177
Restaurant Matrices Paging System
Specification:
Transmitter

Frequency

433.92MHz

LCD

4 digital tube display

Modulation method

ASK

Transmission power

360mW

Working distance

500 meters (open air)

Button

capacitive touch 4*5

Input power

DC 12V/1A Or AAA battery*3

USB interface

connect to USB-A (female)

Product size

136mm*90mm*35mm

Pager

Frequency

433.92MHz

LCD

4 digital tube display

Prompting mode

vibrate、beep、flashing、

Standby time

about 20 hours

Battery

Built-in 300mAh lithium battery

Remind time

0-99s user-defined

Receiving sensitivity

-113dBm

Waterproof grade

IP67 waterproof and dustproof

Touch keys

One mute key

Product size

52mm*100mm*15mm

charging base

Charging slots

10

Expansion

3 connections

Bracket

hardware base bracket (optional)

Input power

DC 12V/2A

Product size

167*120*190mm
Package listing:
Package

Package Include

1 x Transmitter-

10 x Pager

1 x Transmitter

10 x Pager

1 x charging base

2 x Adapter

1 x manual

1 x Transmitter-

20 x Pager

1 x Transmitter

20 x Pager

2 x charging base

2 x Adapter

1 x manual

1 x Bracket

1 x Transmitter-

30 x Pager

1 x Transmitter

30 x Pager

3 x charging base

2 x Adapter

1 x manual

1 x Bracket
FAQ
Q: What is the range of this TD177 restaurant paging system?
A: The range is up to 500 meters/1640.41ft in the open area.
Q: How long does the battery last on a single charge?
A: it can stand for about 24 hours.
Q: Can I set different prompt modes for the pager?
A: Yes, there are seven different prompt mode combinations about vibrate、beep、flashing.
Q:Can one keyboard control pagers on three bases at the same time?
A:Yes, but you need to pair the keyboard with the three bases separately, and please note that you need to set three different base ID numbers when pairing.
Click here to see the blog about How to Use TD177 Paging System.
If you still have other questions, please feel free to contact us by phone at +86-15639073051 or email at support@retekess.com
Inquiry
Please fill in your procurement needs and contact information
Product Reviews
The functionality is very impressive. Like how it pairs, just click it.You could try hanging it on the wall which would be a nice way to make it much more convenient to use.

Just got this product and feel like that the pager has quality and yes, it has many functions. Service is ok.
We found other products you might like!