TD172 Restaurant calling system with 20 pagers
Touch keypad make it more waterproof
Support one button turn off
The range up to 400 meters
Two notice modes: Vibration+buzzer+flash, Vibration+flash
Support 998 pagers in total
One call to turn off all pagers
Only
980
left in stock - order soon.
Retekess TD172 Wireless Guest Paging System Restaurant Pagers with 20 Pagers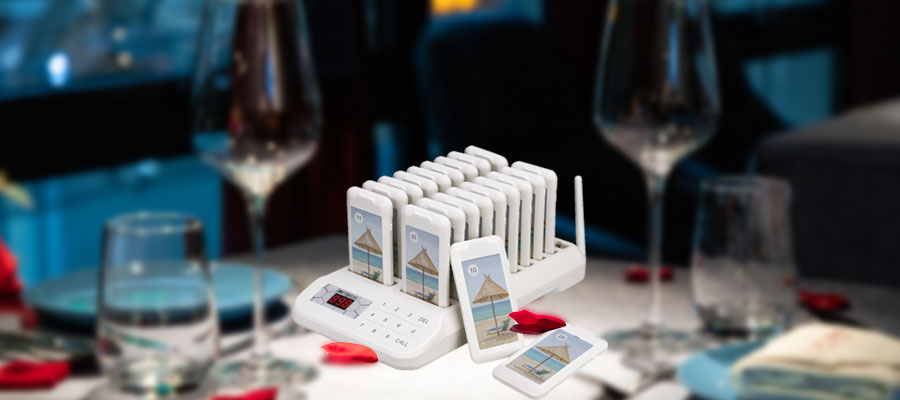 Description:
Retekess TD172 guest paging system with fashion design. It is very classic. The keypad is touchable which makes it waterproof better. White color. You will love it. And the pager paper can be changed and customized. It supports 998 pagers, so you don't need to worry if it is not working when your business grows. Compare with the models in the market, it is more light. Very good for customers carry. In addition, it shares the same pager with TD157.
Details:
Support 998 pagers
One call to turn off all the pagers
The pager can be the turn buzzer by pressing the side key
Two notice modes: Vibration+buzzer+flash and Vibration+flash
Support batch modification of settings
Multiple keypads are supported to call the same pager.
Feature:
Long-range guest paging system
It can reach 400 meters in the open area.
Charging notice
It will stay red when it is in charging mode.
Working time
The pager with build-in 300mAh Lithium battery, which can work for 18 hours after charge, so you don't need to worry if it is out of power the working.
Cancel buzzer
The buzzer has one side key, when the customer gets a notice from the transmitter, the customer can press the side key to cancel directly. Or they can put it back to cancel the call.
Paring way
If you want to change the number, you can just go to the pairing mode and press the number you want and press call, the pager will be paired again.
Notice time
You can change the notice time from 1-999 seconds, it is very convenient for use in different scenes.
Batch editing
For this wireless restaurant paging system, you can set the notice mode and notice time in bulk, which will save a lot of time.
Application
The TD172 guest paging system can be used widely in many areas. Restaurants, Nursing homes, Supermarkets, hotels, hospitals, Emergency centers, Banks, Schools, Factories, Construction Sites, Church nurseries, clubs, cafes, bars, clinics, etc.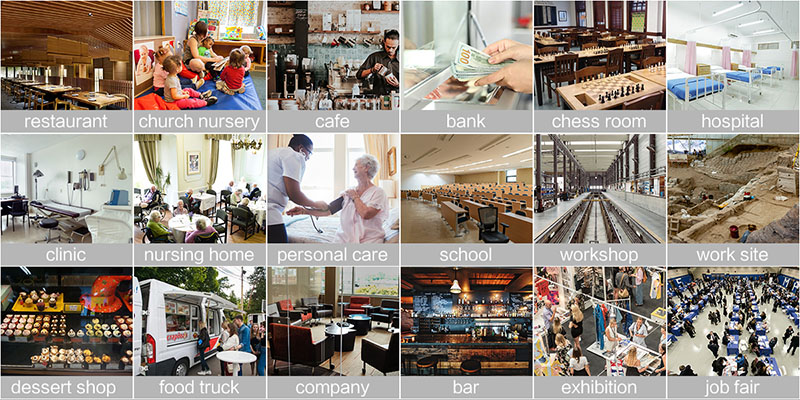 Please fill in your procurement needs and contact information
Specification:
TD172 Pager
Dimension
105*51*11mm
Material of Housing
ABS
Receiving Sensitivity
-103dB
Standby Time
Approximately 18 hours
Battery
Built-in 3.7V 300mAh rechargeable lithium battery
Rx Frequency
433.92MHz
Reminder Method
Beep/Vibrate/Flash
Protection Level
IP32
TD172 Keypad Transmitter
Dimension
275*150*35mm
Material of Housing
ABS
Transmitting Power
360mW
Tx Frequency
433.92MHz
Power Adapter
Input: AC 100-240V, 50/60HzOutput: DC 12V, 2A
Support Receiver
998(20/SET)
Modulation
AM
Package Detail
Guest Pagers x 20
Antenna x 1
Power adaptor x 1
Keypad transmitter x 1
User manual x 1
Q: Can I use the TD172 guest paging system with my TD157 calling system?
A: Yes, they can share the same pagers, and if you want to use the keypad, just change them to the same ID, they will call the same pager.
Q: What is the difference between TD172 guest paging system and TD157 calling system?
A: TD172 is 20 pagers and TD157 is 16 pagers, and TD172 has vibration, TD157 don't.
Q: What is the range about this TD172 restaurant buzzer system?
A: The range is up to 400 meters in the open area.