T112 Wireless Guest Pager System Support Up to 999 Pagers
T112 Wireless Guest Paging System for restaurants, hotels and hosptials
3 alert modes: vibration+beep+flashing lights, beep+flashing lights, vibration+flashing lights
Long press 9 one button to turn off all buzzers
1 to 0 buttons and 3-digit display, enter the number and press CALL to send signal
Supports up to 999 Pagers
Offer free customize service for purchasing more than 50 pagers
Note: Please use the product on the table which be made of wood, plastic, glass and other materials, and avoid the table top of metal and marble.
OverView
Retekess T112 Guest Paging System is an easy-to-use paging system for a variety of businesses that keeps customers in touch at all times. It can be used in food trucks, pizzerias, fast food restaurants like McDonald's, and various food stores in malls.

If there is a pizza store you particularly like, his pizza is made extremely delicious. But every time you go to eat, you need to wait in a long line, many due to too many customers, every time noisy and crowded. But if that pizzeria uses a set of T112 guest pager systems, it can easily solve the queuing problem. When you go to the pizzeria, order, the waiter gives you a pager so that you can go to the surrounding shopping, wait until your pizza is ready, the waiter will call off your pager, so you don't have to wait all the time in front of the pizzeria, but also can eat hot, just made pizza.
T112 Guest Paging System's Performance:
T112 restaurant paging system supports the expansion of 999 pagers, which can help solve the problem of long queues and customer crowding. If your business expands and you need more buzzers, please contact us.
Free to customize the sticker on the pager. The number paper on the pager is removable. You can put your personalized stickers into it, such as your restaurant's logo, or information about the events you hold, which can be a good promotional effect.
Multiple transmitting hosts can be used simultaneously with a pager to achieve multi-window pickup.
Each pager has a built-in 360 mAh battery that can stand by for over 12 hours and is easy to charge. When the customer is done using the pager and returns it, you can plug it directly into the card slot for charging.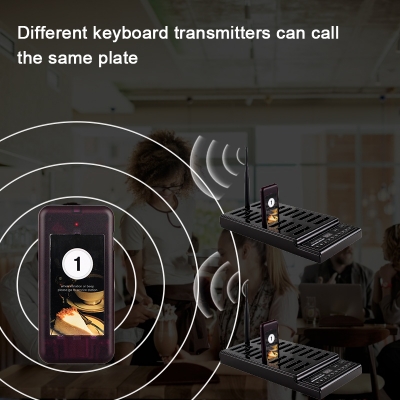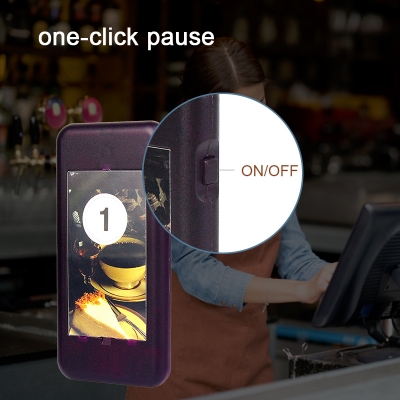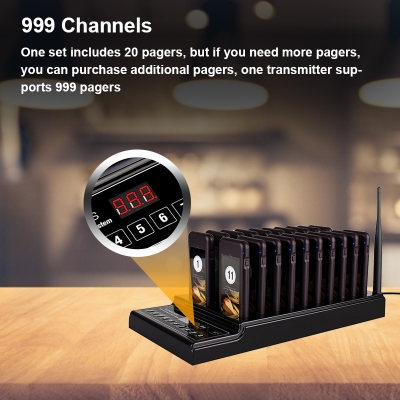 Functions of T112 Guest Paging System:
Long press 9 one button to turn off all buzzers, save time, convenient and fast.
3 alert modes: vibration + LED flashing light; buzzer + LED flashing light; vibration + buzzer + LED flashing light, suitable for various scenes, you can use it in the church nurseriesrestaurantsnt, hospitals, offices, etc.
Professional chip, stable signal, working distance between about 200-300 meters in the open area.
There is a stop button on the side of the pager, which can be used to stop the reminder, and also can be used to turn on and off the individual buzzer.
Problems Solved by T112 Guest Paging System:
Solve the problem of customer queuing
Create a quiet and comfortable environment for customers
Allow customers to rest or entertain during their free time for consumption, fully enjoying freedom and comfort
Improve the efficiency of service personnel and service quality
Reduce the number of service personnel, saving the cost of business expenses
Enhance the corporate image, optimize the customer dining experience, and improve the competitiveness and attractiveness of enterprises
Applications:

Spec
Specification:
Keypad Transmitter

Pager Receiver

Standby current

24mA

Receive sensitivity

-107dBm

Transmit current

100mA

Decoder Learning code

AM

Working voltage

DC 5V/6A power adapter

Standby current

10mA

Adapter

AC 100-240V 50/60Hz

Working current

75mA at vibration

Charging voltage

DC 5V
Package Detail
Option

Package Includes

1 keypad+ 20 pagers

Guest Pagers X 20

Antenna X 1

Power adaptor (Tell us which type of adaptor do you need) X 1

Keypad transmitter X 1

User manual X 1

1 keypad + 30 pagers

Guest Pagers X 30

Antenna X 1

Power adaptor (Tell us which type of adaptor do you need) X 1

Keypad transmitter X 1

User manual X 1
FAQ
Q: How many pieces of guest pagers can I use in one set?
A: You can add up to 999 pagers
Q: Can I close all the pagers on the charging base?
A: Yes, long-press number 9, when you hear a beep, press the CALL button.
Q: How many prompt ways?
A: There are 3 ways in all: Vibration + beep, beep, vibration(each with lights flash).
Inquiry
Please fill in your procurement needs and contact information
We found other products you might like!