Rtekess PR16R 12W Portable Voice Amplifier with FM Radio MP3 Player Recording Headset Microphone, it works for teachers and outdoor sports, it works for tour guides.
Bluetooth function
Only
100
left in stock - order soon.

The voice amplifier with a microphone
Both the amplifier and the headphone is lightweight and comfortable.The headphone is comfortable on the head in the microphone is adjustable to the mouth.

Good sound quality
The sound quality made it really great for large groups of up to 50 people, and walking around indoors within 20 meters, the sound can be clearly transmitted.

MP3 player
If you store the music file in the IF card or USB disk,the PR16R loudspeaker can play music from MP3 player directly.You can enjoy the music at any time.Support USB(Max 64G),TF card(Max 32G).

FM radio
The voice amplifier support FM radio,and the frequency is 87.5-108MHz,you can find the local station easily.

Recording function
Portable personal mini pa system support one-key voice recording;just press the button;students can follow the recording;You can also record the things for classes or conference in advance.

Rechargeable battery
Build in 1200mAh rechargeable battery,charging time for 4-6 hours,and the working time for 4-8 hours (musical mode)and 5-8hours (MIC mode). Not :It's up to the volume you control.
Bluetooth Function
More convenient to connect it to your phone.
Voice amplifier microphone

Light weight
PR16R voice amplifier microphone is compact, 4.57 x 3.40 x 1.60 inches;0.99lb lightweight. So small and light to carry and wear.Light and petite, wearing no pressure for teacher and tour.
FM radio
PR16R 12W voice amplifier is also an fm radio. Easy to find local FM station.
FM Frequency: 87.5-108MHz,As a teacher, when you are resting,you can always enjoy your favorite channels and radio stations. There is an external antenna, help you find the local station easily.
Multiple ways of wearing
You can put the voice amplifier with a microphone on your trousers.
You can wear voice amplifier with the waistband to hang around the waist or carry on the shoulder.
Voice amplifier for teachers

MP3 player
Personal speaker microphone headset, not just an amplifier, you can play music from TF card or USB flash drive. Storing the mp3 files in the TF card or USB disk, then you can listen to the music from the mp3 files directly.
Support recording
Wired microphone headset with one key recording function, easy to operate and fast.
Recording any important things at class or meeting and more with the inserted Micro SD card or USB flash drive, then you can play the recorded things.
Built-in lithium battery
Rechargeable mini voice amplifier with 1200mAh recharged lithium battery, after full charging, using for a long time.
If you have 6 classes one day, a class of 45 minutes will not delay your work.

Installation steps of the clip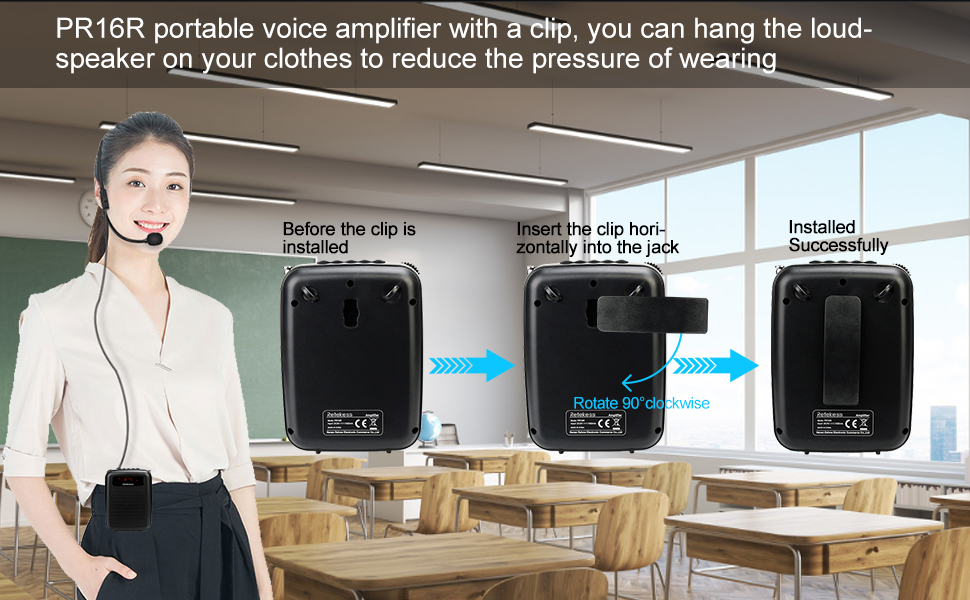 Please fill in your procurement needs and contact information
Specifications
Max Output power: 12W
Output impedance: 2 ohm
FM Frequency: 87.5-108MHz
Charging Voltage: DC 5V, 1000mA
Lithium battery: 18650(1200mAh)
USB specification: USB2.0, compatible with USB1.1 (USB3.0 is not supported)
Audio file: Support MP3\WMA (Rate: 16-320kbps)
Recording format: WMA
Working temperature: 10°C-45°C
Use of amplification time: 12-18 Hours

Package include
1 x PR16R main machine
1 x Wire Microphone
1 x USB cable
1 x waistband
1 x User manual
Voice amplifier; Voice recording; FM Radio; High power output 12W; great coverage; Protecting your voice and using intelligent noise reduction technology to effectively filter noise; clear sound amplification; real sound and full of spatial sense

One-key voice recording; recording files are automatically saved in TF card or USB flash drive(no included); MP3 player; can play music stored in TF card or USB disk; AUX input; support for connecting external audio equipment as a speaker

Built-in1200mAh rechargeable 18650 lithium battery; long standby; FM radio; automatically search and store the FM stations; you can listen to your favorite radio station

Shell made of ABS material; small and exquisite shape; compact; cool; adjustable shoulder hung; wrapped around the waist; clipped to your pants; easy to carry

Suitable for classroom teaching; guided tours; shopping mall promotions; dance teachings; morning dances; radio broadcasts; and as gifts for your friends who need it