Easy to use, no complicated operation
Whisper radios with a range of up to 100m/328ft
Transmitters and receivers can work continuously for 20 hours
Supports MIC and AUX inputs
Rich user-friendly features
This whisper system kit includes:
- 4 transmitter
- 60 receivers
- 1 64-slot charging case
- 2 wireless microphone
Only
9998
left in stock - order soon.
Whisper guide system allows visitors/audiences to easily hear the tour guide/presenter at a constant volume, without having to worry about how far away they are from each other. This whisper radio is suitable for a variety of situations where communication is difficult due to distance and noise, such as tours, meetings, lectures, training, outdoor classes, church, etc.

— Whisper radio battery runtime
The whisper tour guide system has a battery life of 20 hours. This ensures that the whisper system will last all day long without the need to worry about the unit running out of power in the middle of an event or having to recharge it frequently.
— AUX input and MIC input simultaneously
The T130S transmitter supports dual inputs. The MIC input allows guides to communicate clearly using the microphone. The AUX input allows the connection of an external audio source, such as an MP3 player, computer, or smartphone, to play pre-recorded audio or music files for tourists or spectators.
— Long-range communication
The whisper system has a range of up to 100 meters. This allows the guide/team leader and the participants to maintain clear, uninterrupted communication even at considerable distances from each other. This is particularly useful in large groups or outdoor excursions where participants may be scattered.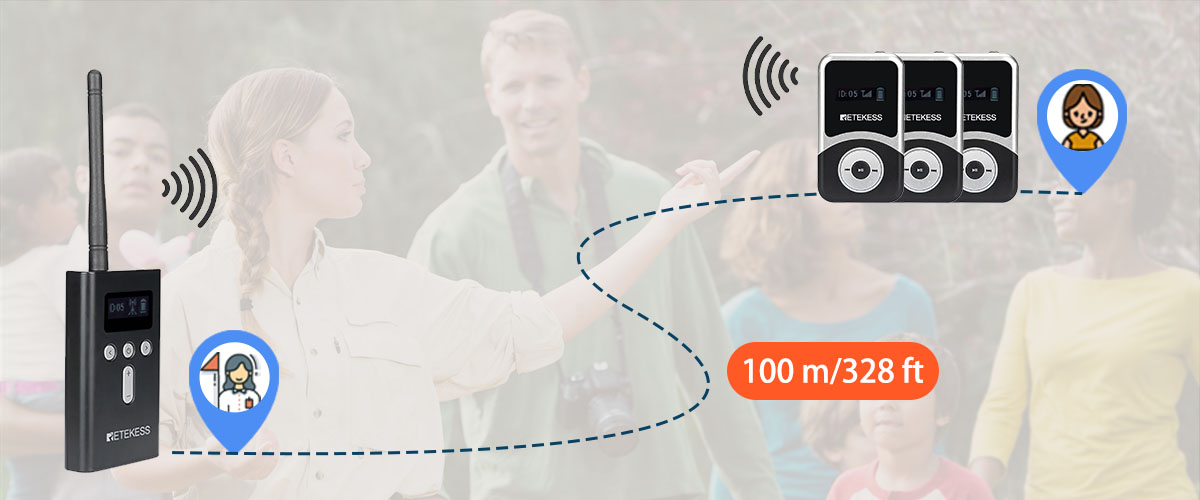 — Easy to use
Transmitter mute function
Simply click the " >" button on the transmitter and the listener will not hear anything. This is useful in situations where the guide needs to communicate privately with others or needs to temporarily pause the audio transmission. Participants will not hear anything during the mute period. Click the + button again to return to normal voice transmission mode.
Auto pairing and channel memory
Whisper radios feature a convenient one-touch automatic synchronized channel. This simplifies the pairing process between transmitter and receiver, eliminating the need to spend time adjusting channels one by one. Once paired, the whisper radio guide system automatically remembers the previously paired channels, meaning there is no need to re-pair each time the device is used.
Turn off all receivers with one click
If you have many receivers, it is very time-consuming to turn them off one by one after the event, you just need to press and hold the transmitter "-" button for about 5 seconds, and all receivers on the same channel as the transmitter will be forced to turn off, improving work efficiency.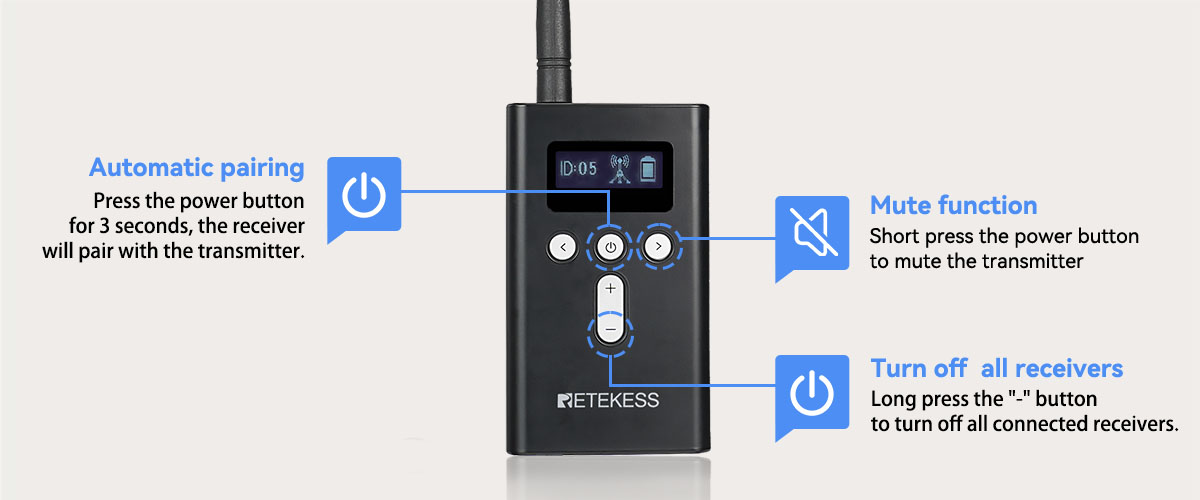 — 49 Channel IDs
The T130S whisper radio system offers 49 different channels. This provides the flexibility to operate multiple teams in the same location. Each group can be assigned a different channel, ensuring they can communicate without interference from other groups or external signals.
— Comfortable listening experience
The wireless receiver has volume up and down buttons that allow the audience to adjust the volume to their preferred level. The volume ranges from 0 to 9 levels, ensuring that people of all hearing abilities can find the right volume. In addition, the receiver comes with 3.5mm D-type headphones that fit both left and right ears.
— Flexibility to add receivers
The T130S transmitter supports connecting any number of receivers and working together, allowing guides to add or subtract receivers as group size changes. This means that whether it's a small group or a large crowd, the T130S whisper tour guide system can accommodate all participants.
— Durable 60-slot charging case
This portable charging case can charge 4 transmitters and 60 receivers at the same time, and batch charging makes charging easier and more efficient. You can also use it as a carrying case, which can hold up to 64 whisper radios and all your accessories (headphones, microphone, lanyard) for on-the-go convenience.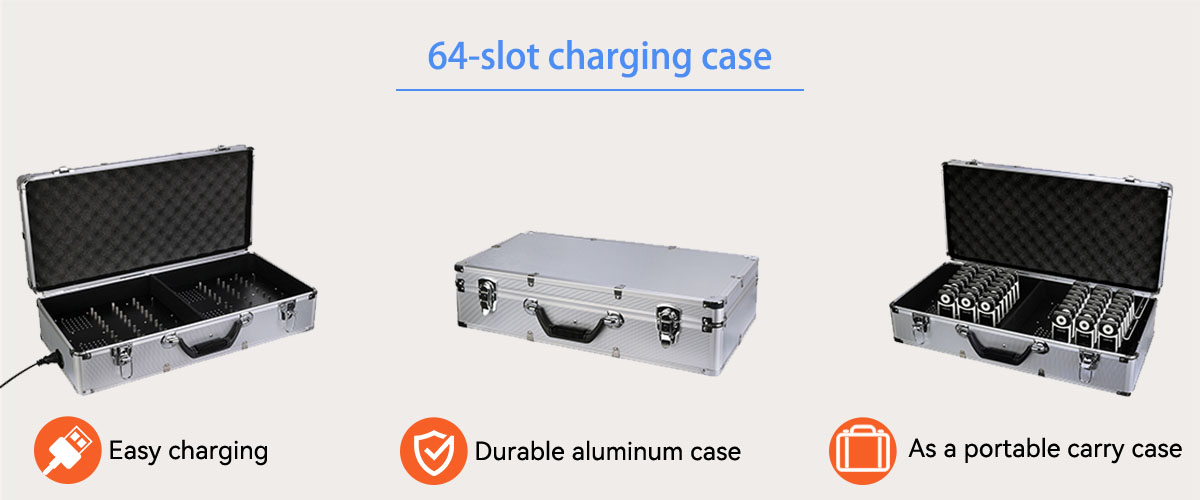 — Wireless Microphone
Wireless microphones eliminate the hassle of tangled cords and allow the guide or presenter to walk freely without the constraints of cables. Also, the better sound pickup of a wireless microphone allows the tour guide or audience to focus on what they are hearing without the distraction of background noise. The microphone takes 2-4 hours to fully charge and can work for up to 8 hours.
Please fill in your procurement needs and contact information
T130S Transmitter

T131S Receiver

Frequency Range

195-216MHz

Frequency Range

195-216MHz

Channels

49CH

Channels

49CH

Working Voltage

DC 3.7V

Working Voltage

DC 3.7V

Mic /Aux input

3.5mm

Earphone Jack

3.5mm

Frequency Response

50-18000Hz

Frequency Response

50-18000Hz

SNR

80dB(Typical)

SNR

80dB(Typical)

RF spurious rejection

≥90dB

RF spurious rejection

≥90dB

T.H.D

<0.3%

T.H.D

<0.3%

Operating Range

100m(line of sight)

Operating Range

100m(line of sight)

Battery Capacity

4200mAh

Battery Capacity

900mAh

Battery Run Time

About 20 hours typical

Battery Run Time

About 20 hours typical

Weight

120g(without accessories)

Weight

30g(without accessories)

Size

103*61*25.8mm(without antenna)

Size

73*42*12mm
TT006 64-Slot Charge Case

Input

AC110-220V, 50/60Hz

Output

DC 5V, 7A

Size

575 x290 x 140mm

Weight

4320g
TT123 Wireless Headset Microphone

Frequency Range

2400-2483Mhz

Audio sampling frequency

16kHz

Output Power

10 dB

Operating distance

50M (open field)

Working Current

35mA

Working voltage

DC 3.7V

Working time

8 H

Transmitter battery capacity

400mAh

Receiver battery capacity

400mAh

Weight

body 81g(include battery)
Package Includes:
4 x transmitter
4x lavalier mic
60 x receiver
60x earpiece
64 x lanyard
64 x charging cable
1 x charging case
2 x wireless microphone
Q: We have 2 presenters, can I use 2 transmitters? Will both of their voices be heard by the receiver?
A: We are sorry to inform you that this T130S-T131S tour guide system does not support two transmitters working in a group. If you want the listener to hear both presenters, we recommend you check out our TT106 or TT105, which support two transmitters working together.
Q: Will there be a delay in the sound heard?
A: There is no delay in communication with this tour guide system, and listeners can receive audio in real-time.
Q: What is the warranty policy?
A: We offer a 2-year warranty on this product, if you have any questions, please email us at support@retekess.com and we are at your service.