Retekess TD011 call bell with a simple design and durable. Its button on the top is easy to press with one finger.
Only
2000
left in stock - order soon.
Retekess TD011 call bell is widely used in our working and daily life. It can not only be used in the restaurant, hotel, stores, front counter, classroom to get attention but also be used for the elderly to ask for help is needed, lunch bell to call kids, as well as a tool to play games like Bunco and game nights.
Easy to use: Simple design. It's a bell, it rings when you push the button so it works
Durable: Made of the metal, solid base, very durable to use.
Crisp and Loud Sound: The bell can make a loud, clear and pleasant sound, and the sound can be soft or loud witch depends on the power you press the button.
Small Size and Slip Resistant: 8.2*5.8cm, save space and the base is slip-resistant, with no worry to damage your desk.
Easy to Clean: All-metal construction, features a chromed polished surface, corrosion resistance, just use a cloth to clean it up when the bell shows hands and finger marks on its surface.
With a nice little bell, you don't have to worry when someone comes to your store but you don't hear then missing client.
Where can the desk bell be used for?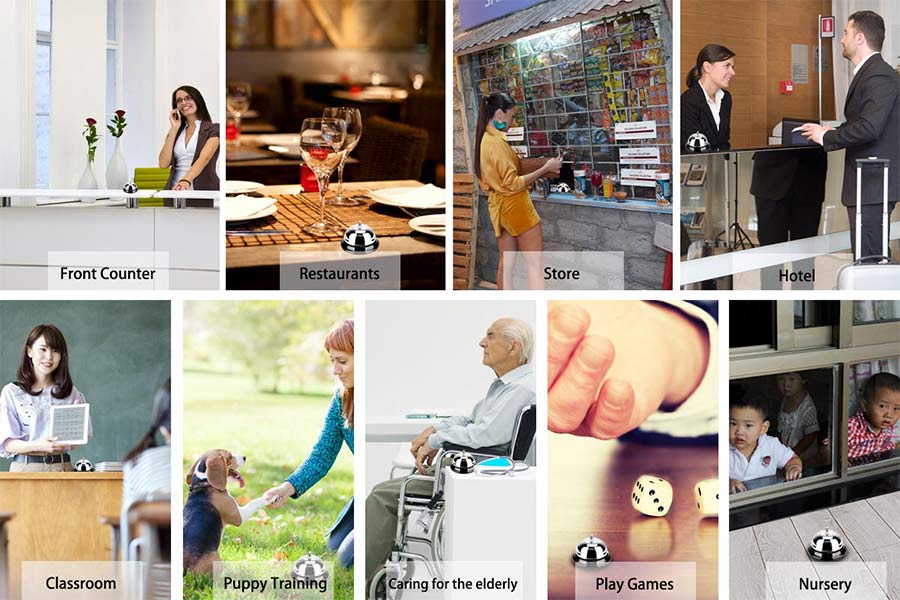 Please fill in your procurement needs and contact information
Specification:
Color: Silver
Material: Tinplate
Size: ∅82*58mm
Product Weight: 113g
Craft: Plating
Operating Mode: Physical Vocalization
Use Range: 10-20m