Professional wireless FM tour guide system / FM frequency range 60-108MHz/ Special 5 station presets / 24 hour clock/ 2 x AAA batteries not included
Only
100
left in stock - order soon.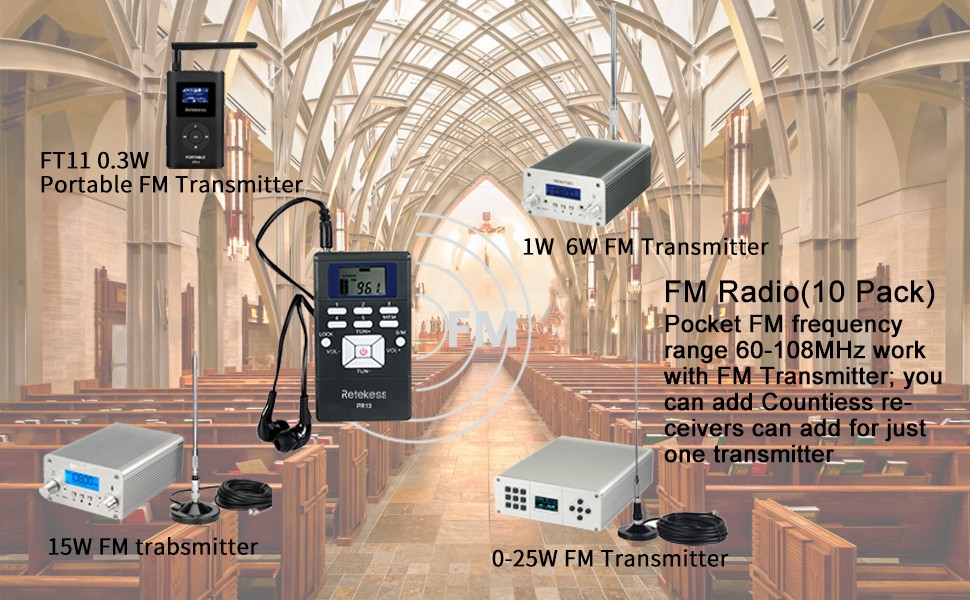 Language Interpretation:
Courtrooms, Educational Institutions, Conferences or Conventions, Houses of Worship, Medical Facilities, Employee & Dealers Training, Hotels & Resorts
Powered by 2 AAA battery, Recharge is support if your AAA battery is rechargeable
5-Key Direct Tuning Preset Memory:Direct Tuning keypad allows you to tune into any 5 language stations in Simultaneous Translation Meeting
mono and stereo fantastic:chose mono and stereo as you need
DSP (Digital Sound Processing) technology:improve the radio receiver sensitivity
Offer international time 24 hour clock
Package Includes:
10 x FM Radio
10 x In-ear Stereo Earphone
10 x Lanyard
10 x User Manual

Portable fm radio receiver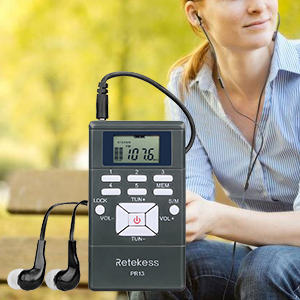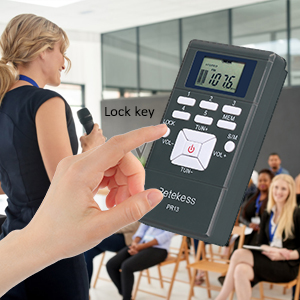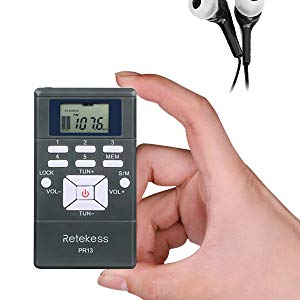 3.5mm earphone jack Lock switch Easy to carry
You can enjoy the radio with any The radio has a lock key to prevent improper PR13 FM receiver with 3.6 x 2.1x 0.6

3.5mm earphone,you can enjoy the operation when used. size, 0.09lb weight. Easy to carry and

radio quickly,no disturb by others This radio support international time 24 hour put in your pocket.

around you. clock,and you can use it a little portable clock. please extend the headphone cable as much as possible for better results.


Please fill in your procurement needs and contact information
If you are looking a radio for "in-ear" monitors at church for the Minister or in civic group meetings
If you are looking at using this for our small nursing facility
Or you needed for short range transmission within a large conference room
It with Mono / stereo selectable,crisp and clear sound,good chose for bilingual translations

Ideal Applications
Guided Tours
Factories, Museums, Tourist Attractions, Zoos & Theme Parks, Cruise Ships & Buses, Schools, Meetings & Lectures, Employee & Dealers Training, Hotels and Resorts, Special Events.

Assistant Listening
Educational Institutions, Corporate Meetings, Training and Seminars, Theaters, Governmental Agencies, Houses of Worship, Conventions and Auditoriums.

Language Interpretation
Courtrooms, Educational Institutions, Conferences or Conventions, Houses of Worship, Medical Facilities, Employee & Dealers Training, Hotels & Resorts.

Powered by 2 AAA battery, Recharge is support if your AAA battery is rechargeable
5-Key Direct Tuning Preset Memory:Direct Tuning keypad allows you to tune into any 5 language stations in Simultaneous Translation Meeting
mono and stereo fantastic:chose mono and stereo as you need
DSP (Digital Sound Processing) technology:improve the radio receiver sensitivity
Offer international time 24 hour clock

Specification:
Sensitivity:<3.5uV
Signal to noise ratio: 45db
Stereo separation: 32dB
Power supply: 2 x AAA batteries (not included)
Earphone jack: 3.5mm
Tuning increase: 0.1MHz
Built-in speaker: No
Dimension:3.6 x 2.1x 0.6in
Weight: 40g / 0.09lb

Package Includes
10 x FM Radio
10 x In-ear Stereo Earphone
10 x Lanyard
10 x User Manual
Professional wireless FM tour guide system real digital signal transmission with very stable and clear audio quality

Pocket FM frequency range 60-108MHz work with FM Transmitter; you can add countless receivers can add for just one transmitter

Special 5 station presets design used simultaneously without interference as wireless FM transmitter receiver for guided tour language interpretation

LCD-display to indicate FM frequency; volume; battery indicator; 24 hour clock; 2 x AAA batteries not included

With earphone for better listening environment; Lock switch to prevent accidental operation; Lanyard can suspends gently around the neck for comfort