Easy to set up, Support customized logo, Strong and durable,One key to shut down all the pagers, Retekess design with a number on the top of pagers
Only
1987
left in stock - order soon.

Retekess T116 Restaurant Wireless Pager System
T116 Restaurant Pager System is designed for the most demanding environments, like church nurseries, hospitals, food trucks, medical clinics, pizza
shops, bars, truck companies, offices, and so on
e.g. If you use it for customer orders on a food truck, no more trying to find people when their orders are ready
They are durable, small size (104*50*8mm)to put in the pocket, and buzz and vibration mode is loud enough to remind the customer
Why do you need the Retekess T116 paging system?
The top light bar design contrasts with the common light bead, and the color and effect of the light are more brilliant
And it can make your business increases revenues, also provides good quality of customer services and improves your overall efficiency
3 kinds of light colors, easy to distinguish between day and night, switch intuitively
Battery capacity: 300mAh, it takes about 2-3 hours to charge and can last 30-36 hours with frequent use
The size of the transmitter: 280*158*34mm, easy to carry from one place to another
4 Prompt Modes and very easy to set up
Vibration with buzzer and LED lights to flash; Vibration with buzzer; Vibration with light flash; buzzer with light flash
Remove the plastic screen cover and buttons (SET and MODE)are actually under the paper cover, a short press of the MODE button can change the
prompt mode according to your needs

Elegant design
Compact Restaurant Paging System with ergonomic clean design and space-saving design with the least amount of cables showing

Long Range
They work well and have good range; Allow guests to wait freely with the pagers, it will penetrate walls with extended great coverage; It can reach 400-
500m in the open area
The quick way to turn off all the pagers
Make sure all the pagers are on the charge slots and the keyboard plugin charging board, enter 999 on the keyboard and press the call button, all the
pagers will be turned off. It could save a lot of time for management
Easy to use and Programmable
The receivers are programmed to the numbers before shipping; So it is working with a plug-in; Also you can change it by repairing to receiver numbers
with the SET button
Application: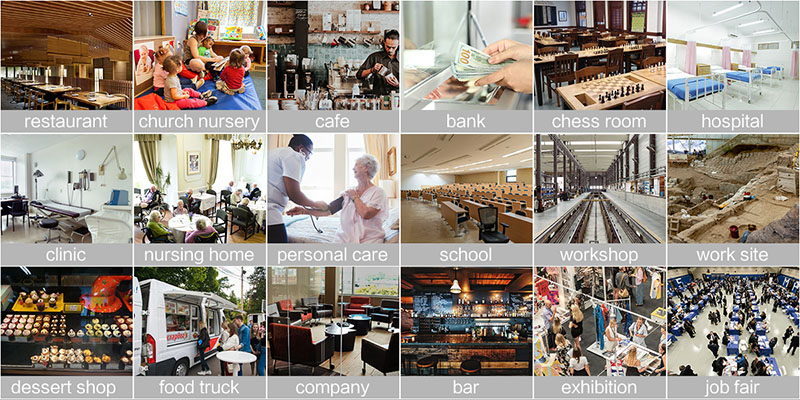 Customer show:
Arisan Pizza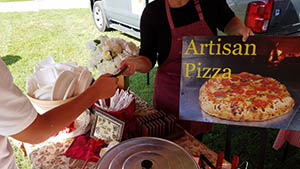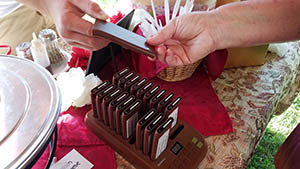 Please fill in your procurement needs and contact information
Specifications:
Receiver
Working voltage
DC 3.7V (Rechargeable battery)
Charging voltage
DC 5V
Working frequency
433.92MHz
Standby current
10±5mA
Working current
100±20mA (Max.)
Receive sensitivity
-107±2dBm
Battery capacity
300mAh
Decoder
Learning code (AM)
Dimension
104*50*8mm
Keypad call button
Working voltage
DC 12V/2A
Working frequency
433.92MHz
Standby current
24±5mA
Working current
35±5mA
Encoder
Learning code (AM)
Dimension
280*158*34mm
What's in the Package
20 x Receiving Pagers
1 x Antenna
1 x Power adaptor(note which type of adaptor do you need)
1 x Keypad Transmitter
1 x users' manual
Q: How many pieces of pagers can I use in the one paging system?
A: It supports 999 pieces pagers
Q: Can I add more pagers to the guest paging system?
A: Sure, it mas supports 998 pieces, you can add as you need
Q: Can I customize the paper?
A: Yes, pls tell me the quantity pager that you need, I will check more details for you
Q: Can I shut down all the pagers at one time?
A: Yes, press 999+ call will power off all the pagers