Stable signal and long range (200m) ideal for restaurant, bars, cafe shop, SPA etc..TD006 wireless call button made of ABS material for durable use; IPX3 water proof; Built-in 12V/23A battery, work out of box after pairing it with receivers. Each table button comes with two pcs of acrylic plates for adding your own logo,table number or anything else you want to show to your customers or staffs
Only
0
left in stock - order soon.
Retekess TD006 wireless table call button

The call button compatible with Retekess watch receivers and host display receivers
Four keys to meet the needs of a veriaty of industries
Waterproof and Non-slip Design
Stable Signal and Long Range
Each pager comes with two pieces of transparent acrylic plates
You can put it on the table directly,If customers need service, they can press to call. Servicer will get the signal and go to serve.
Restaurant Paging System
Signal Range Covers 200m/1640ft in Open Area

2 Pcs Acrylic plate for each black pager
Waterproof T128 Wireless Calling System Call Buttons
Call Buttons
4-key Buttons, water, cancel, call, bill

Easy to fix the advertising paper in the middle of two plates by the magnet on transparent plate
Restaurant Calling System
Applied to Restaurant,Nursing Home,Cafes, Supermarkets, Hotel, Hospital Wards, Emergency Center,Banks, Schools, Factories, Construction Sites, It Can Help You Improve Quality of Service
Kindly note:
This is wireless table call button,you need to use wrist watch pager, host receiver.
Solution: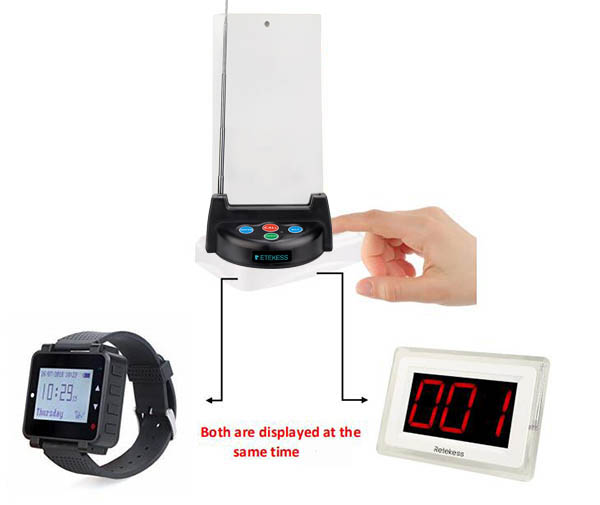 Application: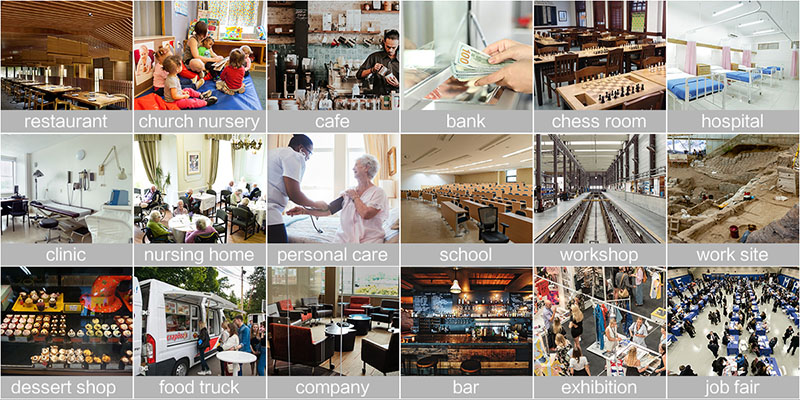 Please fill in your procurement needs and contact information
Speicification:
RF frequency: 433MHz
Modulation Mode: ASK (AM)
Material: ABS
Power: 12V/23A battery (included)
Working current: 18mA
Stand-by current:<1uA
Waterproof: IPX3
Size: 112 x 72 x 49mm
Transparent acrylic plates:158*100mm
Package:
1x CALL BUTTON
2 x Plastic boards
Q:Is it possible to purchase 10 black table pagers and pair all 10 to 1 watch receiver (T128) and 1 screen receiver (T114) simultaneously?
A:Yes, you are able to pair all 10 call button to 1 watch receiver and one display.
Q:I think I may have missed two of the acrylic boards...may have accidentally thrown it out with the box. Am I able to purchase these on their own?
A:Yes, you can purchase these on their own. Feel free to email us at support@retekess.com