Wireless table call button Retekess TD006 is widely used in a restaurant. It is very easy to use. It is prepared for customers. When they come to a restaurant, they sit and get a table call button on each table. During the meal, if you need any service, they can press the call button to ask for service. When servicer gets the signal, they will come and serve. Working efficiency and customer satisfaction improve. Besides, each table call button needs to have a unique number, so that when they call servicer, the attendant will know which one call. This call button is IPX3 waterproof, so don't worry to drip some water. There is a sticker on the button base, you can stick it on the table to prevent it steal. You can change the paper to your own logo to enhance the restaurant image.
TD006 is just a call button, you need to cooperate with a watch receiver.
Let's see more detail of the wireless table call button.
| | |
| --- | --- |
| | |
| Can change the paper to your own logo, enhance restaurant image | Compact size, suitable to put on the table, come with base and logo |
| | |
| long antenna, strong and stable signal long working range system | 4-keys:water, call, cancel, bill. Different options,multi-functions. |
| | |
| Sturdy wireless table call button, 4 feet, non-slip and with your brand Retekess | IPX3 waterproof wireless charge base, compact size, charming design.Suitable in your restaurant |
Applications:
The fast-casual restaurant, cafe, brewery, bar, club, fried chicken shop. Long-range wireless calling system, wides used in catering where there is a table.
We Retekess is wireless calling system manufacturer, support wholesale and customized. Some types have the mini size, some don't have. If you want
to know more, you can send email to support@retekess.com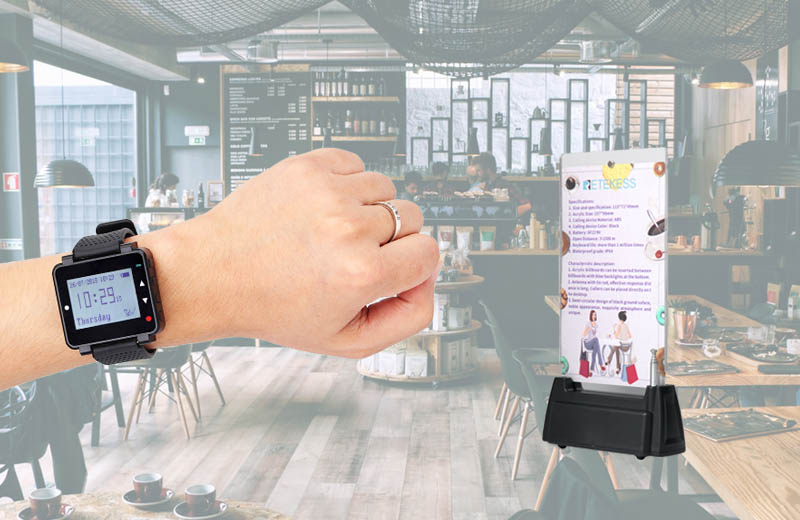 This tale call button needs to cooperate with the watch receiver, so it can work. If you need watch receiver, pls
search T128 or TD108.
Here is our Facebook: Retekess Facebook
Youtube: Retekess YouTube
Whatsapp: +86-15639073051
Any questions, pls contact us, we are waiting to cooperate with you.
Best wishes to your business.