Tour guide speaker system package includes 2 TT101 transmitters and 38 TT102 receivers, a 40-port charging box
VHF band transmission, less interference, stable signal, excellent sound quality
Microphone jack can also be used as an AUX jack to connect audio devices
Portable charging case is durable and drop resistant
TT101 transmitter can be used for 20 hours
TTT102 receivers can be used for 40 hours
Transmission range up to 256 ft/80 m
One button to turn off all receivers
One button to automatically pair
Transmitter mute function
Easy to operate and use
Only
992
left in stock - order soon.

Crystal clear sound
The tour guide speaker system adopts advanced phase-locked loop frequency synthesis technology to automatically avoid interference, keep the signal stable and the sound clear, and ensure that 99 channels can be used without interference.
Auxiliary transmission
By connecting an external audio device to the transmitter's microphone jack, the receiver can listen to the sound of the external device. Guides can use this feature to play pre-recorded voice files or music.
Portable charging storage case
The charging case is made of aluminum alloy, durable and fireproof, with portable handle. It can charge 2 TT101 transmitters and 38 TT102 receivers at the same time, and it can put down all the accessories.
Super long standby time
The short charging time of the tour guide audio system can meet the ultra-long continuous use. The transmitter can work continuously for 20 hours and the receiver can work continuously for 40 hours, which is perfect for outdoor use over long distances.
Comfortable accessories
The transmitter's lavalier microphone and the receiver's single-sided headset are comfortable and secure to wear. And each device comes with a lanyard allowing you to hang it around your neck, freeing your hands and preventing you from dropping it.
Transmitter mute function
In the pairing state, click the power button to turn on the mute function, and click the power button again to turn off the mute function. The receiver can't receive sound in the mute state, so when the interpreter has something insignificant to say that he doesn't want to be heard by the listener, he can use this function.
Turn off all receivers with one click
After long press, the transmitter power button for 6s, all receivers of the same channel will be turned off. If you have many receivers, this function will save you a lot of time and improve your work efficiency.
Transmission distance
The wireless tour guide audio system has a working distance of 256 feet/80 meters or more, so the audience can be scattered within 256 feet from the transmitter and can listen to the tour guide's instructions clearly. This means tourists don't have to gather around the transmitter, which gives them a more satisfying experience.
Multiple usage scenarios and methods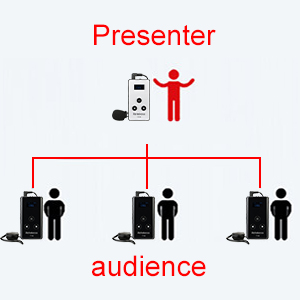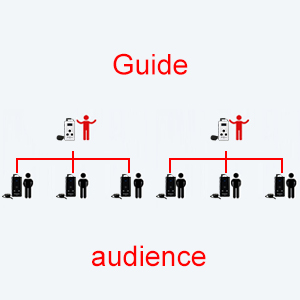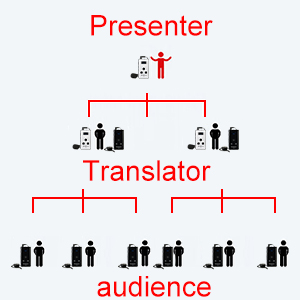 Please fill in your procurement needs and contact information
Specifications:
Frequency Range: 195 – 230 MHz
Channel: 99
Voltage: DC3.7V
Battery: Built-in 1000mAh lithium battery
Receiver Working Time: About 40 hours
Frequency response: 50-18000Hz
Radio-frequency technique: PLL synthesis
Degree of distortion: < 0.2%
Noise-signal ratio: ≥90Db
Charging time: 5-6 hours
Package includes:
2 x TT101 Transmitter
2 x Microphone
40 x Lanyard
40 x User manual
38 x TT102
38 x headset
40 x USB charging cable