Open-air transmission distance up to 180 meters
One-click pairing of all receiver channels
2.4GHz signal transmission with stable sound quality
Transmitter and receiver can be hung on the neck, free your hands
Pocket size and light weight, easy to carry
Only
1578
left in stock - order soon.
In Hajj and Umrah, even with large and noisy outdoor crowds, the TT109 long-range tour guide system allows believers to hear instructions clearly during the procession, and it solves the problem of communication during religious events.

Long working distance
TT109 long range tour guide system transmission distance can reach 180 meters. This means that even if there are many listeners, they do not have to crowd around the presenter, but can listen comfortably within 180 meters of the transmitter.
Battery runtime
The long-range tour guide systems takes only 2-3 hours to fully charge, and the transmitter can work for 8 hours and the receiver can work for 18 hours when fully charged. Such a long battery run time is enough for most Hajj use and you don't have to worry about running out of power on the way to the event.
AUX audio input
The microphone jack can also be used as an AUX jack, using a 3.5mm audio cable to connect the transmitter to external devices such as computers, radios, MP3s, etc. The receivers can hear music or other voice files coming from these audio devices.
Volume adjustment
The transmitter has 5 levels of volume, and the receiver has 10 levels of volume. Listeners can freely adjust the volume they want through the volume adjustment buttons on the wireless tour guide system, and people with hearing impairment can also easily find the suitable volume.
50 channels
The wireless tour guide system has 50 channels, supporting 50 pilgrimage groups to use together in the same area without interference or crosstalk.
One-click auto-pairing
Just a simple operation to synchronize all transmitters with the transmitter in 4 seconds. You don't have to pair devices one by one before the event starts, especially when there are many receivers, auto-pairing saves you time and increases efficiency
User-friendly accessories
Transmitter with neck-mounted microphone for better sound pickup and less noise. Receiver with single ear earphones, comfortable and firm to wear. Each device has a lanyard so that it can be put around the neck, not only to free your hands but also to prevent dropping.
Tour guide system applications
Tour guide systems are widely used in tourism, factory tour, church translation, education, training, museum, Hajj, and Umrah, etc.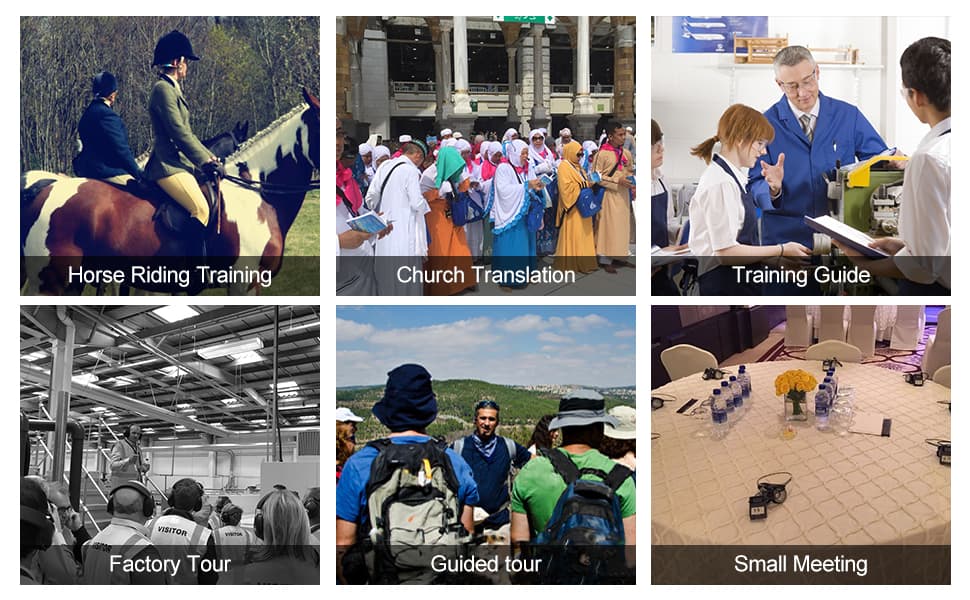 Please fill in your procurement needs and contact information
Specification:
Transmitter
Frequency range
2400-2480MHz
Channel
50 channels
Output power
10mW
Power supply
Built-in 1500mAh lithium battery
Working time
About 8 hours
Working distance
180 meters (open air)
Size
86 x 50 x 19mm
Weight
60g
Receiver
Frequency range
2400-2480MHz
Channel
50 channels
Power supply
Built-in 1000mAh lithium battery
Working time
About 18 hours
Size
86 x 50 x 19mm
Weight
51g
Package Includes:
1 x transmitter
6/10/15/20 x receiver
1 x Microphone
6/10/15/20 x earpiece
7/11/16/21 x Charging cable
7/11/16/21 x Lanyard