T131S transmitter is an upgraded version of the T130 transmitter and is compatible with the T131 receiver.
Wireless transmitter with a transmission range of 100 m/328 ft
Large battery capacity allows for 20 hrs of continuous operation
Transmitter with one key mute function
Supports AUX input and MIC input
Easy to use and set up
One key auto pairing
One key to turning off all receivers
Only
956
left in stock - order soon.
Comfortable using experience
The portable transmitter has two ways of wearing, you can hang it on your belt or pocket through the back clip; you can also use the included lanyard to hang it around your neck, the lightweight and pocket-sized design allow you to use it without feeling uncomfortable.
Long-range wireless transmitter
Tour guides wearing the T130S transmitter can transmit information to visitors within 100 meters of themselves, so they don't have to follow the guide around to listen to the explanation of the attractions, they will have more space to move around and a more enjoyable tour experience.
Rechargeable high-capacity battery
The tour guide system transmitter has a built-in 4200mAh lithium battery, which can last for 20 hours when fully charged. You can use the included USB charging cable to charge it, and the current power level will be displayed on the screen when charging, so you can understand the power level of the device more intuitively.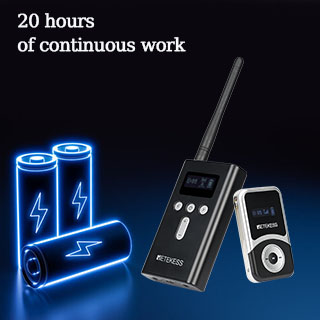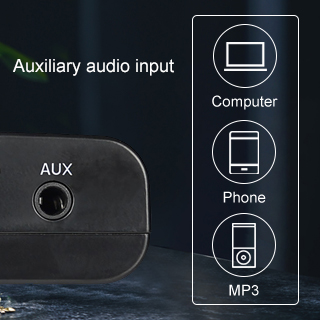 Convenient features
One key to turn off all receivers: After the tour activity is over, the guide only needs to long press the transmitter "-" key for about 5 seconds, and all receivers on the same channel with the transmitter will be turned off.
One key to automatically synchronize channels: portable transmitter and receiver can only transmit sound on the same channel, this function of the transmitter can help you save time to adjust the channel of the device.
One-touch mute: Simply click the transmitter "+" button to enter one-touch mute mode, where visitors wearing the receiver will not hear any sound from the transmitter.
49 channels
The portable transmitter has 49 channels to choose from, and the guide can set up a group of 49 different channels in the same area. If you use it as a translation device, this means you can set up 49 translation groups in different languages, with no interference between groups.
Add receiver
The T130S transmitter can work with any number of receivers, which means you can freely add or subtract receivers depending on the number of people in your group.
Auxiliary Audio Input
This lightweight transmitter has two audio input methods, one is to speak with the included microphone plugged into the MIC jack, and the other is to use a 3.5mm audio cable to connect the transmitter's AUX jack to an audio device such as a cell phone, mp3, or computer, and then play the voice file or music from the audio device to the listener.
Attention: When the T130S transmitter (upgraded model) is used with the T131 receiver (old model), the working range is about 76 meters, with one-touch mute and automatic pairing, there is no one-touch mute transmitter function. (If you previously purchased a T130-T131 guide system and want a longer communication range, then just purchase the new T130S transmitter for use with the original T131 receiver.)
Please fill in your procurement needs and contact information
T130S Transmitter

Frequency Range

195-216MHz
Channels
49CH
Working Voltage
DC 3.7V
Mic /Aux input
3.5mm
Frequency Response

50-18000Hz

SNR
80dB(Typical)
RF spurious rejection
≥90dB

T.H.D

<0.3%
Operating Range
100m(line of sight)
Battery Capacity
4200mAh
Battery Run Time
About 20 hours typical
Weight
120g(without accessories)
Size
103*61*25.8mm(without antenna)
Package Includes:
1X Transmitter
1X Charging cable
1 x Microphone
1 x Lanyard
Q: What is the difference between the T130S transmitter and the T130 transmitter?
A: The T130S transmitter is an upgraded version of the T130 transmitter. First, there are differences in appearance between the two, T130S has added an antenna and two buttons; second, the transmitter distance of T130S has been increased to 100 meters (when paired with T131S); third, the range of T130S wireless transmitter has been extended to 20 hours; fourth, the upgraded model of T130S tour guide system has added a key to mute the transmitter and a key to turn off all receivers function.