Retekess T130S T131S Tour Guide Solutions for Tourism with Charging Case
SKU:
F9632AX2-F9632BX30-F9443DX1
This tour guide solution includes 2 transmitters, 30 receivers, and a 32-port charging case
Working range up to 100 m/328 ft
Transmitters and receivers can work 20 hrs continuously
Supports MIC and AUX inputs
Automatic channel synchronization
One button to turn off all receivers
Transmitter with mute function
Clear sound without noise or interference
OverView
Note: T130S-T131S is the upgraded model of T130-T131, this upgraded model and the old version are universal.
T130S transmitter and T131 receiver used together have a communication range of about 80 meters in open areas; T130 transmitter and T131S receiver used together have a communication range of about 50 meters in open areas.
Long working range
The operating range of the guided tour solutions is 100 m/328 ft, so tour participants can be scattered within 328 ft of the transmitter and can hear the guide's instructions clearly. This means visitors don't have to gather around the tour guide, resulting in a more satisfying experience.
Turn off all receivers with one key
Press and hold the "-" button of the transmitter for about 5 seconds, all receivers on the same channel as the transmitter will turn off. If you have more receivers, this function will save you a lot of time and improve your work efficiency.
One-button automatic pairing
If you have many receivers, adjusting their channels one by one for synchronization can be very troublesome. The auto-pairing function allows you to synchronize the channels of the transmitter and all receivers in less than 10 seconds, saving you valuable time and increasing your productivity.
Transmitter supports a one-touch mute
When a tour guide is leading a tour group, sometimes there may be some sounds that he does not want to be heard by the tourists. Then he does not need to turn off the device, just click the transmitter "+" button to enter the one-touch mute mode, wearing the receiver visitors will not hear any sound from the transmitter.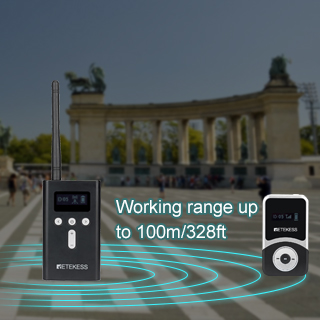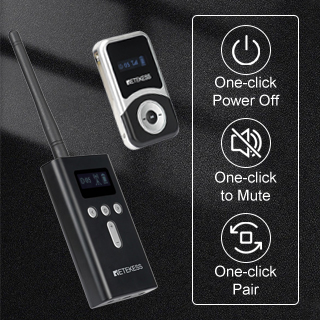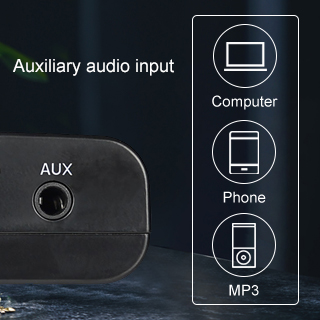 Support AUX input
In addition to the MIC jack, the wireless transmitter has 1 separate AUX jack, which you can use to connect your computer, cell phone, mp3, and other audio devices to play music or other voice files.
Portable charging case
Made of aluminum alloy, the charging case is rugged and fireproof with a portable handle. It can charge 2 T130S transmitters and 30 T131S receivers at the same time. It can also be used as a storage bag, lanyard, microphone, and other accessories that can be put inside, with a portable handle, one person can easily carry a whole set of tour guide systems.
User-friendly tour guide solutions
The portable transmitter comes with a lavalier microphone, so guides can clip it to their collar, making it less likely to fall off and free up their hands, and the transmitter also comes with a back clip so you can hang it securely on your belt. The receiver comes with a 3.5mm D-shaped headset, which is universal for both left and right ears and can be used normally by visitors with poor hearing in one ear.
Adjust the volume freely
The wireless receiver has 10 levels of volume, the listener can select the appropriate volume by "+" and "-", and visitors can adjust the volume level according to their hearing condition and the external environment at will.
Large-capacity rechargeable battery
The T130S T131S tour guide solutions can standby continuously for about 20 hours after a full charge, and the battery power can be clearly seen on the screen. Even if the tour lasts all day, the power is perfectly sufficient.
Application of tour guide solutions
In addition to its application in group tours, the tour guide device also performs well in factory tours, silent conferences, simultaneous interpretation, and training instruction.

Spec
Transmitter

Receiver

Frequency Range

195-216MHz

Frequency Range

195-216MHz

Channels
49CH
Channels
49CH
Working Voltage
DC 3.7V
Working Voltage
DC 3.7V
Mic /Aux input
3.5mm

Earphone Jack

3.5mm
Frequency Response

50-18000Hz

Frequency Response
50-18000Hz
SNR
80dB(Typical)
SNR
80dB(Typical)
RF spurious rejection
≥90dB
RF spurious rejection
≥90dB

T.H.D

<0.3%

T.H.D

<0.3%
Operating Range
100m(line of sight)
Operating Range
100m(line of sight)
Battery Capacity
4200mAh
Battery Capacity

900mAh

Battery Run Time
About 20 hours typical
Battery Run Time
About 20 hours typical
Weight
120g(without accessories)
Weight
30g(without accessories)
Size
103*61*25.8mm(without antenna)
Size
73*42*12mm
TT001 32-port Charge Case
Color
Silver
Material
Aluminum alloy
Input
AC110-220V, 50/60Hz
Output
DC 5V, 7A
Size
500 x 265 x 140mm / 19.7 x 10.4 x 5.5 in
Weight
3200g / 7lbs
Package Includes:
2 x transmitter

2x lavalier mic
30 x receiver
30 x earpiece
32 x lanyard
32 x charging cable
1 x charging case
FAQ
Q: If demand increases, can I add more receivers?
A: Yes, one transmitter supports working with numerous receivers, individual receivers are sold on the website, just order as many as you need.
Q: I see that the transmitter comes with a lavalier microphone, but I prefer a headset microphone, is there a compatible option?
A: Yes, we have a headset microphone that can be used with the T130S, please click here to view and buy it.
Q: What is the warranty policy for this T130S T131S tour guide system?
A: All models of Retekess tour guide systems support 30-day no-reason returns and a two-year warranty.
Inquiry
Please fill in your procurement needs and contact information
We found other products you might like!