AM FM SW 3-band radio
Support TF card (Max 128GB)
LCD display with backlight
Easy to use rechargeable radio
Only
1000
left in stock - order soon.
TR613 is an easy to use AM FM Shortwave 3-band radio, designed with a backlight LCD display, flashlight and clock make it more user-friendly for the elderly.
Easy to use portable radio
FM radio with tuning pointer to direct the frequency that you are on, 3-bands could be selected easily, volume adjustable, and backlight LCD make the radio very easy to use without referencing the user manual.
AM FM SW 3-band radio with good reception
AM:530.0KHz-1600.0KHz
FM:88.0MHz-108.0MHz
SW:8.0MHz-18.0MHz
To improve reception
AW reception: Retract the telescopic antenna and rotate the unit to reorient the built-in ferrite
bar antenna
FM reception: Extend the telescopic antenna, and adjust the direction and angle.
SW reception: Fully extend the telescopic antenna vertically.
Portable radio support TF card (max 128GB)
Upload your favorite audios or music with MP3 or WMA format into the TF card, then play them with the radio to enjoy your free time.
FM radio with 3.5mm headphone jack
The radio designed with a 3.5mm headphone jack, you could use any of the regularly 3.5mm earpieces to work with the radio no matter you don't want to disturb others or not to be disturbed.
FM radio with clock
The radio could be used as a clock, with the radio, there is no need to look around to check what's the time is.
Rechargeable radio powered by battery
The rechargeable radio uses a high capacity 1200mAh battery to make it work for a long time after fully charged. The rechargeable battery has the advantages of high security and long life lasting.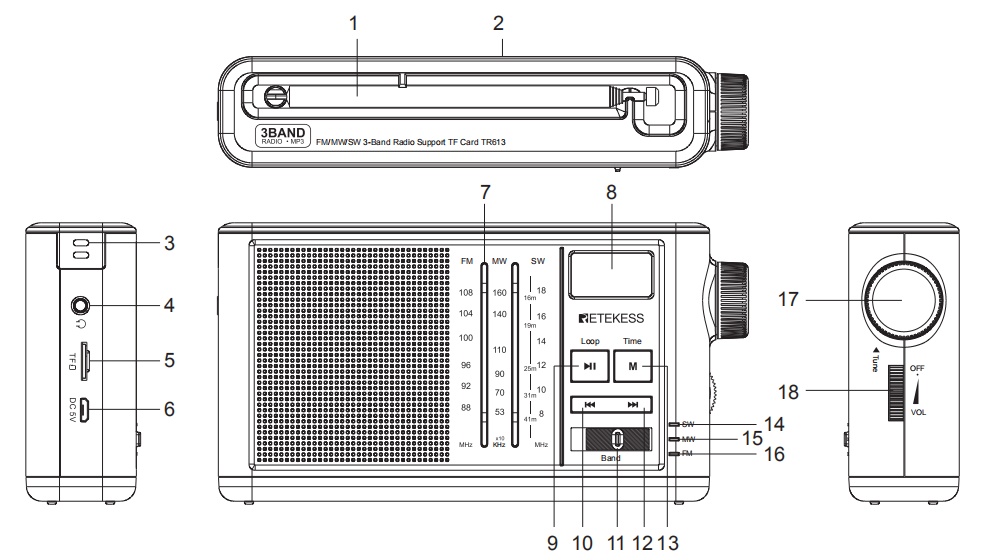 1. Telescopic antenna
2. Battery compartment
3. Hand strap hole
4. Headphone jack
5. TF card slot
6. DC 5V power port
7. Frequency indicator
8. LCD display
9. Play/Pause/Loop (long press)
10. Previous song (long press and hold -10 song)
11. Band
12. Next song (long press and hold +10 song)
13. Menu (function selector, long press to set the time)
14. SW indicator
15. MW indicator
16. FM indicator
17. Tuning Knob
18. Volume/Power on/off
Please fill in your procurement needs and contact information
TR613 portable radio specifications:
Frequency Range:
a)FM:88.0MHz-108.0MHz
b)AM:530.0KHz-1600.0KHz
c)SW:8.0MHz-18.0MHz
Power input: 5V/0.6A
The maximum power without distortion: 1W
Rated power: 3W
Lithium battery: 3.7V
Charging Voltage: DC 5V
Battery Capacity: 1200mAh
Speaker: 6 Ω
Antenna:
a)FM/SW: telescopic antenna
b)AM: built-in ferrite bar antenna
Package includes:
1* TR613 Portable Radio
1* USB Charging Cable
1* Battery
1* Leather Hand Strap
1*User Manual
Q: What's the max TF card that could be used for radio?
A: 128GG
Q: Does the radio has a headphone jack?
A: It built with a 3.5mm earpiece jack
Q: How to improve the FM reception?
A: Try to extend the telescopic antenna, and adjust the direction and angle
Comprei um modelo desse no Aliexpress e estou gostando muito. Ele é lindo, funcional e ótimo custo benefício. Gostei muito do jeito antigo que ele parece. Em breve pretendo comprar o outro modelo parecido com este mas de sintonia analógica. Muito obrigado a Retekess. Felicidades a todos irmãos chineses