This package include 2 transmitters and 30 receivers and one 32 port charging case. TT105 tour guide system 2.4GHz, worldwide free license Two-way communication for the two guides One-key Receivers channel synchronization function You can charge 32 devices at same time with the charging case
Only
100
left in stock - order soon.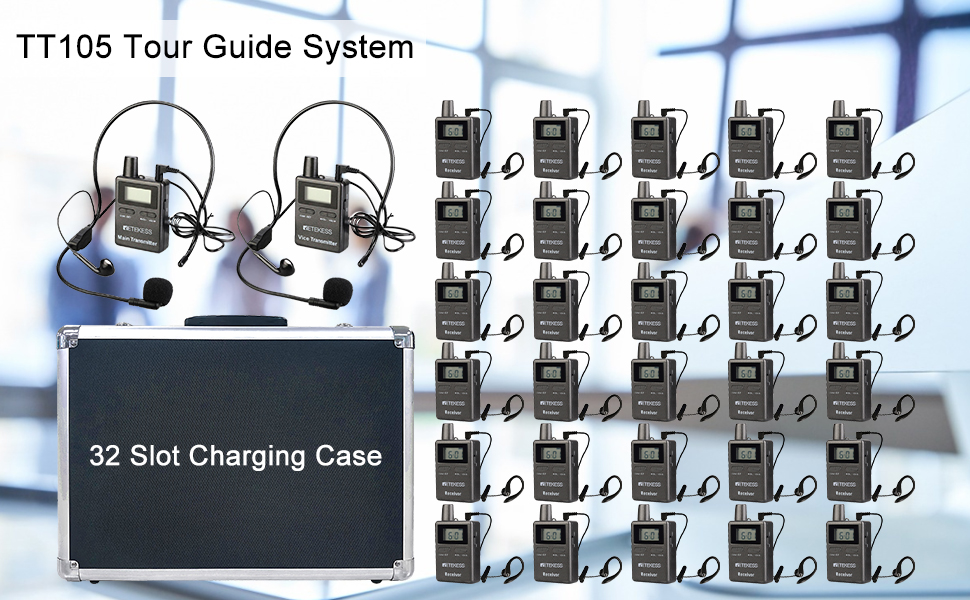 Retekess TT105 tour guide system with 2 transmitters and 30 receivers with one 32 port charging case
Function:
•Transmit frequency 2400-2480 MHz; Real digital transmit;
It is free use all over the world, no need to worry about the license thing.
•50 channels
It can work for 50 groups in one place, just keep them in different channel.
•Working with unlimited Receivers
If you want to more receivers, feel free to add as many as you need.
•Two-Way communication; allowing two speaker speaking at the same time;
The two transmitters can talk to each other.
•1500mAh lithium battery of transmitter;1000mAh lithium battery of Receiver
10 hr continuous work time for transmitter, 12 hr continuous work time for receiver
•One-key Receivers channel synchronization function
•Transmitter has 4 levels volume; Receiver has 9 levels volume
•150 meters in an open area, the transmitters can reach 100 meters with each other
NOTE: The Vice transmitter can only work with the main transmitter
Please fill in your procurement needs and contact information
Transmitter:

Frequency range: 2400-2480MHz
Channel: 50 channels
Output power: 10mW
Power supply: Built-in 1500mAh lithium battery
Working time: About 10 hours
Working distance: 150 meters (open-air)
Size: 84 x 49 x 19mm
Weight: 60g
Receiver:
Frequency range: 2400-2480MHz
Channel: 50 channels
Power supply: Built-in 1000mAh lithium battery

Working time: About 12 hours
Size: 84 x 49 x 19mm
Weight: 52g
Charging case

32 Ports for charging case Retekess TT105
Input : AC110-220V, 50/60Hz
Output: DC 5V, 16A
Size: 425 x320x 183mm
Weight: 4800g
Package Includes:
1 x Main transmitter
1 x Vice transmitter
30 x Receiver
2 x Microphone
30x Single earphone
32 x Charging cable
32 x Lanyard
1x 32 port charging case