Extra pagers for Retekess T115 paging system, support vibration+beep+flashing and vibration+flashing two working modes, very easy to pair. Rechargerable and last a long time
Only
91
left in stock - order soon.

Pagers and beepers
Vibration with Beep and Flashing working mode; small size; easy to use;
A good choice for restaurant; food truck or bars.
Details









Strong Signal Receiving

Calling pagers receiving sensitivity can be 148mW;

Loud Voice; So it can be well used to remind customer to take meal when it is ready;

It appears very important in noisy conditions applications.

Anti-corrosion Ability

Restaurant pager use ABS material for better anti-fire and anti-corrosion;

If used in restaurant, it can be more durable use;

There is no need to worry about oil or water corrosion.

Change Label Logo

You can remove the plastic cover, and then place in new label logo into the slot;

It can be very helpful for restaurant to leave a good customer impress.
Advantages









Easy to use

There is a special sound cancellation button on the side;

If customer wants to turn off the sound, it will be very easy to operate;

Just press the button; then wireless pager can be silent.

Small Size

106*53*9mm; 1.6oz weight;

Compact body design; easily hand hold;

or it can be placed on the table, will not take up so much space.

Rechargeable Battery

Built in 3.7V/200mAh battery; About 3 hours for standby time;

Also there is charging indicator to show the state;

Good battery life for long use in restaurant or food truck.
Application:
Restaurant, church nursery, cafe, food court, bar, spa and salon, factory, retail, casino, glof, trade show,
blowing center, school and university, healthcare, clinic, hospital, manufacturer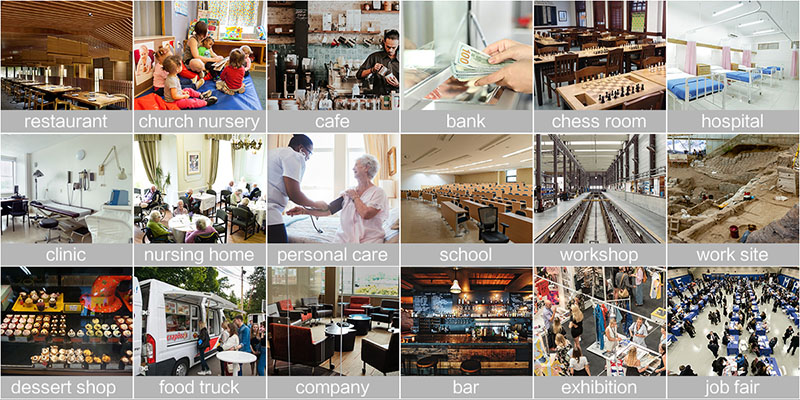 Please fill in your procurement needs and contact information
Call coaster pager restaurant pager is light weight; with 2 prompt modes; work for Retekess Retekess T115 restaurant pager system

Pairing method
Remove the plastic screen cover and the SET button actually under the paper cover, press the SET and SIDE button at the same time, then there are 2 red LED bright up in one of the pager side, press the number and the call button on the keyboard within 3 seconds. The red LED flashed around the pagers, that means you have reprogramed it successfuly. If you input the wrong number; just press the Delete key on keypad to delete the wrong number and input again

2 Prompt modes
There are 2 different working modes to choose from; Vibration + Beep + Flashing or Vibration+Flashing; you can choose vibration+flashing mode for coffee shop; then it can alert the customer the food is ready without disturbing others

Long working hours
The standby time can last about 3 hours; also you do not need to replace battery when they run out; just plug the keypad; easy to charge

Small size design
106x53x9mm dimension; with 45g net weight; it can be easy handhold; also it cannot take so much space

Specification:
Dimension: 106x53x9mm
Net weight: 45g
Material: ABS
Receiving sensitivity: 148mW
Li-polymer: 3.7V/200mAh
Standby time: About 3 hours
Prompt mode: Vibration with Beep with Flashing

Package Includes:
1 x Receiver