In Stock
Retekess TR502 15W FM Transmitter 8-level RF power-adjustable
MIC/AUX /U-disk/Bluetooth Audio Input
PC control
Only
727
left in stock - order soon.
Do you want to buy a transmitter for a x-mas light show?
Would this be suitable at a large church to broadcast iPod music to multiple outdoor FM radio speakers?
Want to use this in the church to translate the sermon?
The TR502 FM transmitter is suitable for all the purpose use.
FM transmitter Long Range
8-level RF power-adjustable, The Power wattage up to15W;1/4 wavelength of strong magnetic sucker antenna,easy to move the antenna to the outside, the roof, balcony or window, more effective transmission and reception of electromagnetic waves



Wireless and U-disk play
You can connect wireless to mobile phones, tablets, and other Wireless devices; U disk play function, support lossless format FLAC/WAV, compatible with a variety of other commonly used formats

Mini radio stereo station
Frequency Range FM:87~108MHz. I would very much recommend this unit for any hobby broadcaster who's serious about broadcasting a clean signal and desires a turnkey solution to getting it on the air. Its footprint is very small, it's easy to set up & break down, and sounds great on the air.
Strong signal, clear sound
Designed with advanced modulation system and built-in PLL frequency, audio pre-emphasis, limiter, and low-pass filter circuit, which support a strong clear signal for long-distance
Advanced PLL digital tuner technology
With a high gain antenna, it can easily broadcast anywhere.
It is available for use in factories, schools, farms, office space or creating your own radio station, etc.

Heat dissipation
Using high-quality dual ball bearing fan, reasonable heat dissipation channels. When the temperature is too hot, the display will show a temperature alarm; meanwhile, the machine will start to sound the di-di voice alarm
FM transmitter is widely used in a variety of industries
Campus radio, supermarkets, churches, farms, factories notice, education and training, scenic broadcasting, corporate meetings, automobile cinema, outdoor team contact (received through the car FM radio) or create your own radio station.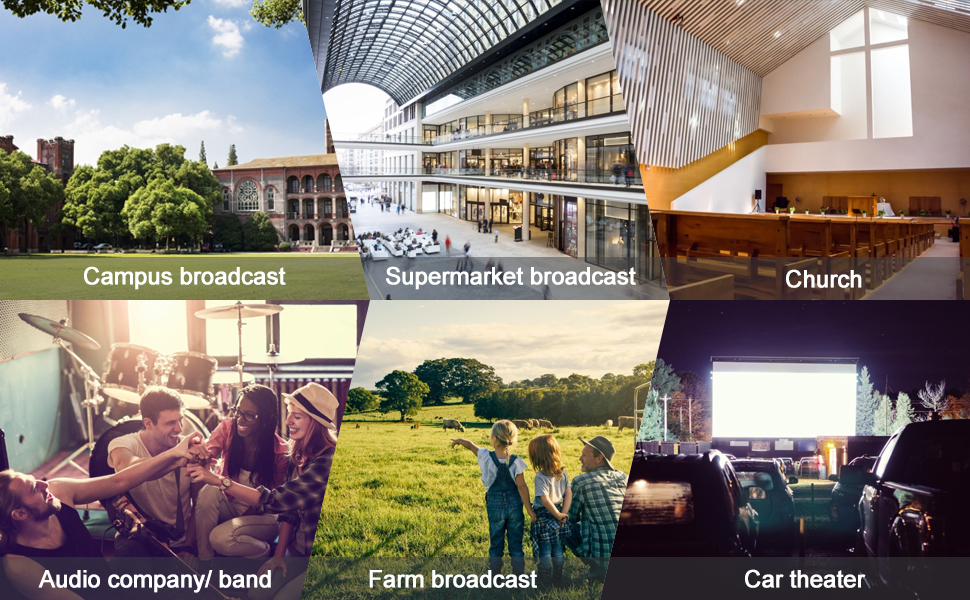 Please fill in your procurement needs and contact information
Specification:
FM Transmitter
Frequency range: FM:87~108MHz
Frequency step: 100Khz
Frequency stability: ±10PPM
Frequency stabilization method: PLL
Harmonics, noise radiation: ≤-50dB
Output impedance: 50Ω
RF output power: Max 15W (8-level adjustable)
Pre-emphasis: 75us
Audio distortion: 0.3%
Bluetooth distance: about 5m
Frequency response: 50Hz~15000Hz
Separation: ≥30dB
Frequency modulation: ±75KHZ
SNR: ≥60 dB
Antenna connector type: TNC
Operating temperature: -10℃~45℃
Transmitter size: 144 x 100 x 59mm
Transmitter weight: 545 g
Antenna
Connector type: TNC
Gain: 2.15dB
Impedance: 50Ω
Maximum stretch length : 1150mm (3.77 ft)
Shortest contraction length: 210mm(0.69 ft)
Feeder length: 5m (16.4 ft)
Power Supply
Input voltage: 100~240V 50/60Hz
Output power: DC 12V 3A

Package Includes:
1 x TR502 FM Transmitter
1 x Power Adapter (Please tell us which type of the plug do you need)
1 x Telescopic Antenna
1 x Audio Line
1 x User Manual