Supports two transmitters for two-way communication
Transmitter standby 10 hours; Receiver standby 12 hours
Microphone jack supports 3. 5mm AUX audio input
One-click synchronization of all receiver channels
Durable and sturdy portable charging case
Transmitting range up to 492ft/150m
2.4GHz is free worldwide
Easy to operate
50 channels
Only
96
left in stock - order soon.
Dual Speakers
TT105 two-way group communication system support allows two speakers to speak at the same time, and they both can communicate in both directions, the listener can hear what they are talking about in real time, which makes their collaboration more organized and convenient. (Note: The secondary transmitter must be paired with the primary transmitter and cannot be used alone)
Long range group communication system
The transmission distance between the main transmitter and the vice transmitter in the open air is 150m 492ft, visitors can receive clear sound at a range of 150m from both transmitters. The transmission distance between the main transmitter and the sub transmitter is 100m, and the two speakers can communicate in both directions within a distance of 100m from each other.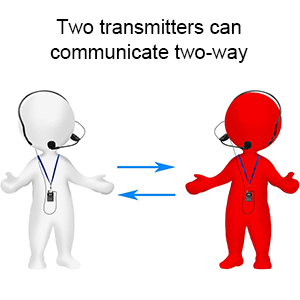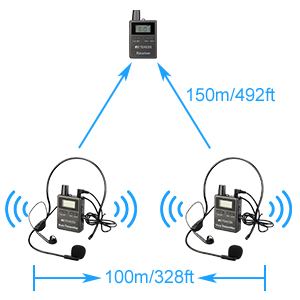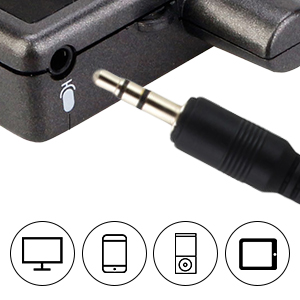 AUX input support
The microphone port of the two-way guided audio system can be used as an AUX port. You can use a 3.5mm AUX cable to connect the transmitter to audio devices such as computers, smartphones, mp3s, etc. so that your visitors or listeners can hear music or other voice files from these audio devices.
Rechargeable high-capacity battery
Two transmitters with built-in 1500mAh Li-ion battery can work continuously for 10 hours; receivers with 1000mAh Li-ion battery can work continuously for 12 hours. It is enough even if your tour lasts a whole day.
Channel synchronization function
The one-button auto-pairing function allows you to synchronize the channels of the transmitter and all receivers within ten seconds, and it's easy enough to operate that you don't need any experience to finish the pairing quickly. Plus, this saves you the hassle of adjusting the channels of dozens of receivers.
Free volume adjustment
The volume level of the two transmitters is 0-4, and the volume level of the receiver is 0-9. Listeners can freely adjust the desired volume using the volume adjustment buttons. If you use it for noisy outdoor excursions, factory tours, or if you have hearing impaired listeners, the wide range of adjustable volume levels will certainly help you.
Portable and durable charging case
32-port charging case can charge 2 transmitters and 30 receivers at the same time, only need to connect a triangle plug cable outside the case, easy and fast operation. It can hold all transmitters, receivers, headphones, microphones, and charging cables, and can also be used as a storage box. Charging case is made of aluminum alloy, durable and fireproof, with a built-in heat sink, it is a very convenient and practical tool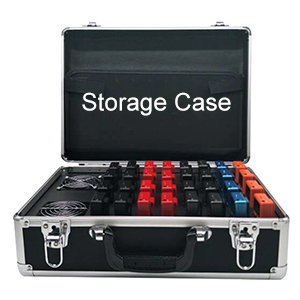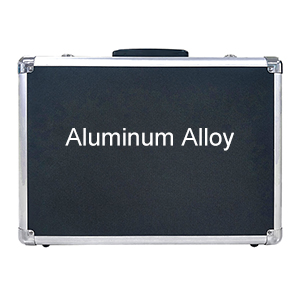 Comfortable microphone and headset
Main transmitter and vice transmitter with earphone microphone, the main unit can be hung on the ear, and the position of the microphone away from the mouth can be adjusted at will to achieve better noise reduction and clarity. The earpiece is made of ear-mounted single-sided headphones, which are comfortable to wear and not easy to fall off, even if the team marches, the microphone and headphones will not fall off.
Large LCD display
The TT105 tour guide system features a large high-contrast screen that clearly displays information about the signal, channel, volume, and power level, so you can easily understand all aspects of the device you're holding even in dim light.
Portable two-way communication system
The weight of the main transmitter and vice transmitter is 60g, and the weight of the wireless receiver is only 51g. With light weight and small size, users will feel easy and comfortable to wear such a pocket-sized device around their neck or put it in their pocket. In addition, the compact group communication system is easy to carry, and one person can carry the device for the whole team.
Multiple applications
TT105 dual speaker tour guide system is used for tour groups with two guides; conferences, training or factory visits with two presenters. It can also be used as a simultaneous interpreting system for church translation or court interpreting.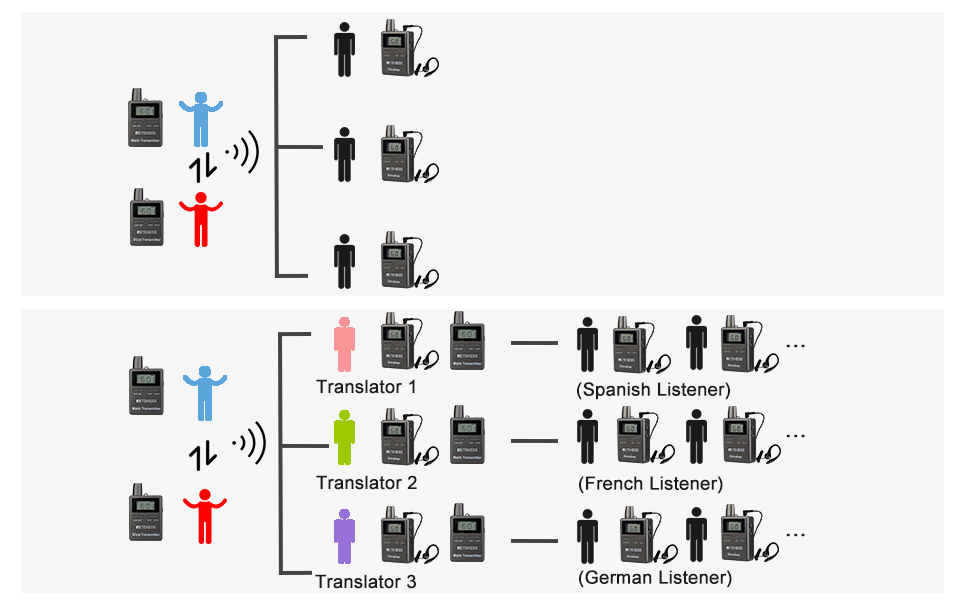 Please fill in your procurement needs and contact information
Transmitter:

Frequency range: 2400-2480MHz
Channel: 50 channels
Output power: 10mW
Power supply: Built-in 1500mAh lithium battery
Working time: About 10 hours
Working distance: 150 meters (open-air)
Size: 84 x 49 x 19mm
Weight: 60g
Receiver:
Frequency range: 2400-2480MHz
Channel: 50 channels
Power supply: Built-in 1000mAh lithium battery

Working time: About 12 hours
Size: 84 x 49 x 19mm
Weight: 52g
Charging case
32 Ports for charging case Retekess TT105
Input: AC110-220V, 50/60Hz
Output: DC 5V, 16A
Size: 425 x320x 183mm
Weight: 4800g
Package Includes:
1 x Main transmitter
1 x Vice transmitter
30 x Receiver
2 x Microphone
30x Single earphone
32 x Charging cable
32 x Lanyard
1x 32 port charging case