Retekess TT106 Tour Guide Sound System with Two Transmitters Long Standby for Factory Tour Church Translation Social Distance 2.4GHz
SKU:
F9469AX4-F9469BX60-F9423D
TT106 tour guide sound system include 4 transmitters 60 receivers 1 64-port charging case
Supports two transmitters working together in a group
Transmitter works continuously for 25h and receiver works continuously for 23h
With a dedicated AUX port for connecting audio devices
Long transmission range up to 150m/492 ft
One-click to turn off all connected receivers
One-click mute transmitter
2.4GHz global public channel
Automatic pairing
9999 channels
OverView
Applications of TT106 tour guide sound system
1. Schools (school tours/outdoor courses/lectures)
Getting authorization where the use of PA systems is prohibited and where people must "whisper" or whisper.
Increasing the attention span of students.
To enhance the quality of instruction by allowing the speaker's words to be effectively conveyed
2. Business events (interpretation/factory tours/meetings/training)
Hands-free talking, allowing the speaker to move freely.
Message delivery is not compromised in noisy environments
Large audiences can easily be heard by people who are far away from the speaker
3. Tours (walking tours/museum visits / bus tours/bike or Segway tours)
Tourists have an increased range of motion and are more focused on enjoying the tour
Guides are always in audio contact with group members for increased safety
Interference-free communication, ensuring real-time and clear reception of information in all situations
Support two tour guides
TT106 tour guide sound system supports two transmitters working in the same group, visitors can hear the sound of two transmitters, it is suitable for larger tour groups or activities that require two speakers.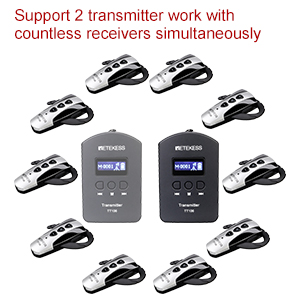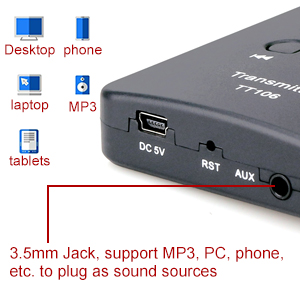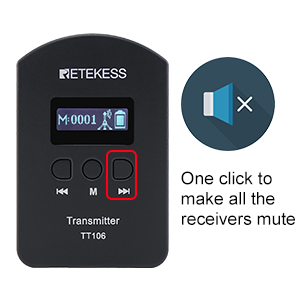 Dedicated AUX jack
In addition to the MIC jack, the wireless transmitter has 1 separate AUX jack, you can use it to connect your computer, cell phone, mp3, and other audio devices to play music or other voice files.
Tour guide sound system with mute function
After pressing the mute button of the transmitter, even if the speaker is still speaking, the receiver can't hear his voice. For example, if a phone call suddenly comes in the middle of a guided tour, or the interpreter sneezes, these sounds will not be transmitted to the listener.
On-ear receiver
On-ear receiver is lightweight and comfortable, because it does not require additional headphones to be plugged in for listening. It does not need to be inserted into the ear and is clean and hygienic. The receiver has a volume adjustment button, so listeners can freely adjust the volume they prefer.
Automatic pairing
Wireless tour guide audio system can achieve automatic channel synchronization between transmitter and all receivers within 15 seconds. You don't need to adjust the receiver's channels one by one to make them the same as the transmitter, which saves you time.
Long Range tour guide sound system
TT106 tour guide systems has a communication range of up to 150 m/492 ft. Listeners can clearly hear the speaker within 492 ft. of the transmitter. Ideal for indoor or outdoor activities with a large range of activities, such as Segway tours.
Large battery capacity
Transmitter built-in 1300mAh rechargeable lithium battery, 3h fully charged, can be used for 25 h. Receiver built-in 380mAh rechargeable lithium battery, 2h fully charged, can be used for 23 h battery. Short charging time, long usage time.
Portable charging storage case
The 64-port charging case is made of aluminum alloy, which is durable, fireproof, moisture-proof, dustproof, and has a simple and beautiful appearance. You can use it to easily charge up to 64 devices at the same time. It can also be used as an organizer, the lanyard, microphone, and other accessories can all be put inside, with a portable handle, a person can easily carry a whole set of tour guide systems.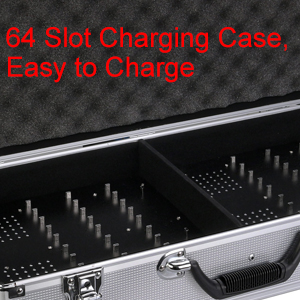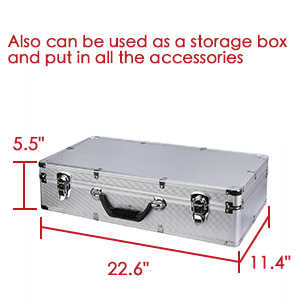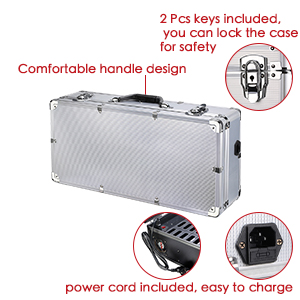 Multiple usage modes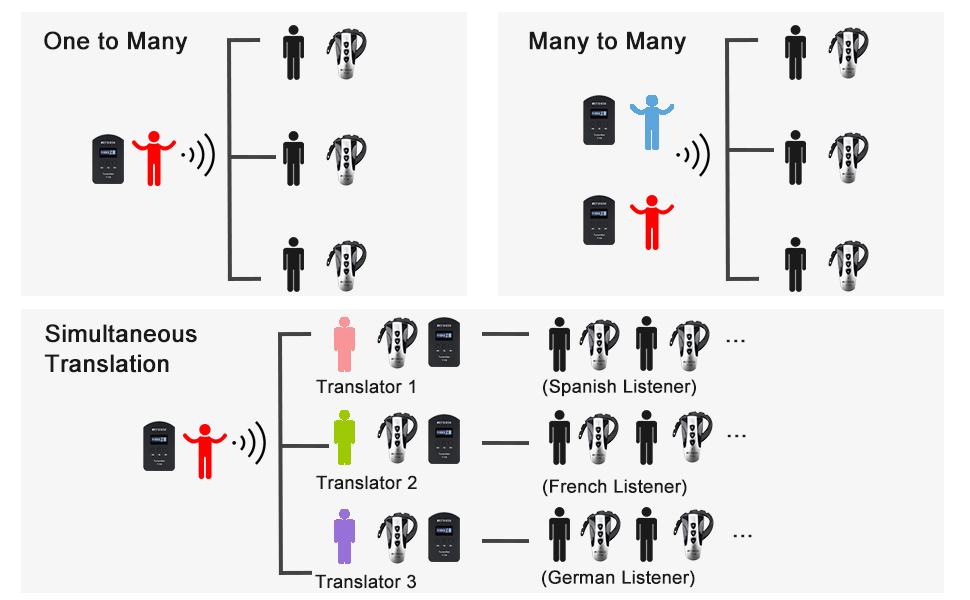 Spec
Specification:
TT106 Wireless Transmitter
TT106 Wireless Receiver
Frequency Range
2400~2483MHz
Frequency Range
2400~2483MHz
ID Number
9999
ID Number
9999
Supply Voltage
DC3.7V
Supply Voltage
DC3.7V
Transmitting power
<=50mW
TIS
-90dBm
Frequency stability
±0.001
Frequency stability
±0.001
SNR
80dB
SNR
80dB
Size
97*63*18mm
Size
65*58*11mm
Weight
70g
Weight
18g
Charge time
3H
Charge time
2H
Working time
25H
Working time
23H
Battery specification
3.7V/1300mA
Battery Specification
3.7V/380mA
Charge Jack
MINI USB
Charge Jack
MINI USB
Modulation frequency deviation
±320KHz
Modulation frequency deviation
±320KHz
Working current
62mA
Working current
15mA
Communication range
150m (open air)
Standby current
1mA
Charging voltage
DC5V
Charging current
320mA
Communication range
150m (open air)
Charging voltage
DC5V
Specification:
lInput : AC110-220V, 50/60Hz
lOutput: DC 5V, 7A
lSize: 575 x290 x 140mm
lWeight: 4220g
Package Includes:
4 Retekess TT106 Transmitter with Mic
60 Retekess TT106 Receiver with earpiece
64 slot charging case
1 Charging cable
FAQ
Q: How many pieces of receivers can i use in one group?
A: It max support 9999 channels
Q: Can i use 2 pieces of transmitters in one group?
A: Yes, you can. All the receivers will get 2 transmitters' signals at the same time.
Q: How long can i use the transmitter and receivers?
A: The transmitters use a 1300mAh battery, it can work 25 hours once you charge fully.
and receives use 300mAh battery, can work up to 20 hours.
Q: Can i use the wireless tour guide system in my country?
A: There system adopts 2.4G technology, it is free in the whole world. Of course, you can use it.
Q: Can i buy another type charging box for it?
A: Yes, we also have 32 ports, you can contact us to get the price.
Inquiry
Please fill in your procurement needs and contact information
We found other products you might like!