In Stock, All Orders Are Shipped Out in 1 Working Day
Full-band portable radio; MW; FM; SW; CB; UBD; weather band with alert; air band for frequent flyer users; multi-band radio with SSB
Uses state-of-the-art DSP digital demodulation technology
With keypad lock and mute function
Can store up to 1000 stations
With a sleep timer function for turning on at bedtime
Only
959
left in stock - order soon.

Advanced DSP technology
The radio adopts DSP digital signal processing technology to improve the reception sensitivity, selectivity, and anti-mirror interference ability to ensure sensitive and stable signal reception.
Rich functions
TR110 radio has many functions, including WB, ATT, 0-9SQ level, de-emphasis, and adjustable stepping to meet various requirements. AM FM frequency range can be set according to the current country, which can be used all over the world.
Radio station scan and storage
Three station search methods provide the convenience of searching for stations. After automatically scanning and storing available stations, you can also manually search for your favorite radio programs from the pre-stored stations. The radio can store up to 1000 stations.
Note: ATS: Automatic search for stored stations; VM: Manual search for pre-stored stations; VF: Manual search for broadcast stations.
Full-band radio
TR110 is a full band radio: FM, MW, SW, CB, AIR, VHF, UHF, WX, entry-level for radio enthusiasts, auxiliary for off-roaders (VHF/UHF radio reception), flight information for frequent flyers. And shortwave single sideband (USB LSB) gives you a different experience.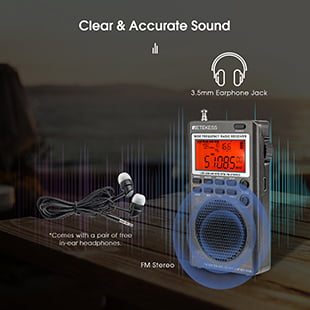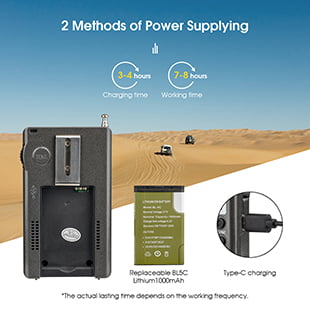 Crystal clear sound
High-quality sound for a more enjoyable and pleasurable listening experience. Plug in your headphones, listen to your favorite stations, and enjoy your personal time. Comes with a pair of in-ear headphones.
2 types of power supply
TR110 radio has a built-in 1000mAh BL5C lithium battery, which can be fully charged in about 3-4 hours and lasts about 7-8 hours. And the battery is replaceable. The actual duration depends on the working frequency.
Weather alert
This feature is best suited for outdoor use, such as picnicking, camping, or yachting.NOAA Forecast: The radio receives 7 weather hazard channels on the WX band and monitors the current weather. The number of weather channels received varies depending on the current area. Alerts will alert you when the weather changes and you will have plenty of time to prepare for emergencies.
Large LED display
LED backlighting makes information clear and easy to notice, especially in dim environments, and the screen displays a large amount of information that makes it easy to identify the current status. An alarm clock and sleep timer can be set. With the sleep timer set, you can fall asleep to slow, calming music without the hassle of turning it off.
External antenna jack
Using the 3.5mm jack, signal reception can be enhanced by connecting an external antenna (not included in the scope of supply). Connect to an external antenna to improve reception of shortwave radios.
Portable, pocket-sized
The radio is compact and lightweight, making it easy to slip into a pocket. In addition, the hand strap and back clip make carrying it more convenient.
Please fill in your procurement needs and contact information
Specifications of the TR110 radio
Frequency Reception Range
Sensitivity
Demodulation Mode
Band Description

FM1:64.0-108MHZ

FM2:76.0-108MHZ

FM3:87.5-108MHZ

1uv
WFW
FM Band
AM:520-1710KHZ
1.5mV/M
AM
MW Band
SW:3.2.00-30.00MHZ
10uV
AM/SSB/LSB
SW Band
CB:25.00-28.00MHZ
10dBuV
AM/NFM
CITY Band
AIR:118.00-138.00MHZ
1uv
AM
AIR Band
VHF UHF:20.000-520MHZ
-9dBuV
NFM
Wide Frequency Receiver Band (including VHF, UHF)
VHF 30.00-223.00MHZ
-9dBuV
WFM
Wide Frequency Reception VHF Wide Band Reception Band
-9dBuV
NFM
Amateur Intercom Band
VHF 156.025-163.275MHZ
-9dBuV
NFM
International Maritime Channel
UHF 430.00-520.00MHZ
-9dBuV
NFM
Amateur Intercom Band
WX:162.400-162.550MHZ
-9dBuV
NFM
North American Weather Band NOAA WX
Product Size
111X60X20MM
Power supply lithium battery
BL5C 1020mAh 3.7v 3.8WH
Speaker
Ф40MM 8Ω 1W
Headphone output
3.5MM stereo input
External antenna hole
3.5MM
Package Includes
1x Storage bag
1x TR110 radio
1x Arm hanging rope
1x IN-EAR headset
1x USB TYPE-C cable
1x BL5C lithium battery
Q: Does it have usb, lsb, rit (clarifier), 12vdc input?
A: This Retekess TR110 Portable SSB Radio is not a usb port but a type-c port. Retekess TR110 Radio has lsb. Retekess TR110 Radio doesn't have rit (clarifier). Retekess TR110 Radio is 12vdc input.
Q: What is the Frequency coverage? Is it continuous?
A: The Retekess TR110 Portable Radio is a full band radio. Here is the frequency range corresponding to each band.
FM: 88-108MHZ, AM: 540-1700KHZ,SW:3.200-30.00MHZ, AIR:118.00-137.00MHZ,CB: 26.965-27.405MHZ, MW: 540-1700HZ,WX:162.400-162.550MHZ .
Q: Can it be powered by an external source such as a wall wart?
A: The Retekess TR110 Radio can be powered by an external power source such as a wall wart.The TR110 radio is charged by the USB Type-C interface, the support voltage is 3.7V, and the maximum current is 1000mA.
Unfortunately my first order was cancelled by Retekess (the shippers?). Retekess immediately responded to resend the order. So, still waiting for my Retekess TR-110 in anticipation.
The radio in itself is quite awesome, being a pocket portable all band with SSB. Then, if you need need help with with something, the support team is there to take care of you! Quite happy with my purchase.
I am fairly new to shortwave radio and I must say that this is one packed radio! It's perfect to keep in an emergency kit, but it's also fun to listen in on what's happening around the world. I like that it has the WX and air bands in addition to MW/FM/SW/SSB. The unit has sleep timer and alarm functions, as well. (It also has CB/VHF/UHF, but I have yet to pull in anything on those bands.) A hanging rope antenna is included, along with the rechargeable battery, carrying pouch, earbuds, wrist strap; and I'm glad to see a USB-C charging cable. The user manual is very detailed, although the print is quite small. Reception is pretty darn good for such a small profile. The Step function is also nice to have to allow fine tuning of frequencies. The only negative I have so far is that when using earbuds, an annoying popping noise occurs when changing bands. This is not evident when NOT using the earbuds. Overall, this is a great little radio. It offers a lot and the price is affordable. I highly recommend it to the SW radio enthusiast and general radio listeners as an addition to your radio collection.
Radio arrived in UK within about a week. No customs fees. Radio has lots of features so will take some study. Great service from Retekess.
A neat little radio, very sensitive on VHF wx band. good FM reception. USB to type C (5v) charging
Sono contento dell'acquisto di questa radio. È molto divertente e facile da usare.
Hi everybody . I bought this radio from the official website of Retekess. I am very pleased with them. Compact and simple. Works great. I recommend to buy you will not regret it.
Hi everybody . I bought this radio from the official website of Retekess. I am very pleased with them. Compact and simple. Works great. I recommend to buy you will not regret it.